When you first hear the word lobster mushrooms, what comes to mind? A kind of seafood? A distinct species of mushroom? Contrary to what its name might suggest, the lobster mushroom isn't a mushroom at all. It is a fungus that attacks some kinds of mushrooms and goes on to alter their qualities. Although the lobster mushroom is produced by the attack of a parasitic mold, the taste of the lobster mushroom is appreciated in different countries.
The lobster mushroom is edible and has a great nutritional profile; it contains small quantities of protein and fiber with a larger quantity of copper, selenium, potassium, zinc, and vitamins D and B. However, many people not only enjoy this plant because of its awesome flavor but also because of the many health benefits of lobster mushrooms.
Jump to:
What is a lobster mushroom?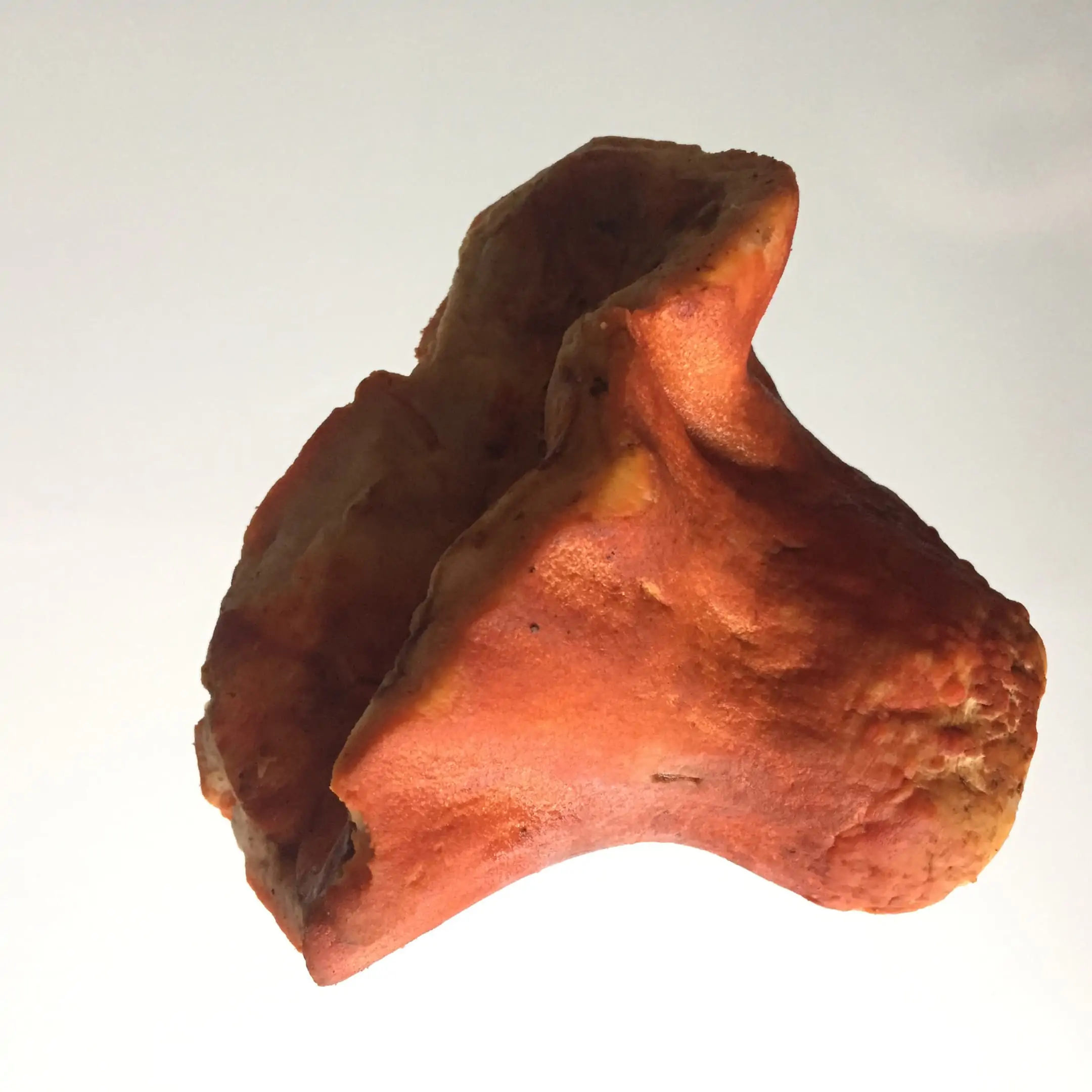 A lobster mushroom is lumpy, red or orange-colored, and has an irregular shape that resembles that of a lobster — hence its name. This is created by the attack of a red parasitic mold referred to as 'Hypomyces lactifluorum' that invades some types of mushrooms by completely enveloping them and altering their taste and appearance. The most famous kinds of mushrooms that these mold attacks are russula and Lactarius mushrooms. Mushrooms that this parasitic mold attaches itself to are normally not valued for their initial taste.
The flavor of lobster mushrooms varies depending on when they were picked; freshly picked ones have the best flavor and they can be cooked using different cooking methods such as pan-frying and baking. To intensify the flavor of lobster mushrooms and to preserve them for an extended time, you can dry them or keep them in a paper bag in a refrigerator for 2-7 days.
Some facts about lobster mushrooms
Lobster mushrooms are also referred to as 'hypomyces lactifluorum', this is a name generated from the fungi that attach themselves to the mushrooms. Not commercially cultivated, lobster mushrooms are commonly found in the wild, including temperate forests which most likely have hemlock trees. Southern Canada, northern regions of the United States, Northern Europe, and Western Russia have these kinds of forests and they can be found sprouting between the start of summer and the middle of fall.
Years ago, lobster mushrooms were also utilized for fabrics dyeing. When used, it can produce diverse shades ranging from saffron to pink and pale orange. The people of Northern California in the 1970s often combined other ingredients with lobster mushrooms to get darker shades of red and purple. Many people across the world still use mushrooms in general for fabric dyeing. Asides from being a flavor-filled plant, the lobster mushroom also doubles as a medical plant, as seen from the below health benefits of lobster mushrooms.
Health benefits of lobster mushrooms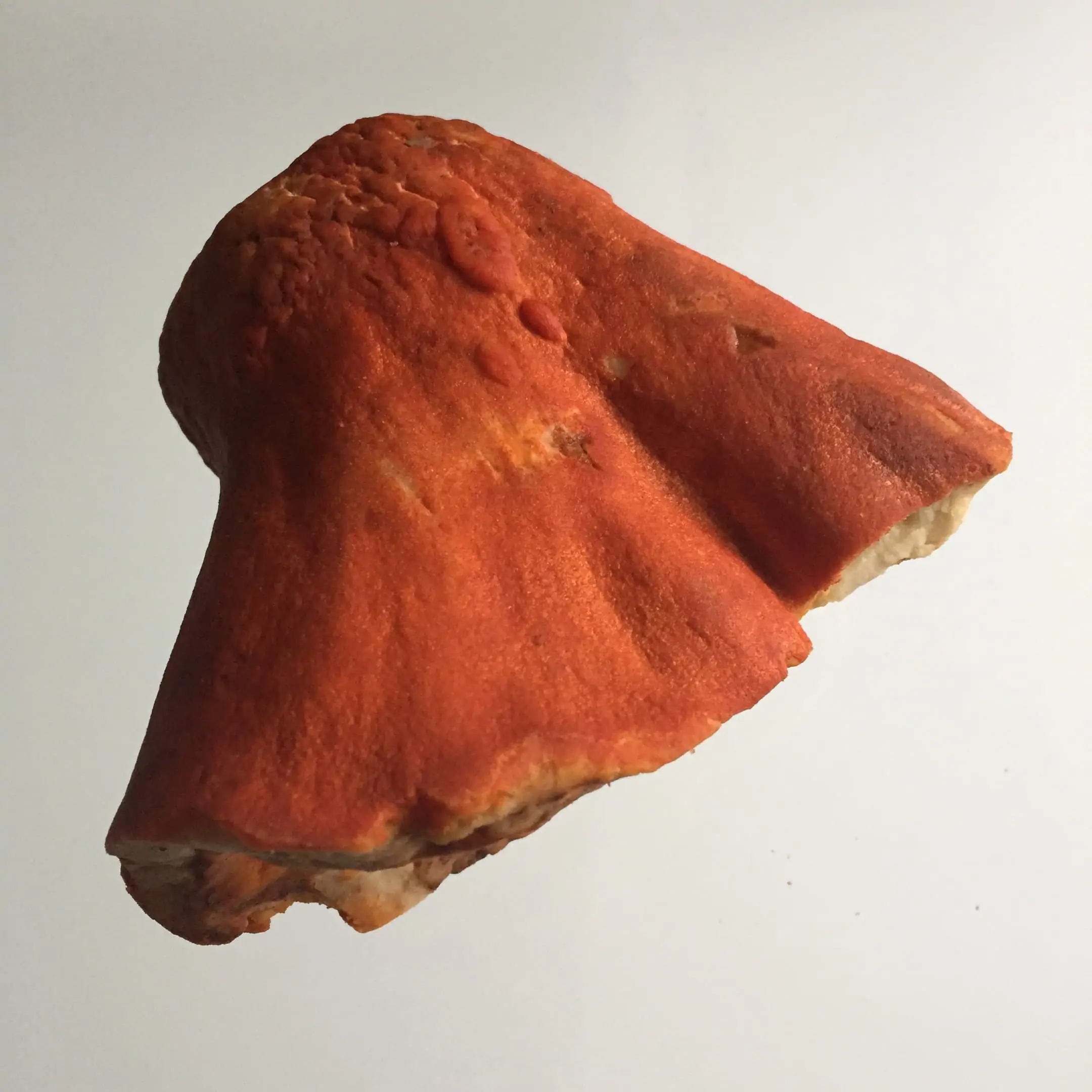 1. Aids the regulation of important minerals
One of the hypomyces lactifluorum health benefits is that it can help to regulate the number of nutrients absorbed by the body. Lobster mushroom contains vitamin D which is very efficient in helping the number of minerals like phosphorus and calcium that it absorbs. Vitamin D can also help in facilitating a healthy immune system function, which can increase the rate at which the body develops resistance against infections and diseases. Also, vitamin D which you can get from lobster mushrooms can greatly contribute towards alleviating depression symptoms by aiding the regulation of mood. In a certain study, it was discovered that people with depression and anxiety had vitamin D deficiency.
2. Reduces inflammation and alleviates oxidative stress
Lobster mushrooms contain the mineral zinc which is great for alleviating oxidative stress and inflammation. When the body experiences oxidative stress, it can give rise to inflammation which can, in turn, contribute to other factors that can cause illnesses such as cancer and a decline in mental activities. Zinc can also work with other nutrients such as vitamin D and selenium in lobster mushrooms to enhance the immune system, thereby accelerating how the immune system reacts to wound healing. Furthermore, zinc can also aid the reduction of certain age-related diseases, these diseases include pneumonia and other infections.
3. Enhances healthy cardiovascular system
Another health benefit of lobster mushrooms is that they are capable of encouraging a healthy cardiovascular system. It contains low quantities of saturated fats so that its consumption will not raise your body's cholesterol levels or put you at risk of the factors that contribute to heart diseases. Foods that contain a high quantity of saturated fats can make your blood vessels store up cholesterol. This can lead to a bad rise in the levels of bad cholesterol, making it difficult for the blood to flow without obstruction through the arteries.
4. Reduces the symptoms of constipation
Hypomyces lactifluorum contains significant amounts of fiber which means that it can be consumed to encourage smooth digestion and eliminate constipation. Generally, fiber is great for digestion, and for many people, simply consuming foods that contain fiber can fix the problem of constipation. When lobster mushrooms are paired with other dishes that also contain fiber, it can facilitate good bowel movement. It can also contribute to a healthy weight by helping you to eat less and have a full stomach for a long period. You can pair lobster mushrooms with other fiber foods like potatoes and cannellini beans.
5. Fosters red blood cells production
Copper is one of the important minerals that our bodies require to perform certain functions. This mineral can be found in small amounts throughout our bodies. Copper is one of the significant minerals that encourages lobster mushroom medicinal benefits. The health benefits that copper offers include immune system activation, red blood cell production, alleviation of the symptoms of prostatitis, sustenance of connective tissue regulation of blood pressure, and heart rate.
6. Can help maintain overall health
Lobster mushrooms contain low amounts of other vitamins like vitamin K and B, which promote good health. Vitamin B can aid in the proper functioning of the cells in the system, maintain the development of red blood cells, assist the human body in carrying out metabolism, and support the functions of brain cells and skin cells. Vitamin K can also contribute to the metabolism of bones, support the wound healing process, and aid in the regulation of the amount of calcium that is in the blood. In addition, vitamin K can aid in the prevention and reduction of mineralization thereby helping the body to balance blood pressure levels.
Conclusion
Even though lobster mushrooms are not actual mushrooms, the health benefits of lobster mushrooms are very substantial. They are a unique kind of food that can give you both the taste of seafood and great medicinal benefits. They can be consumed in different ways; but always remember that because of their delicate texture, you should not overcook them as this can make the lobster mushrooms lose their scent and flavor. It is also important to remember that lobster mushrooms should be well-rinsed before being prepared because these plants tend to have a lot of dirt trapped due to their hollow-shaped caps.