Pigeon peas are legumes that grow in many parts of Asia, Central America, and parts of Africa. Pigeon peas have many uses, such as human and livestock consumption, green manure and a living fence, and as feed for pigeons — which gave the pea its name.
The pigeon peas originated in India but eventually traveled to Africa, where Europeans encountered them. The Europeans named it the "Congo Pea." Over time, it reached the American continent through the slave trade.
The peas quickly grow anywhere and can survive harsh conditions. They are grown in the tropics and even in places with semi-arid climates.
Jump to:
History of the pigeon pea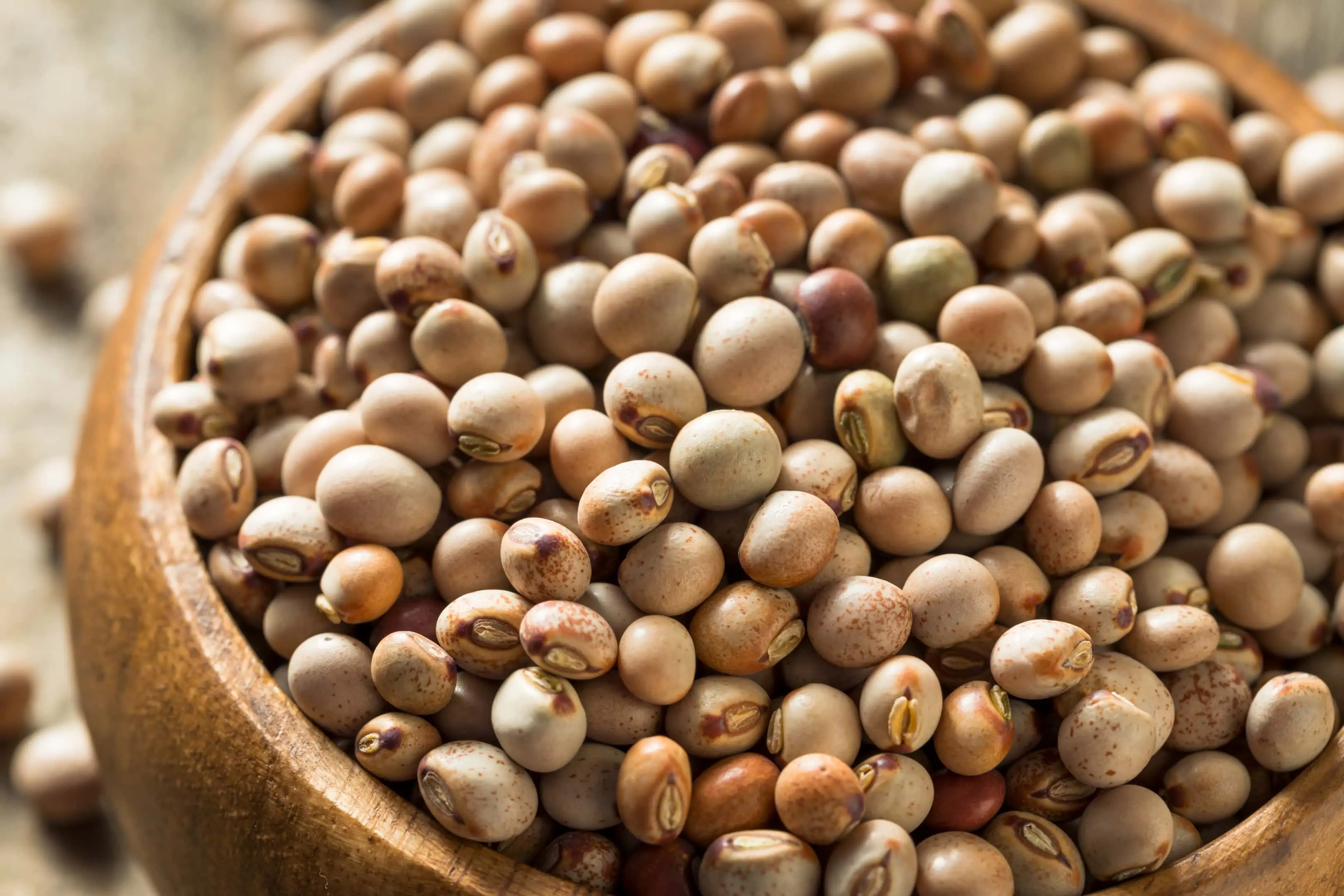 Pigeon peas, also known as kadios, red gram, gungo peas, arhar, or by its botanical name Cajanus cajan, have a variety of uses. Since its domestication 3,000 years ago, it has been used as animal feed.
The leaves' flavor is palatable to many livestock, and raw pigeon peas can also be milled for their consumption. The seedpod hulls and other plant waste can also be nutritious feeds for sheep.
The stems have also been used for firewood. In Thailand, the plants are used as a host to get the insects required for shellac.
Most importantly, pigeon peas are used for human consumption. Pigeon peas are eaten in most parts of the world. Usually, they are combined with maize and other grains or crushed to flour to make bread.
They are also used in traditional meals. In India, pigeon peas are one of the most important sources of protein in their vegetarian diets. There is an estimated 5.4 million hectares of land dedicated to the growth of pigeon peas, and India contains 72 percent of it.
The peas, along with shoots and leaves, are prepared and eaten. In the Bahamas and Jamaica, they are used to make their traditional peas and rice dishes.
In some countries, pigeon peas are added into stews with tomato sauces. In the Philippines, especially in Western Visayas, the pigeon peas are the main ingredients for a certain dish called KBL, or kadios (pigeon pea), baboy (pork), and langka (jackfruit).
With such widespread consumption, we should strive to know the good and bad Cajanus cajan side effects.
Nutrition facts of pigeon peas
Before we can talk about the side effects of pigeon peas, let's look at their composition. In that way, we can understand why the effects occur.
Pigeon peas have a high nutritional value and have rich concentrations of vitamins and minerals. A cup of boiled pigeon peas is dense in thiamin (Vitamin B1), riboflavin, niacin (Vitamin B3), vitamin B6, vitamin B12, and folate.
Pigeon peas also have essential minerals, containing 72 mg calcium, 77 mg magnesium, 645 mg potassium, 200 mg phosphorus, as well as iron, zinc, and more. They have low saturated fat, cholesterol, and sodium content, but are high in fiber and protein.
The pigeon peas, like all legumes, contain a compound called lectin which protects them from infection and infestation.
Positive pigeon peas side effects
The pigeon peas' nutritional content leads to a lot of positive side effects. These side effects include the regulation of blood pressure, improved heart health, and improved regeneration of muscles and cells. Pigeon peas also promote good eyesight, healthy bones, and healthy digestion.
1. Regulate blood pressure
Pigeon peas can help regulate blood pressure and improve heart health. Potassium found in pigeon peas helps in reducing the constriction of blood vessels, which improves overall blood flow.
Potassium can also reduce the risk of cardiovascular diseases, including stroke, high blood pressure, and heart disease. Research also says that having too little potassium in your diet could contribute to vascular calcification, which leads to atherosclerosis or the hardening of the arteries.
Adding pigeon peas to your diet can help you reach your daily potassium needs. A cup of pigeon peas contains enough potassium to reach 13% of your daily requirement.
2. Help muscle growth
Pigeon peas can aid in growth and development since they contain a lot of protein. A cup of Cajanus cajan contains up to 22% of your daily protein needs.
Protein is the building block of your muscles. The reason why bodybuilders consume high amounts of protein is to help their muscles heal quicker and better, in addition to allowing them to develop stronger.
Even if you aren't a bodybuilder, your body still requires protein to help in your overall growth and development. Adding pigeon peas to your diet can help boost the regeneration of cells and muscles, which is essential for people that do physical labor and other strenuous work.
3. Improve blood cell health
Pigeon peas can also help prevent anemia. According to the UC Davis College of Agricultural and Environmental Sciences, 100 grams of mature raw pigeon peas can provide 114% of your daily folate needs. For pregnant women, the same serving size contributes to 76% of their daily folate needs.
A lack of folate in your diet can contribute to anemia and a higher risk of stroke and heart disease. For pregnant women, folate deficiency can contribute to significant congenital disabilities in children.
These side effects occur because a folate-deficient diet causes the body to produce large red blood cells which do not function properly. Luckily, consuming even a cup of pigeon peas daily can help you reach your folate needs. Research even found that a person's risk of heart disease and stroke can be mitigated by 20% just by increasing the intake of folic acid, a type of folate.
The amount of folate in pigeon peas, combined with its high iron content, can help promote the production of healthy, functioning red blood cells.
4. Help with weight loss
Pigeon peas can also help people who want to lose weight. They are low in caloric content and are rich in dietary fiber. Food high in fiber gets digested more slowly, which means that it will stay in your stomach longer and make you feel full longer.
The fiber in pigeon peas can also improve your digestive health. Fiber is the food of the good bacteria in our gut, and a high-fiber diet can make them multiply and thrive.
These microbes inside our intestines do two things — they create a thicker mucus wall which lowers inflammation throughout our body, and they also aid in the digestion of our food. In addition, some studies link fiber to the fending off of conditions such as type 2 diabetes and arthritis.
5. Boost energy levels
Pigeon peas can help boost your energy. Pigeon peas are rich in B vitamins, including B12. The eight B vitamins help your body convert the food you consume into energy-giving glucose. B vitamins may also prevent the storage of fat, which can help in weight loss.
Vitamin B complex overall has an impact on the nervous system, the heart, and the brain. Consuming the right amount of all Vitamin Bs can prevent infections and promote the growth of healthy red blood cells, good eyesight, proper nerve function, good digestion, and muscle tone.
Two of the vitamin Bs in pigeon peas are vitamin B1 and B3. Vitamin B1, also known as thiamin, can help boost the immune system. Vitamin B3, or niacin, also aids in the control of cholesterol.
Some people are prone to vitamin B deficiency, such as the immunocompromised, alcoholics, and older adults. As people get older, their bodies do not produce as much acid, which reduces their ability to absorb vitamin B. Adding pigeon peas to their diet can help them reach their vitamin B needs.
6. Help strengthen bones
Pigeon peas can also help in strengthening bones, as 100 grams of them comprises 13% of your daily calcium needs. Your body requires calcium to build and maintain strong, healthy bones and teeth. A calcium deficiency can cause children to have stunted growth and adults may get low bone mass, which contributes to osteoporosis.
The calcium in pigeon peas can also help in blood clotting and the regulation of your heart's rhythm.
Since pigeon peas are also low in sodium, they are a good substitute for meat products.
Negative side effects of pigeon peas
As with all legumes, pigeon peas should be consumed in moderation, as they contain a carbohydrate-binding protein called lectin. Lectins are the proteins that protect pigeon pea plants from the growth of insects, fungi, and other microorganisms.
Lectin is known to be an irritant of the small intestine's lining. It can damage the junctions between the intestine's projections, which can prevent our bodies from absorbing nutrients.
Such damage can lead to inflammation and gastrointestinal disorders such as the leaky gut, as well as other autoimmune diseases. Lectins also contribute to leptin resistance, which can increase the risk of obesity.
Some people are also more sensitive to lectin. If they consume small amounts, they can get allergic reactions such as skin rashes, joint pain, and inflammation. They can also experience flatulence, vomiting, nausea, and diarrhea.
Luckily, you can reduce the number of lectins in your food by soaking, sprouting, and fermenting them. You can also avoid overconsumption of lectins by decreasing the number of legumes in your diet. If you believe that you are more sensitive to lectin than most people, you can consult your doctor before eating any kind of legume, including pigeon peas.
Conclusion
Pigeon peas have a variety of uses, such as fertilizer and firewood. Most importantly, they are eaten by humans and animals alike all over the world, mainly in Asia and Africa. They are rich in nutrients and essential minerals needed by the body. As such, their side effects are more positive than negative.
These side effects include increased energy, a healthier heart, reduced risk for cardiovascular diseases, and more. However, all legumes, including pigeon peas, must be consumed in moderation, or else they could have negative side effects, which could lead to intestinal issues.
Nevertheless, eating pigeon peas in healthy amounts can be beneficial for you, especially if you are leading an active, healthy lifestyle.