Broccoli is an essential leafy green with lots of health and nutritional benefits. It is a part of a group of vegetables called cruciferous vegetables. Its leaves contain lots of water and have very few calories. However, in this article, we are focused on the Chinese broccoli which is also referred to as gai-lan; this name was given to it by the Cantonese. It may come from the same family of cruciferous vegetables like regular broccoli, but it differs slightly in depth of color and thickness. Chinese broccoli has a longer stem and thick leaves of deeper shades. It also has a better taste with a little less bitterness than your regular broccoli and it is prevalent in Chinese cuisine. It is typically steamed or stir-fried with other spices like ginger while eaten with oyster sauce.
Apart from the Chinese, the gai-lan is popular in Thai and Vietnamese cuisines. Chinese broccoli comes with some compounds that are not good for the body, but most of them are metabolized by our saliva after a bit of chewing. This vegetable is rich in vitamins C, A, B9, and K, as well as being packed with potassium, selenium, and phosphorus. Also, note that raw Chinese broccoli needs to be chewed more thoroughly than the steamed or cooked versions. Some of Chinese broccoli's health benefits range from biological to even physiological ones.
Jump to:
8 Benefits of Chinese broccoli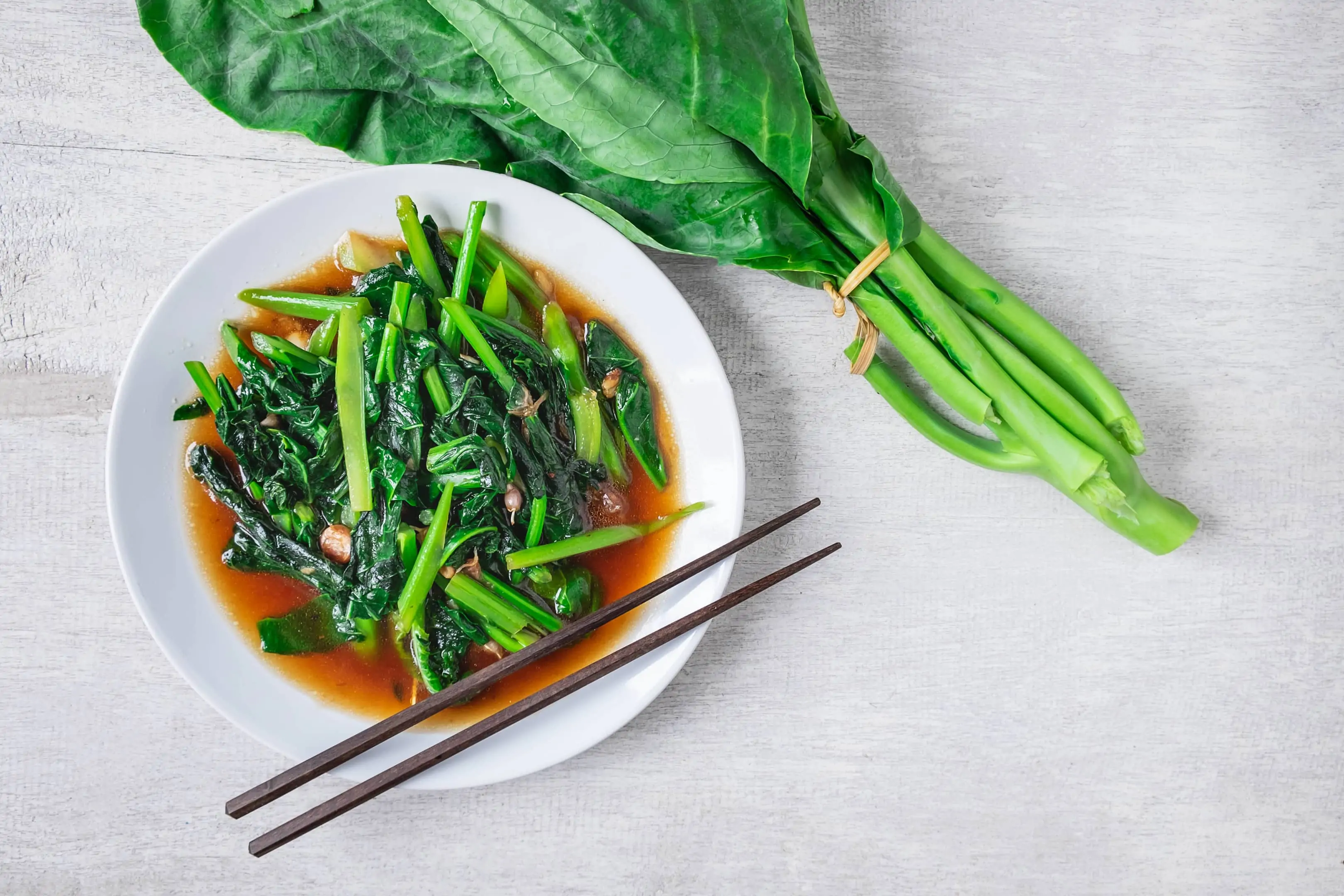 1. Prevents inflammation
Chinese broccoli limits the causes of inflammation in the body. When toxins or harmful substances are present in the body or illnesses occur, signals are sent to the inflammatory system to activate and fight off the infection and protect us from the toxins. A molecule signals the body system, which spurs an inflammatory response and creates inflammation. Broccoli, like other cruciferous vegetables, contain glucosinolates which are made from isothiocyanates. They are responsible for reducing the inflammatory response. Glucosinolates also contain sulforaphane which is a crucial anti-inflammatory agent for the body. Broccoli also has adequate levels of omega-3 fatty acids, which are critical ingredients for some anti-inflammatory molecules that work in the body. The omega-3 fats help balance the inflammatory response of the body and limit inflammation. This cruciferous vegetable contains a flavonol known as kaempferol, known for its anti-allergen activities, which also inhibits inflammation.
2. Antioxidant benefits
Antioxidants are chemical compounds made in the body or found in fruits and vegetables. Chinese broccoli comes with a wealth of antioxidant compounds in the body. Their function is to arrest the free radicals in the body that might damage cells and tissues. Radicals contain unstable molecules created during the body's metabolism process. It also possesses the vitamins C, A, and E. All these are reflected in the carotenoid content of broccoli. It includes other minerals and nutrients like manganese, zinc, chromium, and selenium. The vitamins, phytonutrients, and minerals in broccoli each give its powerful antioxidant abilities. Broccoli possesses flavonoids and carotenoids of varying types. Antioxidants also have other benefits like aiding vision and reducing the risk of disease.
3. Cancer prevention
Chinese broccoli has been shown to possess cancer prevention attributes. Its anti-inflammatory and antioxidant characteristics also go a long way in cancer prevention. Research has detailed raw broccoli's potency against prostate cancer and also mitigating the chances of its development. Regular broccoli has also been shown to be good against ovarian and breast cancers. Regular intake of at least 25 calories worth of broccoli is needed to achieve these results. Research, however, suggests that a heavier consumption of broccoli is needed to achieve more cancer-limiting results. This cruciferous vegetable helps to limit oxidative stress in healthy cells and thus reduces their chances of becoming cancerous and developing in the body. To make consumption of reasonable amounts of broccoli easier, it is better to implement broccoli in your diet and combine it with vegetables and healthy foods or fruit. To optimize broccoli's cancer limiting benefits, the intake of this vegetable must be more intentional as the main course of your diet, rather than just an added supplement to your meals.
4. Carries out detoxification
Chinese broccoli also possesses detoxification attributes. They help remove toxins and nullify harmful substances in the body. As mentioned earlier, broccoli contains glucosinolates made from isothiocyanates. These glucosinolates are responsible for facilitating the detox process in the body. They carry out the process of attaching themselves with these harmful substances to ensure their subsequent removal from the body system. Binding themselves with these toxins makes the toxins more susceptible to damage and quickly identifies them to be removed from the body. Broccoli fosters and speeds up this process which aids the removal of various unwanted materials in the body.
5. Aids digestive support
Chinese broccoli contains reasonable amounts of dietary fiber and glucosinolates, which help support the digestive processes. The fiber helps ensure the various components of food ingested moves through the various stages of food digestion in the intestine without delay or difficulty. It also ensures that the population of our healthy gut bacteria remains optimal and improves their functioning. The glucosinolates in broccoli are converted to sulforaphane which assists in the protection of the bacterial gut lining in the stomach that prevents ulcers and overgrowth of bacteria on the stomach walls. Glucoraphanin is also a byproduct of glucosinolates that support bacteria gut health. Chinese broccoli isn't necessarily a type of broccoli that you may easily procure in the grocery store. However, regular broccoli will still provide you with lots of glucoraphanin and glucosinolates that will foster your digestive and gut health. Therefore, get that Chinese broccoli and garnish it with each meal you take in your diet to get all its nutrients and its impressive digestive quality.
6. Boosts the immune system
Vitamin C is a known agent for combating illness in the body. It is essential for the development and repair of cells and tissues all over the body. It can be procured in varying fruits and vegetables. Chinese broccoli contains vitamin C and it provides the body with much-needed added protection. It is also a vital arsenal for immune function in the fighting of diseases and harmful elements in the body. This vitamin has a plethora of functions that benefit the human body in multiple ways. One does not need to be concerned about overdosing because excess amounts are always excreted from the body. It is vital for protection of the immune system function.
7. Reduces cholesterol and provides cardiovascular support
Chinese broccoli contains compounds that can help lower harmful cholesterol levels and provide heart support. Studies have noted how it significantly reduces the volume of bad cholesterol in the body. Chinese broccoli contains large amounts of soluble fiber responsible for reducing the cholesterol levels in the body. The phytonutrients in Chinese broccoli also contribute to heart health. They help modify cells and reorient their signaling, enabling them to eliminate the unwanted cholesterol in the body. Also, this cruciferous vegetable contains B-complex vitamins that prevent unneeded amounts of homocysteine, a substance that enhances the chances of cardiovascular diseases. By increasing the amounts of vitamin B6 and folic acid in the body, Chinese broccoli stifles excessive homocysteine production and prevents heart disorders.
8. Enhances bone strength
Vitamin K is essential for calcium absorption in the body, and lack of it can cause weak bones and easy bone fractures in the body. Chinese broccoli is packed with this valuable vitamin, and it also contains calcium which is the principal component for bone growth, development, and healing. Its zinc and phosphorus content also contributes to bone health.
Conclusion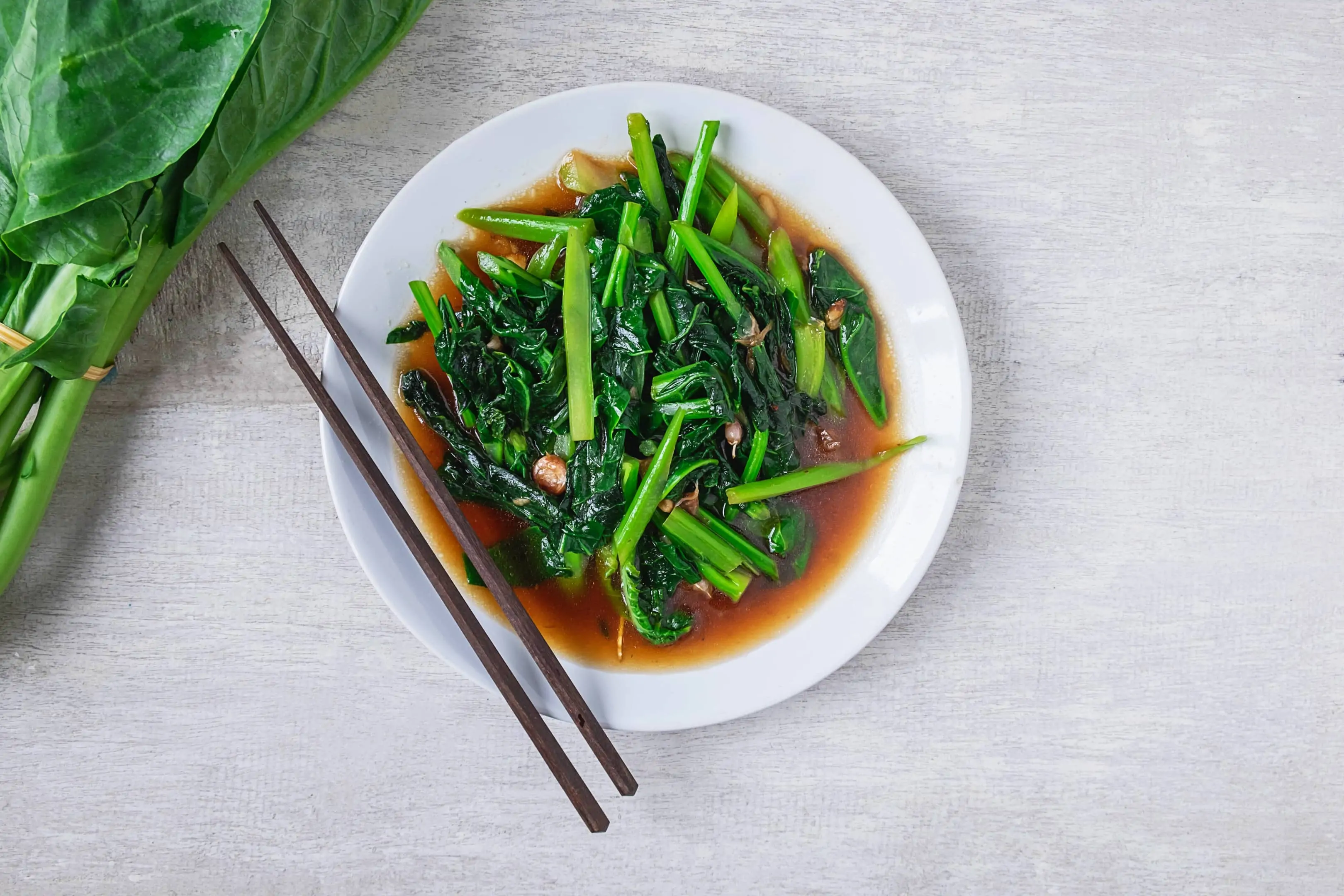 The benefits of Chinese broccoli cannot be overstated. With its many advantages, it is surely a special vegetable. Notwithstanding, it is important to understand that there's no single fruit or vegetable that can give our body all the necessary nutrients that it requires. Therefore, it is vital to embrace the importance of adding other healthy foods and vegetables to your diet.