The Japanese Black Bean tea (Kuromamecha) benefits many people all over the world, particularly in Southeast Asian countries where black soybeans are naturally found. Nowadays, these beans are planted not only in Asia but also in North and South America.
Kuromamecha is a Japanese term for "black bean tea," which is made by roasting black soybeans. The roasted soybeans can then be ground into powder or left whole, either of which can be used to make tea.
You can eat whole roasted black soybeans even after brewing. Once brewed, the beans will become a black tea with a sweet, earthy, nutty flavor and a ton of health benefits. The tea can be served either hot or cold.
Jump to:
The composition of black soybeans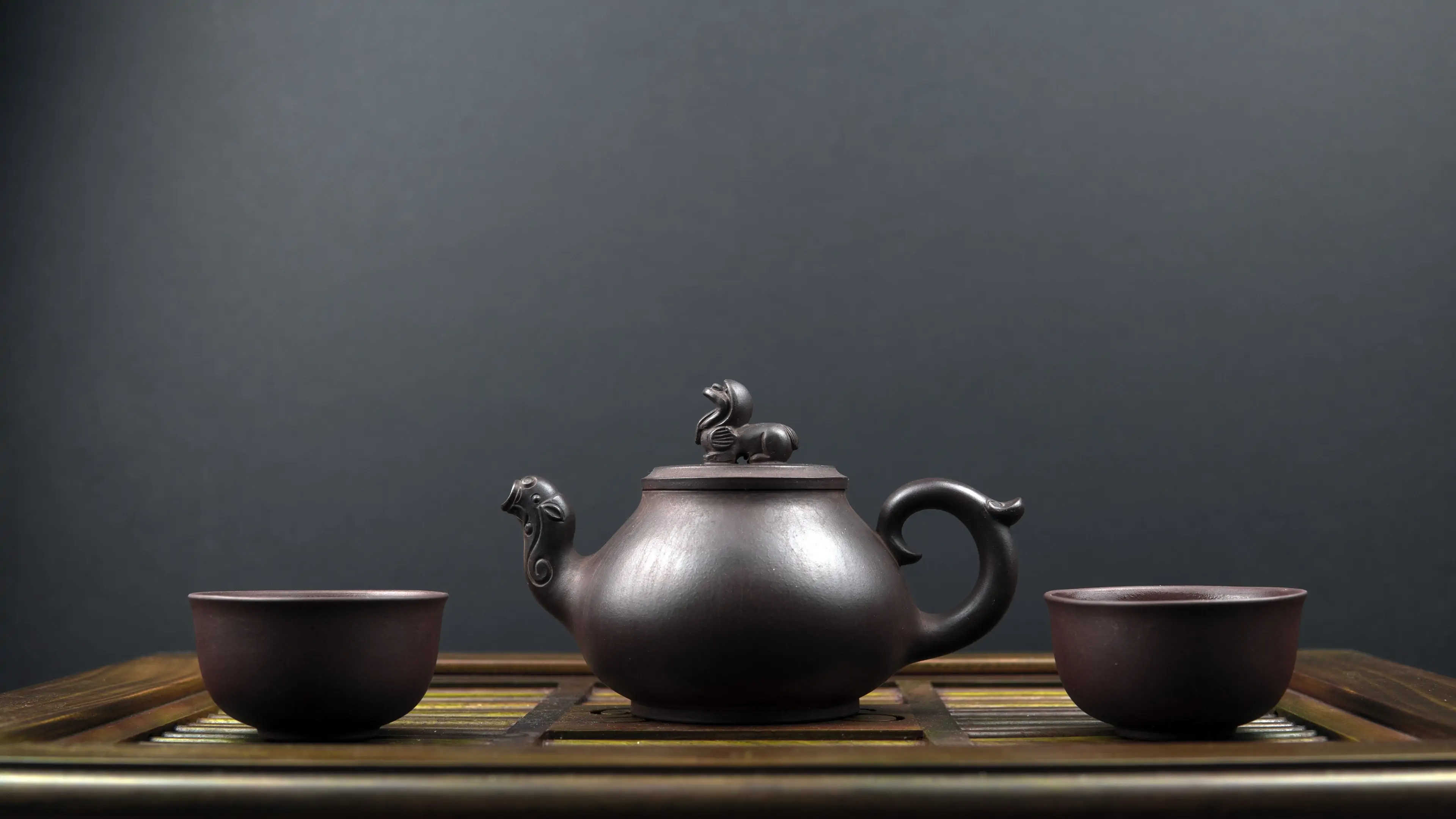 Black soybean tea benefits stem from the chemical composition of the soybeans themselves. One hundred grams of black soybeans contain 16% of a person's daily fiber needs. In general, they are packed with vitamin A and zinc. Black soybeans also contain Vitamins A, B, and K, iron, calcium, magnesium, phosphorus, and potassium, making them great additions to anyone's diet.
Black soybeans also have a low amount of carbohydrates, some healthy unsaturated fats, and a significant amount of complete plant-based protein. This makes black soybean tea and black soybeans, in general, healthy additions to anyone's diet.
Aside from this, black soybeans are also low on sodium, fat, and sugar, which makes them healthy sources of nutrients for those with diseases such as diabetes. The best of all is that you can drink it hot or cold at any time of the day, as it does not have any caffeine.
The black soybean tea benefits
Black soybean tea benefits are numerous and diverse. Overall, black soybean tea can help keep a person healthy. It contains a good amount of vitamins and minerals, and its tea can help manage diabetes, high blood pressure, and heart diseases due to its high folate, fiber, and potassium count.
Due to black soybeans' high fiber content, black soybean tea can help regulate blood sugar and cholesterol in the body. The soluble fiber found in black soybean tea can also aid in weight loss.
In addition, black soybeans can promote bone health since it is a good source of calcium. Studies also show that black soybean tea contains a water-soluble pigment called anthocyanin, which can reduce the signs of aging due to its antioxidant content.
Multiple studies show evidence of the potential health benefits of black soybean tea and black soybeans in general. The following paragraphs will help you understand these health benefits in greater detail.
1. Black soybeans help manage diseases
Black soybean tea benefits those with non-communicable diseases such as hypertension and diabetes.
Managing hypertension requires maintaining a low sodium diet to keep blood pressure at an average, stable level. Black soybeans are naturally low in sodium, which makes them a great addition to the patients' diets.
In addition, black soybeans are also rich in potassium, magnesium, and calcium. According to multiple studies, when consumed in the right amounts, these elements were found to decrease blood pressure naturally.
Black soybeans have a high amount of fiber, folate, and potassium. These elements are well-known to help reduce the amount of cholesterol in the blood. Combined with the soybeans' overall lack of cholesterol and low sodium content, these elements can help improve heart health and decrease the risk of getting heart disease and other cardiovascular diseases.
Black soybeans also contain natural anti-inflammatory compounds like quercetin. These compounds can reduce blood lipid and cholesterol levels, as well as lower the risk of atherosclerosis.
Black soybean tea also benefits those with diabetes due to its high fiber content. Research shows that people with type 1 diabetes who consistently consume high amounts of fiber have lower blood sugar levels compared to those who don't. Not only that, but individuals with type 2 diabetes may have better insulin, lipid, and blood sugar levels if they add fiber into their diets.
2. Black soybeans help prevent cancer
Black soybeans have many nutrients that can curb cancer risks, specifically the ones related to hormones. According to other research, soy has possible benefits in reducing prostate, colon, and ovarian cancers.
The high fiber content of black soybeans and its tea helps reduce your caloric intake and aids in maintaining a healthy weight, both of which are crucial to reducing the risks of getting all kinds of cancer. Fiber is also associated with a lower risk of colorectal cancer.
In addition, there is evidence showing that the calcium content of black soybeans may decrease the risk of breast cancer in women.
3. Black soybeans have anti-aging properties
Black soybeans contain a pigment called anthocyanin. Anthocyanin is found in grapes, berries, currants, and other fruits. It is a water-soluble pigment that is responsible for the red, purple, or blue color of fruits and vegetables and is widely used as a natural dye.
According to a study, anthocyanins also have a role as a pharmaceutical ingredient since they possess antioxidative and antimicrobial activities. In addition, the pigment can also help improve visual and neurological health and decrease the risk of having various non-communicable diseases.
Antioxidants are chemical compounds that counteract unstable molecules called free radicals. Free radicals damage DNA and parts of our cells. They are inevitable and encountered naturally by our body because they are byproducts released when we exercise or when our body fights off intruders.
Antioxidants like anthocyanin disarm free radicals and help control them, which can slow the aging process and fend off cancer and heart disease.
4. Black soybeans promote bone health
A healthy amount of black soybeans can help increase bone health. Soybeans have compounds called soy isoflavone. These are phytoestrogens commonly found in legumes, but soybeans are an incredibly rich source of these compounds.
A study was conducted to see the effect of a soy diet with isoflavones on women. The results showed that the women had a slower rate of bone loss, which resulted in a lower risk of getting osteoporosis.
Black soybeans are also exceptionally rich in calcium, which is necessary for building and maintaining strong bones. All in all, adding black soybean tea to your diet can improve your bone health.
5. Black soybean tea helps in weight loss
A lot of people use tea in their diets, with some having black bean tea weight loss plans. This is because Kuromame tea benefits those who are concerned with their weight since it contains a large amount of fiber.
According to SFGate, the soluble fibers found in black soybean tea slow down the passage of food through your intestines, which makes you feel full. Since you feel full, you will inevitably decrease the amount of your food intake, resulting in controlled weight gain or loss.
Adding fiber to your diet does not only help you in achieving your weight goals but also stabilizes your blood sugar and cholesterol count. This benefit results from fiber combining with cholesterol and carbohydrates, preventing them from being absorbed or being digested quickly. High amounts of fiber will also prevent constipation and promote a regular, healthy digestive tract.
6. Other health benefits of black soybean tea
In general, black soybean tea and black soybeans are incredibly rich in plant-based protein, with every half-cup having 11 grams. Soybeans have complete proteins, which is rare for plants to have.
As soy has complete proteins, it can supply all types of amino acids that your body needs. This helps in muscle and tissue repair, reducing appetite and cravings, and boosts metabolism.
Japanese black soybean tea is also an excellent substitute for coffee since it is a tasty beverage that can be consumed either hot or cold. Its earthy, nutty taste could make you feel satisfied without caffeine, making it a suitable alternative.
Adverse health effects
Despite these benefits, black soybean tea is not for everyone. If you are allergic to soy, it is best to avoid all soybean products. Failure to do so may cause vomiting, shortness of breath, hives, diarrhea, or worst of all, anaphylaxis, which could lead to death.
Soybeans can also cause digestive symptoms in some people since they are high in fermentable oligo-, di-, monosaccharides, and polyols (FODMAPs).
Large amounts of soybeans could also harm people with thyroid conditions. Soy isoflavones have little to no impact on the general population but could be a cause for concern for those with thyroid problems.
If you are worried about the effects of consuming black soybean tea or if you are thinking of including it in your diet, it is still best to consult with your doctor first.
Conclusion
Black bean tea benefits anyone and everyone who decides to eat it, as it has no caffeine content and can be served at any time, hot or cold.
Black soybean tea has a myriad of nutrients, including vitamins and elements such as iron, calcium, phosphorus, and magnesium. Adding this to your diet can help in weight loss, and it can also reduce the risks of colorectal cancer due to its fiber content, antioxidants, and antimicrobial effects.
Black soybean tea can also help reduce the risk of osteoporosis, help manage cardiovascular diseases and diabetes, prevent hormone-related cancers, and help in muscle growth and repair.
Of course, if you are wary of any adverse effects, you should consult your doctor before adding black soybean tea to your diet. However, for the general population, adding Kuromamecha to your daily diet plan will work wonders and improve your overall health without the risk of any complications.