Throughout 2020, you may likely have missed out on the opportunity to take a well-deserved vacation. So if you're craving an exotic experience without any airports involved, you're in the right place. Swap your passport for a saucepan and get ready to start your Caribbean adventure right from your very own kitchen!
Boasting pristine, heavenly beaches and crystal clear seas, the Caribbean is just about as close to paradise as you can get. The spicy cuisine of this rich culture intricately blends the best herbs and spices combined with the freshest seafood possible to create a positively ambrosial treat for your tastebuds. With its fusion of African, European, and Cajun cuisines, the Caribbean islands offer a vast range of diversely unique dishes finding homes on each island. Take a tasting-trip to each, and see where your favorites reside!
Let the tasting trip begin!
Jump to:
1. Creole bread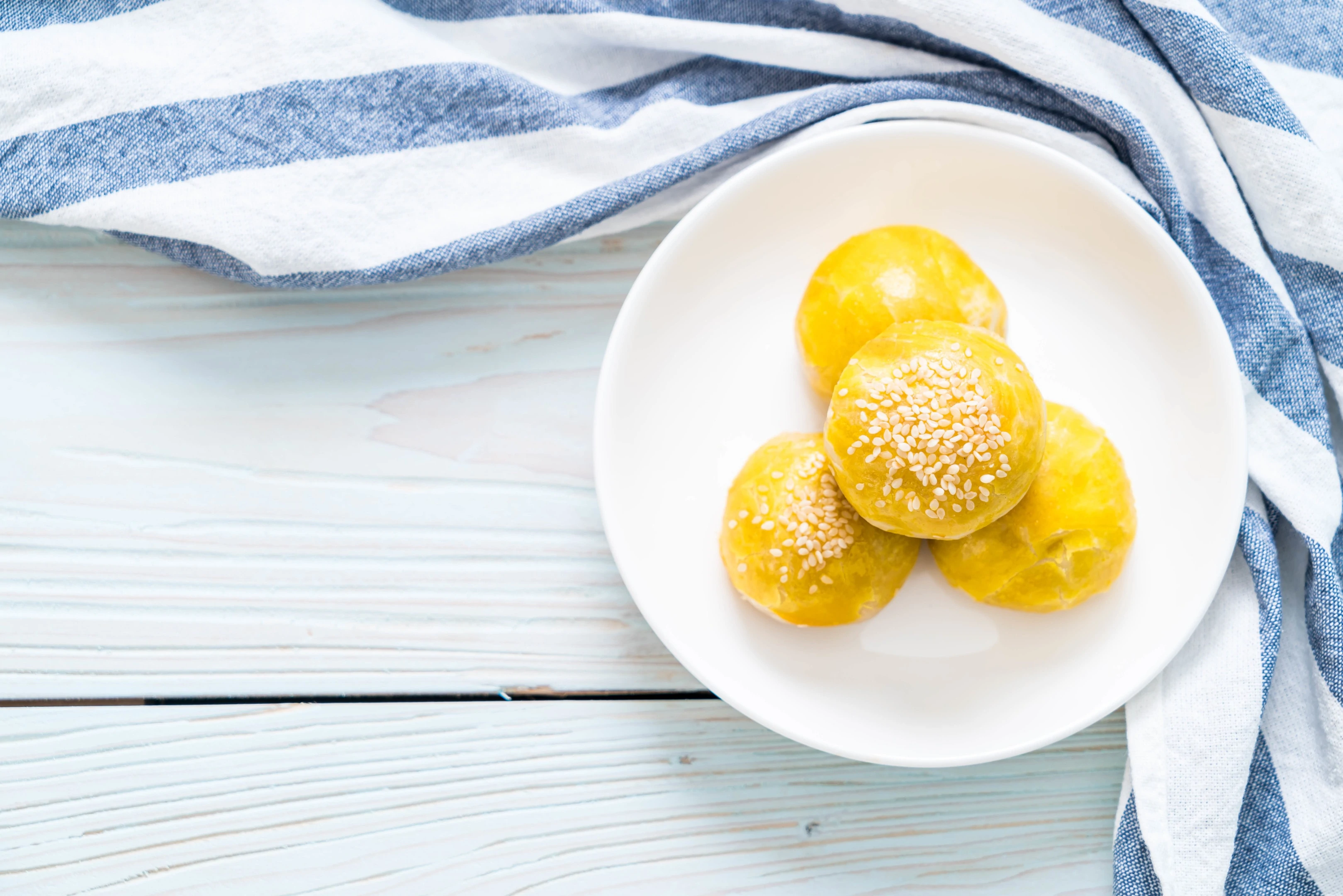 A delicious treat hailing from Saint Lucia, these soft-crusted rolls are sometimes fashioned into thin, crescent moon shapes and baked to perfection in a traditional wood-burning oven, leaving the loaves' flavor intertwined with sumptuously subtle notes of smokiness. Served at many a humble family-run bakery, this unique bread is best enjoyed piping-hot and freshly-baked during the bakeries' ritualistic morning sessions—a ritual you can easily integrate into your kitchen.
You will need:
½ cup of warm water
2 teaspoons of instant yeast
4 teaspoons of sugar
5-8 cups of white flour, depending on the humidity in the air
1 ½ cups of low-fat coconut milk
½ cup of coconut oil
1 tablespoon of salt
What to do:
Start by activating your yeast by mixing the yeast, half the sugar, and 2 tablespoons of the flour into the warm water in a bowl, and leave it alone for ten minutes.
Microwave the oil, milk, salt, and the rest of the sugar, for approximately 20 seconds. Make sure not to let it boil, then stir it together and set it to the side.
Wait until the milk mixture has cooled to room temperature, then mix it into the yeast mixture.
Sift the first five cups of flour into a big mixing bowl, and add the wet ingredients.
With a flat, wooden spoon incorporate the wet ingredients until a dough is formed. If the dough is too sticky, add in some extra flour, and continue to do so until you form an easily kneadable dough.
Dust your kneading surface with flour and knead your dough until smooth, for five to ten minutes. Add more flour if required until you achieve the desired consistency. This may be an entire cup extra depending on the humidity in your area.
Transfer the dough to a greased mixing bowl to let it rest, covering it with a damp tea towel. It should rest until it has doubled in size.
Once it has grown sufficiently, knead it for about three minutes before dividing it into either two halves, or six small balls.
Grease a pan and place the dough balls into it, allowing them to rest and rise once more before baking them in an oven at 400 degrees Fahrenheit for half an hour until the top of the bread turns a rich brown color.
Let the creole bread rest for a few minutes, and enjoy your freshly baked bread!
2. Coucou and flying fish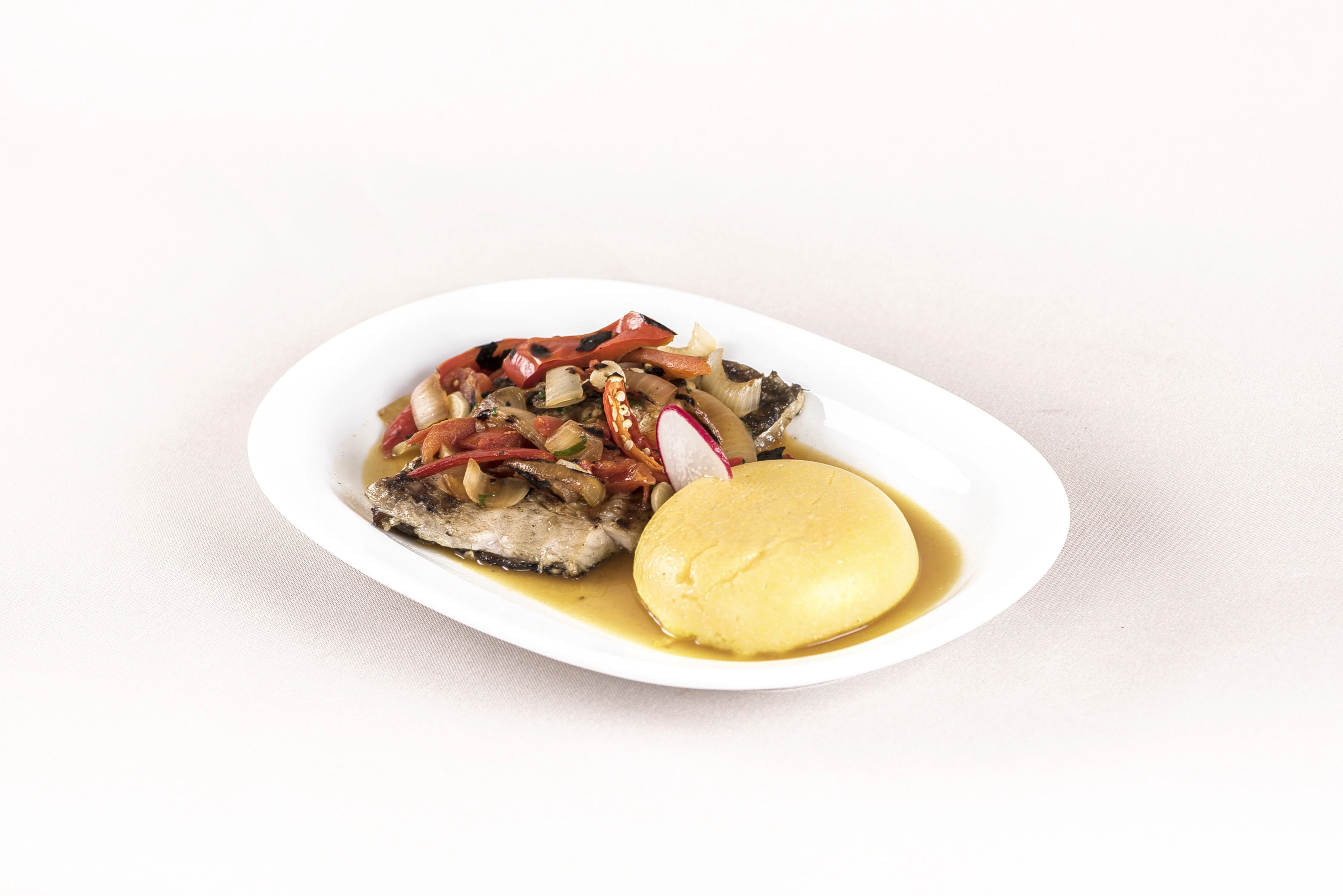 Barbados, often known as 'The Land Of The Flying Fish' keeps itself consistent with its national dish, coucou, and flying fish. This beautifully representative delicacy consists of steamed flying fish, onions, peppers, spices, and a kick of freshly squeezed lime juice—all served on a soft pillow of cornmeal cooked with okra (an underrated superfood and textural godsend), similar to polenta.
While it may not be the easiest feat in the world to secure yourself some freshly caught flying fish, you can still give coucou a try!
You will need:
2 cups of water
2 cups of cornmeal
1 tablespoon of vegetable oil
½ cup of finely chopped onions
1 tablespoon of minced garlic
2 teaspoons of minced thyme
1 ⅓ cup of sliced okra
4 cups of already-boiling water
1 teaspoon of salt
1 tablespoon of butter
What to do:
In a large bowl, leave your cornmeal in the room-temperature water to soak for five minutes
Meanwhile, in a pot, sauté the onion, garlic, and thyme in oil until browned and fragrant.
Add the okra into the pot and sauté for one minute, then add in the pre-boiling water, letting it continue to bubble for ten minutes before straining out the liquid and remove the okra. Make sure to put half the liquid aside to use later.
Lower the heat and simmer the contents of the pot, adding in the soaked cornmeal at this point, along with the butter and salt. Use a whisk to stir the mixture, making sure the texture is smooth and consistent, not sticking to the bottom of the pot.
As the liquid in the mixture evaporates, slowly add the liquid you saved, in small, fifteen-minute increments. Continue doing so for an hour and a half.
Reintroduce the okra to the pot, and stir until the mixture is as homogenous as possible.
Continue to cook the mixture until it begins to separate from the pot walls, and has a firm consistency.
Grease or butter a bowl and scoop the coucou into it, smoothing it out and using the bowl as a mold. Then, turn the bowl upside down and remove the coucou from the bowl, placing it onto your serving plate.
After letting it sit for a few minutes, create a divot in the center of the coucou and fill it with your stew or curry of choice, ready to be enjoyed!
3. Conch fritters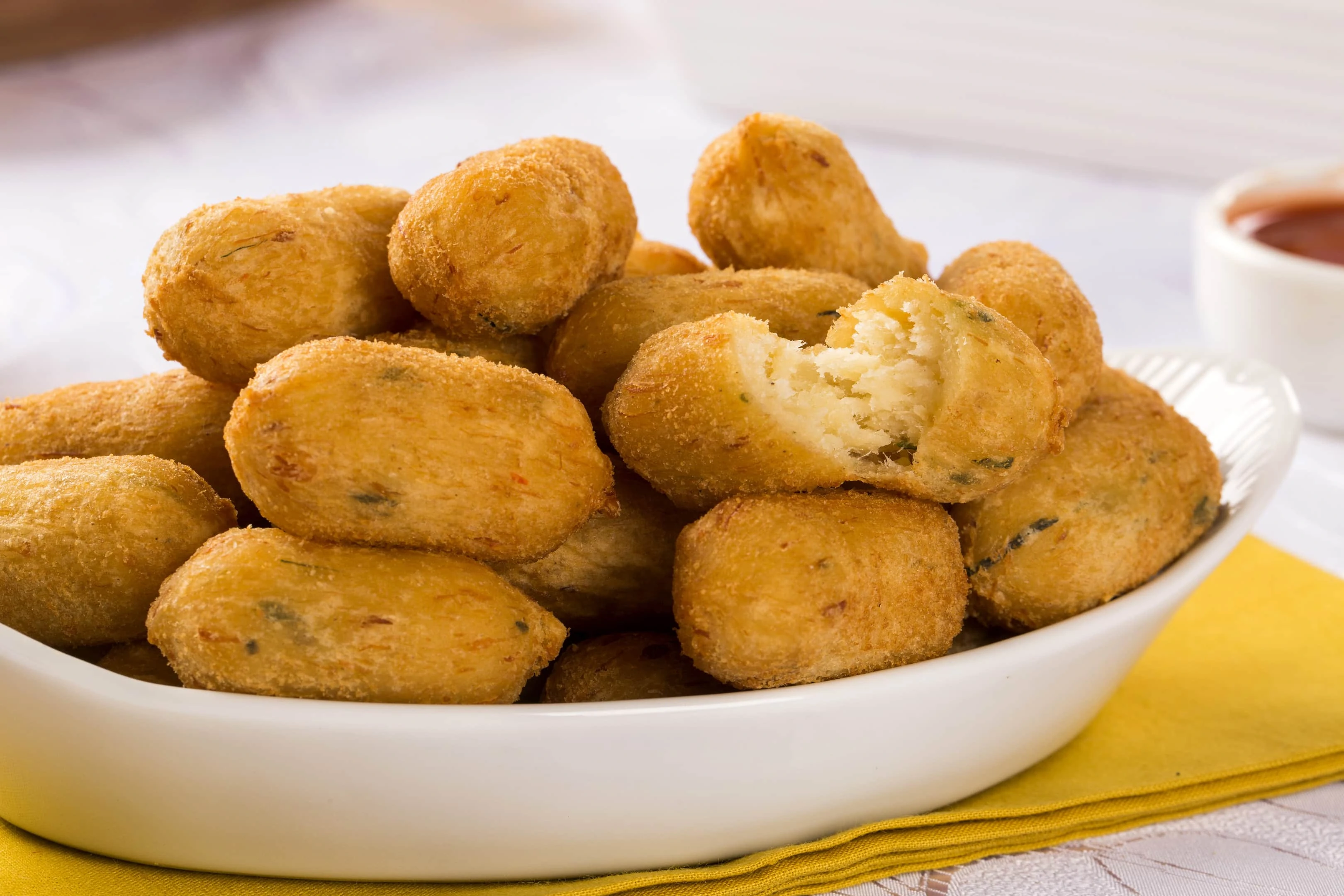 A particularly sought after delicacy in the Bahamas, these large-shelled mollusks make for a wonderful fried fritter reminiscent of a crab cake. This traditional Caribbean snack has no singular set of ingredients and can contain different add-ins depending on which family's recipe you go by. Try making these conch fritters, and perhaps add in an extra secret ingredient that can be exclusive to you.
You will need:
1 cup of all-purpose flour
1 teaspoon of sugar
1 teaspoon of baking powder
1 lightly beaten egg
6 tablespoons of buttermilk
8 ounces of finely minced conch
1 whole minced jalapeño
¼ cup of minced white onion
¼ cup of minced red bell pepper
1 clove of minced garlic
¾ teaspoon of Creole seasoning
Sufficient vegetable oil to fry the fritters
What to do:
Begin by pouring enough oil into a frying pan that is at least an inch deep, and start heating it to 350 degrees Fahrenheit.
While you're waiting, in a large mixing bowl, combine the flour, baking powder, sugar, and the egg before mixing in the buttermilk.
Mix in the conch, onion, pepper, jalapeño, carrots, garlic, Creole seasoning, and whatever else you are using, making sure that it's all distributed evenly throughout the batter.
Scoop out small, one inch sized balls of the batter into the fully heated oil, turning them with a spider ladle until they are completely golden brown. This will take 2-4 minutes depending on their size.
If your frying pan will not accommodate all the fritters at once, feel free to fry them in batches.
Once the fritters are fried, rest them on paper towels for a few minutes to drain any excess oil. Don't let them rest for too long though, they're best served piping hot and crispy!
The only way to possibly improve these lip-smacking Bahamian conch fritters is to dress them up in this tantalizing dipping sauce which is sure to get your taste buds tingling.
You will need:
½ a cup of salsa
1 cup of mayonnaise
1 teaspoon of garlic powder
½ teaspoon of dried basil
½ teaspoon of sea salt
¼ teaspoon of cayenne pepper
¼ teaspoon of fresh-ground black pepper
What to do:
In a blender, purée the salsa until completely smooth, then transfer it into a bowl.
Mix in the rest of the ingredients all together, whisking vigorously!
Seal the bowl and store it in the refrigerator for a minimum of two hours before stirring once more and serving it with your fresh conch fritters.
4. Jerk chicken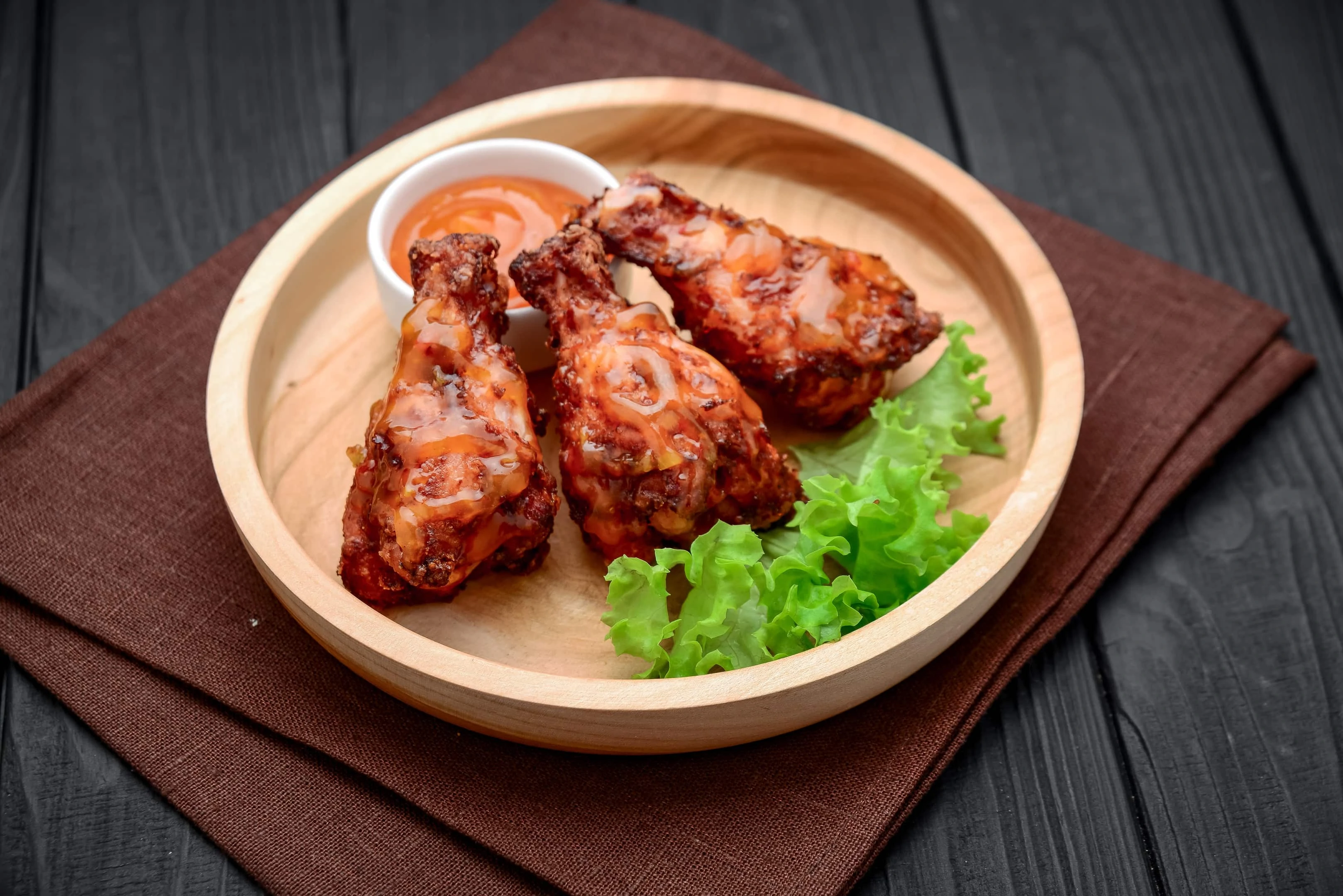 The world-famous jerk chicken, originated by the Maroons, African slaves who fled British capture into the open arms of Jamaica, consists of marinated meat rubbed with a perfectly balanced combination of fiery peppers, and sweet, smoky spices. Synonymous with its motherland, Jamaica, and Caribbean cuisine as a whole, this crowd-pleasing dish is proudly served in every type of Jamaican establishment, from street vendors to fine dining restaurants.
Why not try bringing the flavor of Jamaica to your dinner table? With this authentic seasoning mix, you will be able to create any sort of Jamaican jerk dish you can imagine, not just chicken!
You will need:
1 tablespoon of allspice
3 tablespoons of brown sugar
½ teaspoon of roughly chopped ginger
3 cloves of garlic
1-2 scotch bonnet chilies or habanero peppers, according to your spice tolerance
½ teaspoon of ground thyme
2 roughly chopped spring onions
½ teaspoon of nutmeg
1 teaspoon of cinnamon
2 tablespoons of soy sauce
1 juiced lime
2 tablespoons of vegetable oil
Salt and pepper to taste
What to do:
Combine all the ingredients listed, and mix thoroughly before using it to marinate the meat of your choice.
5. Pikliz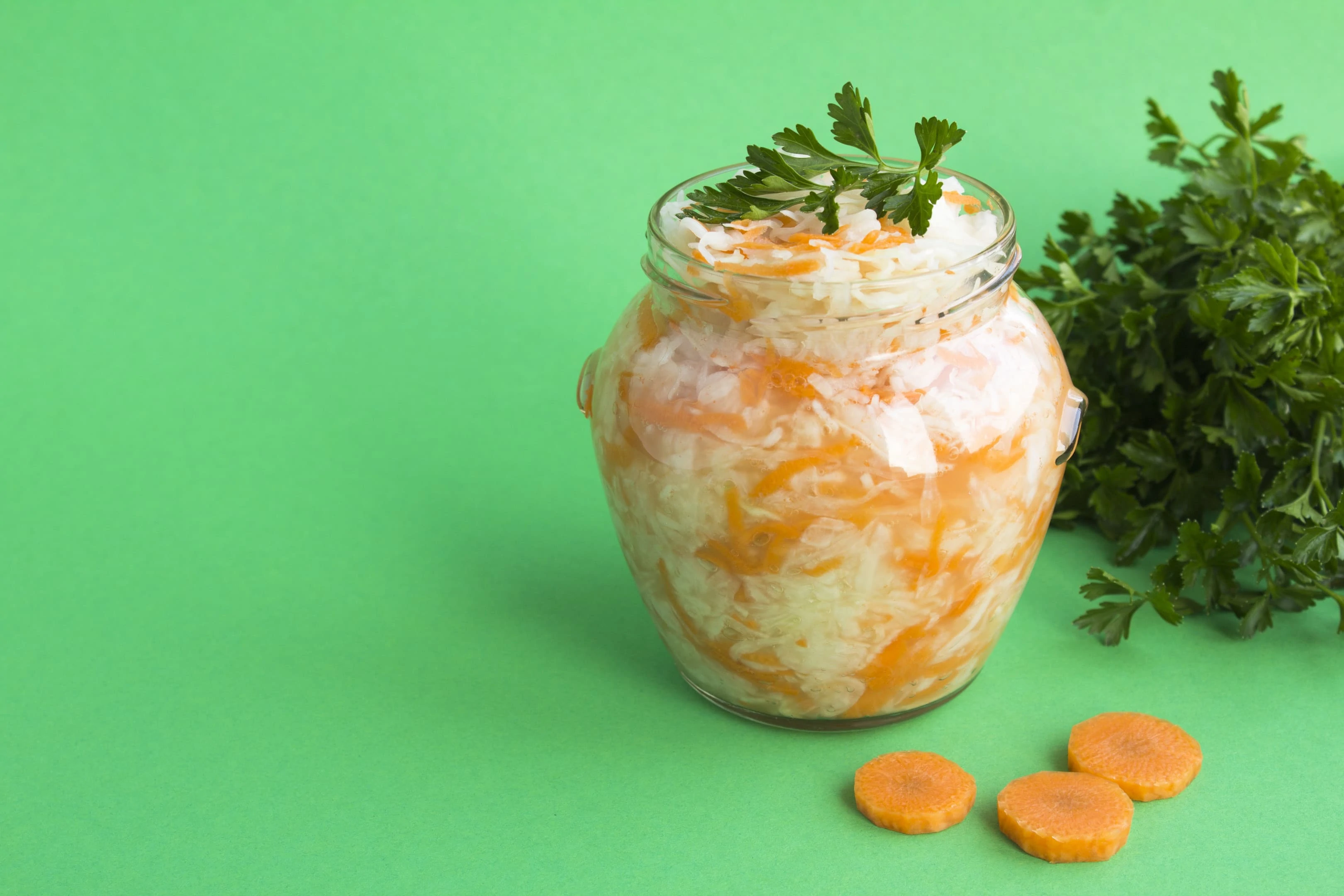 This zingy Haitian relish is traditionally served with fried meats and seafood, cutting through and offsetting the richness of the fat, providing a beautifully bright and fiery respite. It is the perfect accompaniment to elevate and balance any Caribbean meal. With its main ingredients being pickled vegetables like carrots and cabbage, this spicy relish is incredibly satisfying and easy to whip up in less than half an hour.
You will need:
2 ½ cups of julienned cabbage, cut into short strips
1 cup of grated or julienned carrots
½ cup of finely sliced shallots
6 scotch bonnet peppers, cut into quarters
3 sprigs of thyme
8 cloves of garlic, whole
1 teaspoon of salt
Enough distilled white vinegar to cover your vegetables once transferred into the container
3 tablespoons of fresh-squeezed lime juice
What to do:
In a large, glass, airtight jar, transfer all the ingredients besides the white vinegar and lime juice.
Pour the vinegar into the contents of the jar until they are just covered.
Add in the lime juice and seal the jar, before shaking it vigorously to dissolve the salt and mix everything around until evenly distributed.
Refrigerate the sealed jar and come back twice a day to shake it gently.
Pikliz must be prepared a minimum of three days before it is ready to be served, and can last for up to a month when sealed and refrigerated; you can always be prepared when the craving strikes!
You deserve an extra treat
After all that cooking and preparation, you've probably worked up quite a sweat! What better way to reward and refresh yourself than with an icy-cold rum punch?
Rum punch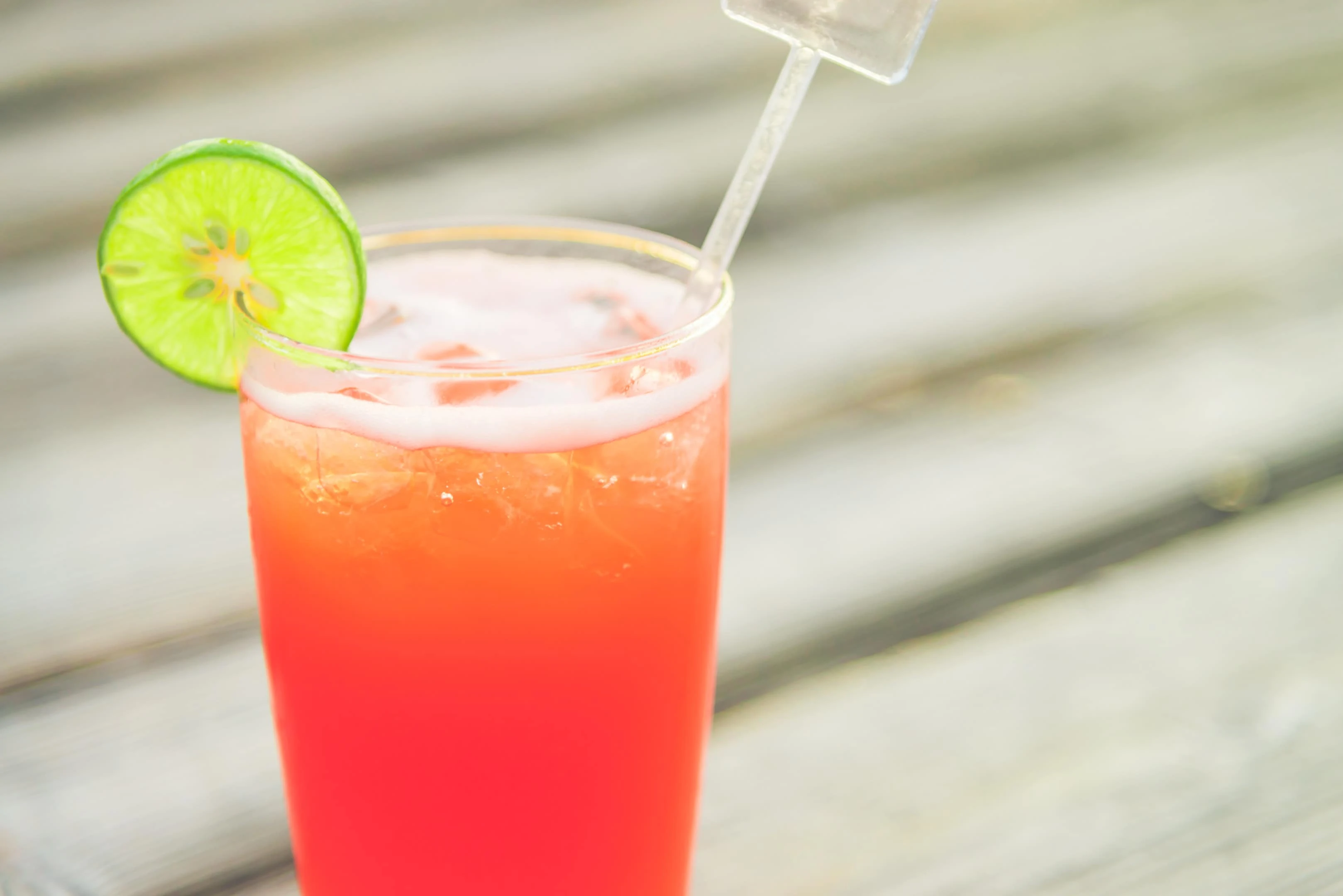 This classic Caribbean cocktail can be created without much more thought than bringing to mind the famous Caribbean rum punch rhyme; "One of sour, two of sweet, three of strong, and four of weak."
If you require more elucidation, follow this more traditionally detailed recipe.
You will need:
25ml of lime juice
50ml of sugar syrup or simple syrup
75ml of your favorite rum
100ml of fruit juice (pineapple and orange pair particularly well)
What to do:
Combine the rum, syrup, lime, and juice in a pitcher; then fill a glass with ice and pour the punch over it.
To further elevate this tasty rum punch, you can even choose to add in a few drops of bitters and a sprinkle of nutmeg before garnishing with a nice big slice of pineapple. This cocktail packs such a punch of Caribbean atmosphere, if you close your eyes and take a sip, you won't believe your feet haven't magically transported you to a pristine Caribbean beach!
Is it time to go home yet?
Now that you have all these deliciously simple, yet mind-blowing recipes, you never have to leave the Caribbean behind. Whether you want to start your day in Saint Lucia by lovingly baking some beautifully rustic loaves of creole bread, or you're struck by the urge to add a quick Caribbean twist to an otherwise boring meal with some Haitian pikliz which you had laying around in the fridge, these recipes are guaranteed to spice up your home cooking, and bring your meals to the next level, impressing friends, family and even yourself in the process!