You have finally made it. You have reached the final steps in your job interview, or you are finally able to grab that starting spot on your college team for the upcoming matches. Although you might be pretty sure that the regular procedure that is drug testing won't be a problem for you, you might be wrong. Because although you are staying sober for your own sake, you still face the risk of getting a false positive. To avoid this predicament, there are certain foods to avoid before a drug test, which we will explore in this article.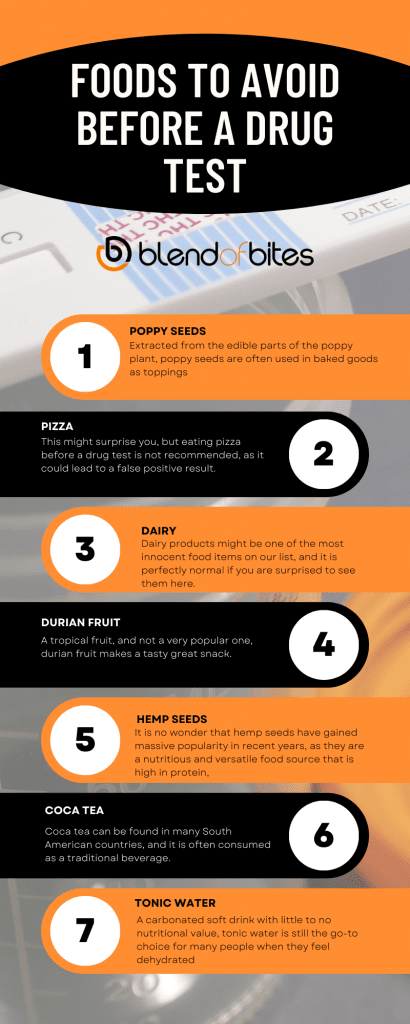 Jump to:
What is a drug test?
A drug test is the process of a scientific analysis of your blood or DNA, for various reasons. The most common drugs tested for include alcohol, amphetamines, THC, cocaine, opiates, and PCP. Drug testing is a common procedure for the following cases:
Hiring processes — Drug testing is usually a step in the process of employment. It is one of the most crucial ones, as its results can make or break your application.
College or professional athletes — Athletes usually undergo a series of drug tests to see if they have been using any kind of performance enhancers, and a positive result could lead to a serious blow to one's career.
Accident-related tests — A drug test after an incident that resulted in damage to property or humans is pretty common, with varying degrees of legal actions depending on the results.
A positive drug test result could hamper your career or your personal life to a great degree. Needless to say, you should stay away from drugs for obvious reasons, which sometimes include random drug tests. However, considering that between 5 to 10 percent of drug tests result in false positives, you should prepare your body if there is a scheduled drug test on the horizon, even if you have been sober lately.
Foods to avoid before a drug test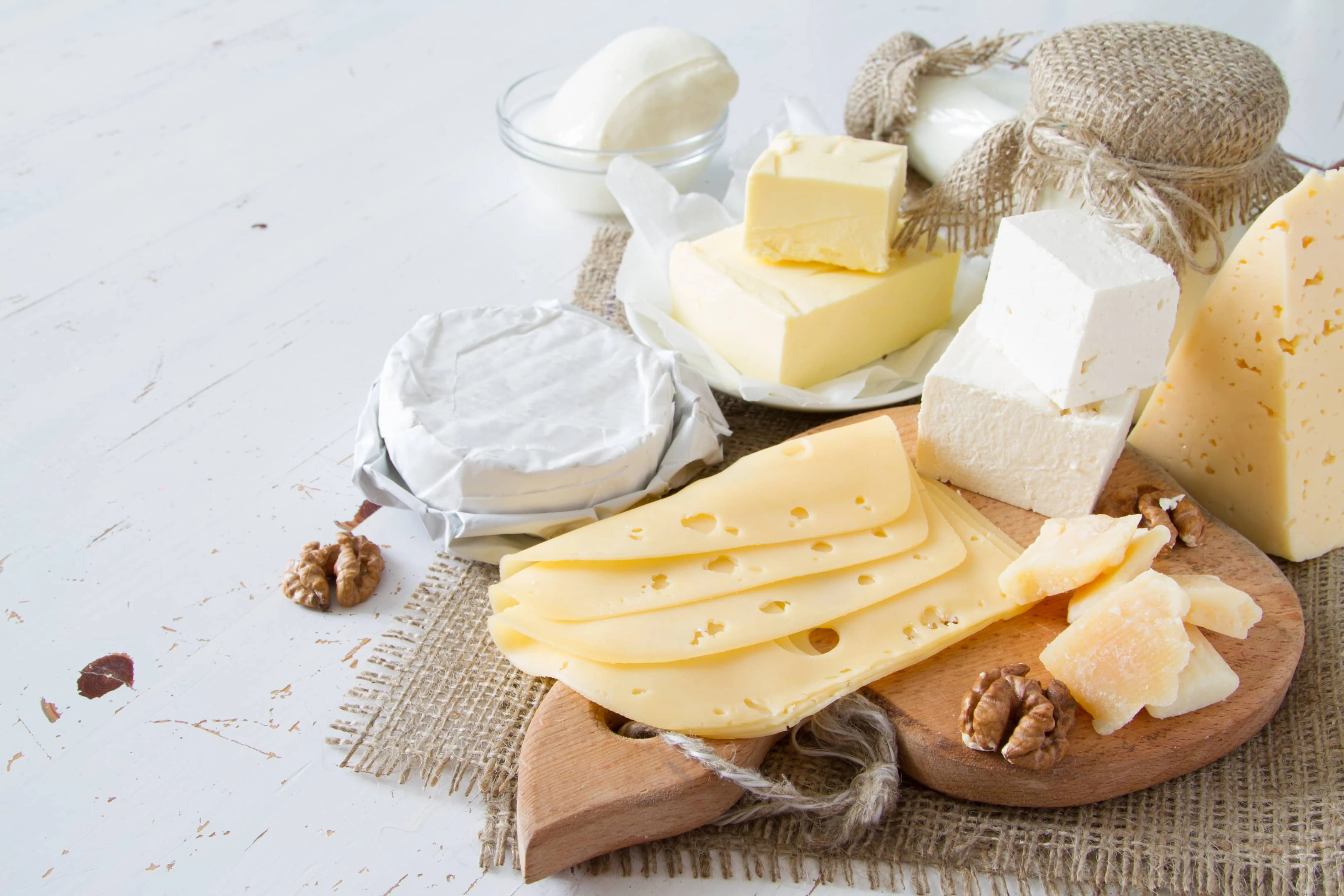 One of the key steps in preparing for a drug test is to cleanse your body, making sure that you got rid of any kind of toxins that might lead to a false positive result. Your diet is of utmost importance in detoxifying and cleansing your body, as the foods you consume could very well lead to a pile-up of toxins. Adjusting your diet means that you should be aware of the foods to avoid before a drug test. Let's take a look.
1. Poppy seeds
Extracted from the edible parts of the poppy plant, poppy seeds are often used in baked goods as toppings, and they are pretty accessible in most parts of the world. Although they are delicious, poppy seeds contain opium, which is predominantly found in drugs like cocaine and heroin. As a result, eating poppy seeds can cause a false positive on a drug test. Foods that contain poppy seeds are usually bagels, cakes, muffins, and granola. They can also be used as salad dressings. Make sure to avoid them before a scheduled drug test.
2. Pizza
This might surprise you, but eating pizza before a drug test is not recommended, as it could lead to a false positive result. The dough used to make pizza contains a small amount of alcohol, as the yeast used to make it produces alcohol as it ferments. Although the amount is so small that you won't even notice, it is still enough to pop up on drug test results.
3. Dairy
Dairy products might be one of the most innocent food items on our list, and it is perfectly normal if you are surprised to see them here. However, their acidic nature makes them an unideal food group if you're looking to cleanse your body. Dairy is formed from the breakdown of proteins, and this process produces lactic acid. Lactic acid is a natural preservative, but it can also lead to the formation of toxins in the body. Although dairy foods do not leave traces of THC or coca in your body, they make a good job of hampering your process of detoxifying.
4. Durian fruit
A tropical fruit, and not a very popular one, durian fruit makes a tasty great snack. When eaten, it will leave traces of alcohol in your mouth. This could lead to a false positive, mostly if you are taking a breathalyzer, as durian fruit does not leave traces of alcohol in your blood or urine, but only in your mouth.
5. Coca tea
Coca tea can be found in many South American countries, and it is often consumed as a traditional beverage. It tastes great, and it works as a stimulant too. But the last part is also a major reason to avoid coca tea before a drug test, its stimulants originate from the coca leaves. Coca leaves, on the other hand, are used in the production of a popular drug, cocaine. Having coca tea will affect the result of your drug test.
6. Hemp seeds
It is no wonder that hemp seeds have gained massive popularity in recent years, as they are a nutritious and versatile food source that is high in protein, essential fatty acids, vitamins, and minerals. However, regardless of their high nutritional value, hemp seeds also contain traces of THC, the psychoactive compound in cannabis or marijuana. As a matter of fact, THC is one of the easier compounds to show up on drug tests, a major red flag for most institutions. Traces of THC could very well stay in your body for up to 5 weeks. Therefore, make sure that you avoid hemp seeds or any foods that contain them prior to a drug test.
7. Tonic water
A carbonated soft drink with little to no nutritional value, tonic water is still the go-to choice for many people when they feel dehydrated, or they feel the need for something to mix with their drinks. Tonic water contains quinine, a chemical compound that is mainly used in the treatment of malaria. Although it sounds innocent enough, quinine is also used in the chemically altered and cheaper versions of drugs like heroin, cocaine, and various opium. Traces of quinine in a drug test will probably result in a false positive.
Summary
Getting a drug test might resemble getting a lawyer, something only guilty people would do. But it is nevertheless a necessary process for getting a job or performing as an athlete. However, you still face the risk of getting a false positive that would hamper your hopes for good. To prevent this, make sure that you are adjusting your diet accordingly, to exclude foods to avoid before a drug test. These range from coca tea that will leave traces of coca (the same compound can be found in cocaine) to hemp seeds that contain THC (the same compound can be found in marijuana.)