Bet you come across boxes of red strawberries almost every time you visit the store — but white strawberries? Most likely not. This delicious and nutritious fruit is most likely new to many people because they are just becoming popular in places like North America and Europe. The word pineberry is a mixture of the names of two fruits, 'pineapple and strawberry'; however, they are not derived from the combination of these fruits.
Pineberries are sweet and distinct on their own; even their plants are aromatic. Consuming pineberries can be quite beneficial to your body because they contain several nutritive substances. Owing to these nutrients, pineberry health benefits are worthy of mention and we shall extensively discuss them in this article.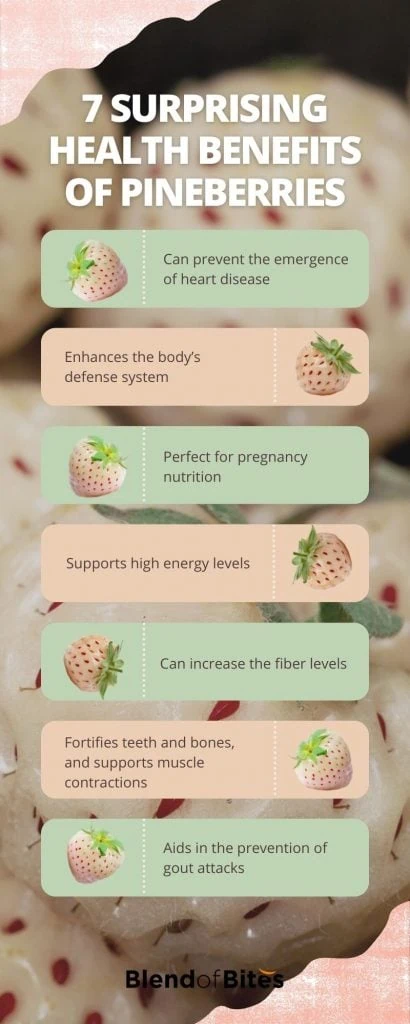 Jump to:
What are pineberries?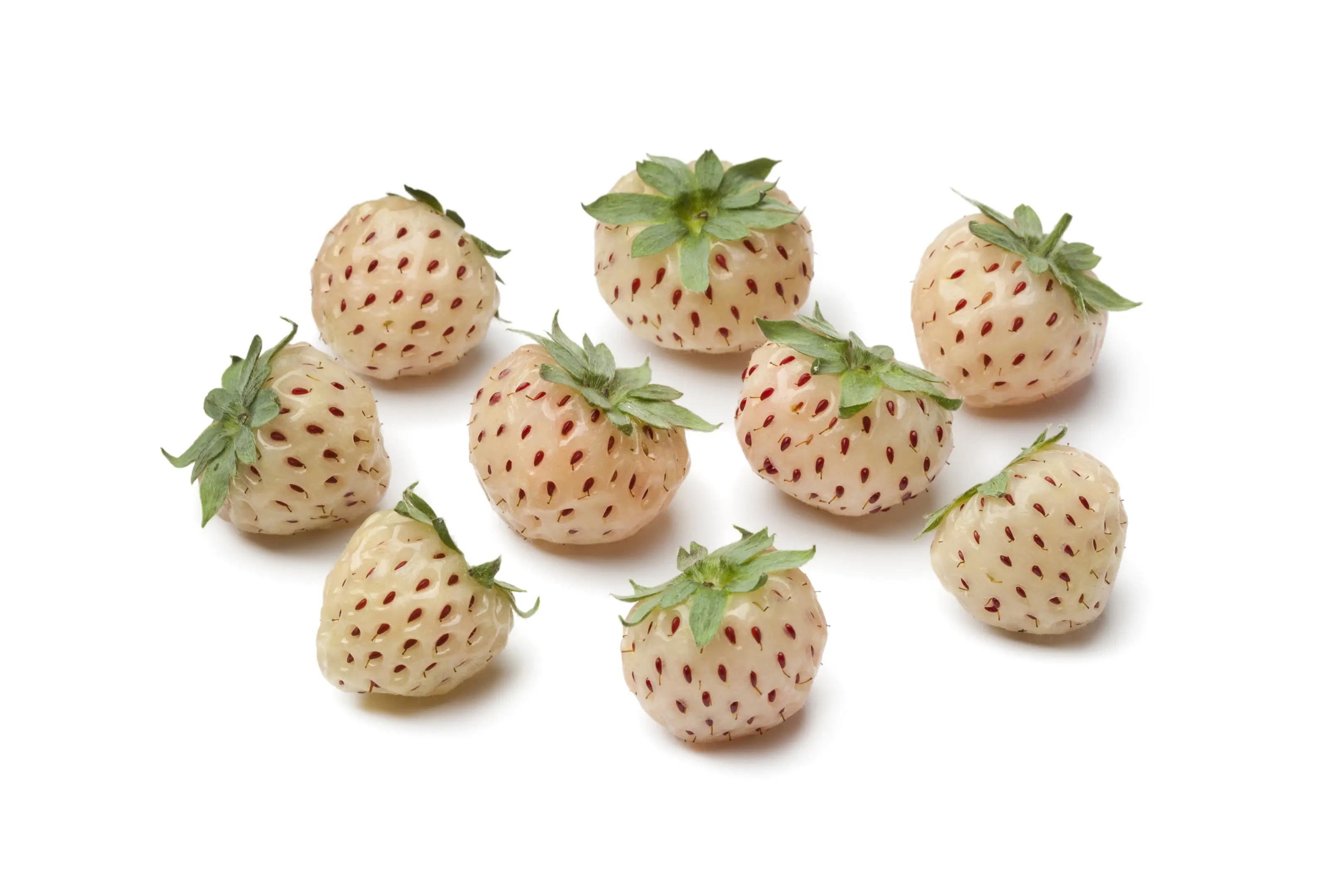 Mostly confused as a genetically modified type of fruit, pineberries are not a hybrid cross between a strawberry and a pineapple. They are a crossbred of the 'Fragaria virginiana' and 'Fragaria chiloensis' strawberries; these are the white and red varieties of strawberries. Pineberries are a type of strawberries; they are cultivated for their exceptional taste and appearance. Similar to the usual garden strawberry that you are familiar with, a pineberry grows thick and very close to the ground with a vegetable trail that is referred to as runners. The plant of the pineberry resembles that of other strawberries plants, they are self-pollinating and usually always bear fruits.
Pineberries are small, conical, and round in shape. They can be differentiated from common strawberries by their white to ivory tinted with faint hues of pink and red dots of seeds. Unlike red strawberries that everyone is familiar with, pineberries portray satisfying aromatics and pineapple-like flavor. However, the texture of pineberries is the same as normal strawberries, it is soft, fleshy, juicy, and firm. Pineberries can be consumed the same way as common strawberries; you can use them to garnish dishes or put them in salads and desserts. It is, however, recommended to keep pineberries refrigerated until you are ready to consume them because they are highly delicate and perishable.
History and facts about pineberries
Although pineberries are now cultivated in several places around the world, they were first discovered in South America in 2002 and were first sold commercially in 2012. Pineberries are called different names in Europe and America. They are botanically referred to as 'Chiloensis' because they were first discovered in Chile by Spanish explorers, this name was further celebrated to popularize the berry in British markets.
In Germany, pineberries are called 'Ananaserdbeere' which when translated means pineapple strawberry, and this name was given to pineberries in Europe. When compared to other types of strawberries, pineberries can be regarded as a novelty fruit. Pineberries are mostly available during spring through to early summer.
Pineberry nutrition
Pineberries are not just tasty fruits with pleasing aromas, they can also be described as being nutritious. Pineberry nutrition includes different antioxidants and minerals such as vitamin A, folate, vitamin C, manganese, potassium, carbohydrates, and fiber. Pineberries have up to 91% water and contain lower quantities of fats and proteins. All these nutrients are required to boost the proper functioning of the body. Let's check some of the pineberry health benefits that this unique fruit has.
7 amazing pineberry health benefits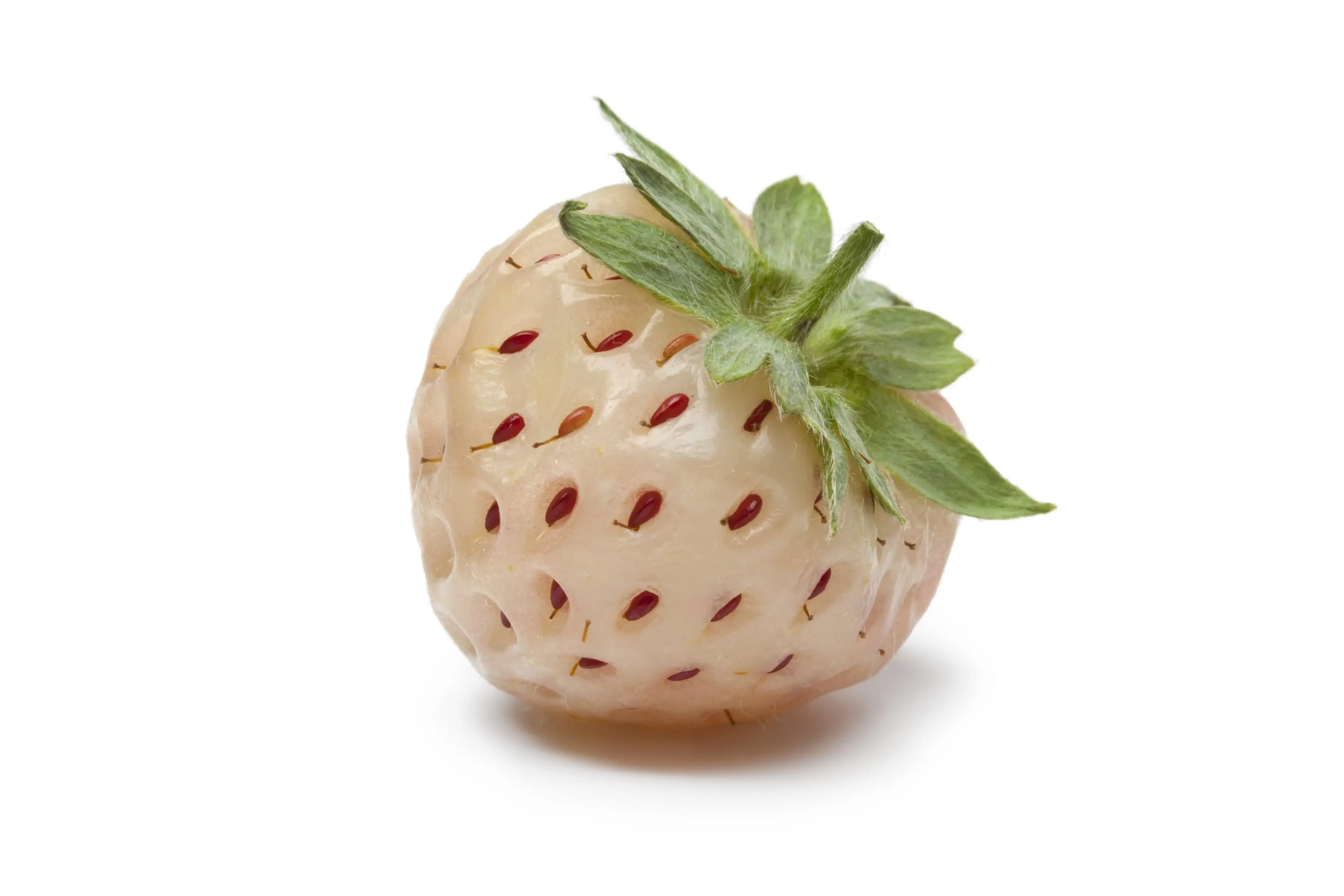 The health benefits of pineberry are many; they range from supporting a better immune system to helping the body enhance its intake of antioxidants and adding to the vitamin A and B levels in the body. Ride along as we dive into the exceptional health benefits of pineberries.
1. Can prevent the emergence of heart disease
Diseases related to the heart are one of the most popular causes of death in the world today. The consumption of pineberries can, however, reduce the chances of your body developing heart disease. Pineberries are potent in enhancing the health of the heart and decreasing the risk factors that contribute to heart disease. They contain great antioxidants that can aid the decrease of blood pressure and boost the functions of blood platelets in the body. Pineberries can also help the vascular system function better, enhance the profile of blood lipids, increase the antioxidant in the blood, and reduce oxidative damage. If you want to increase the level of antioxidants present in your body, consume fresh pineberries.
2. Enhances the body's defense system
A strong defense system means our bodies can easily combat diseases and infections. Pineberry contains high quantities of vitamin A and C which can help the body create barriers against diseases. Vitamin A helps the body's immune system with mucous barriers that are present in the lungs, eyes, genitals, and guts, which can cut off agents of bacteria and other infections before they affect the body. Vitamin A, as well, is utilized by the body to make white blood cells, which are responsible for helping the immune system trap harmful pathogens from the bloodstream. Vitamin C aids the functions of these white blood cells by shielding them from oxidants that can give rise to damage. According to the National Library of Medicine, a deficiency in vitamin A can expose the body to infections and can also slow down recovery in the advent of a sickness.
3. Perfect for pregnancy nutrition
Folate is one of the B vitamins that are essential in preventing the emergence of birth defects. Although there are vitamin-B supplements that one can consume to help the body acquire folate, foods that naturally contain folate are better for consumption especially during pregnancy. Pineberry nutrition contains folate which makes it an ideal fruit to consume during pregnancy. Folate can also help to boost brain function and reduce the risk of dementia in the elderly. A study stated that people living with the symptoms of depression most likely have low levels of folate in their blood; this means that consuming vegetables and fruits that contain folic acid can help decrease the symptoms of depression.
4. Supports high energy levels
Pineberries contain carbohydrates which are a highly celebrated class of food when it comes to energy. Although many people try to avoid foods that contain carbohydrates because they are often associated with weight gain, the good news is pineberries are among the list of healthy foods that contain carbohydrates that you can consume while on any type of diet and in a natural way. Carbohydrates are energy-boosting and they are the body's primary source of energy; they assist in fueling the heart muscles, kidneys, and brain. If we fail to consume enough foods that have carbohydrates in our body system, it could give rise to bad breath, weakness, trouble concentrating, headaches, and fatigue.
5. Can increase the fiber levels
Fiber is very important for weight management and a well-functioning digestive system. Pineberries can help your body elevate its intake of fiber. Foods that contain fiber can help the body decrease the levels of cholesterol and this can prevent the emergence of heart disease. Fiber-filled foods can also prevent you from snacking between meals by making your stomach feel full for an extended period. Other benefits that your body can obtain from consuming fiber include the enhancement of bowel movement, reduction of some types of cancers, balanced sugar levels in the blood, and the promotion of good health. Regardless of any diet that you might be on, foods that contain fiber are essential.
6. Fortifies teeth and bones, and supports muscle contractions
Pineberries contain potassium and vitamin A which are important nutrients that support strong bones and muscle contractions in the body. At a certain age, many people often complain about weak bones; according to research, a diet that contains potassium-filled foods can enhance healthy bones thereby preventing osteoporosis. Potassium can also help restrain kidney stones, decrease the build-up of fluids in the body, improve the signals of nerves, aid contraction of the muscles and defend the body from strokes. Vitamin A can aid the healthy development of bones and promote healthy growth.
7. Aids in the prevention of gout attacks
Gout is one of the most common and yet complex types of arthritis that affects people. Its symptoms are characterized by severe pain, swelling, and tenderness in the joints or big toe. These symptoms of gouts occur when there is an increase in the amount of uric acid. Pineberry contains vitamin C which can help reduce the amount of uric acid in the body, therefore, preventing attacks that are related to gout. Vitamin C can also protect the body from iron deficiency by helping the body to easily absorb iron from foods. The vitamin C present in pineberries can also prevent high blood pressure and enhance memory as you age. Certain studies have also supported the notion that foods that contain vitamin C can protect the eyes from certain diseases such as cataracts.
Conclusion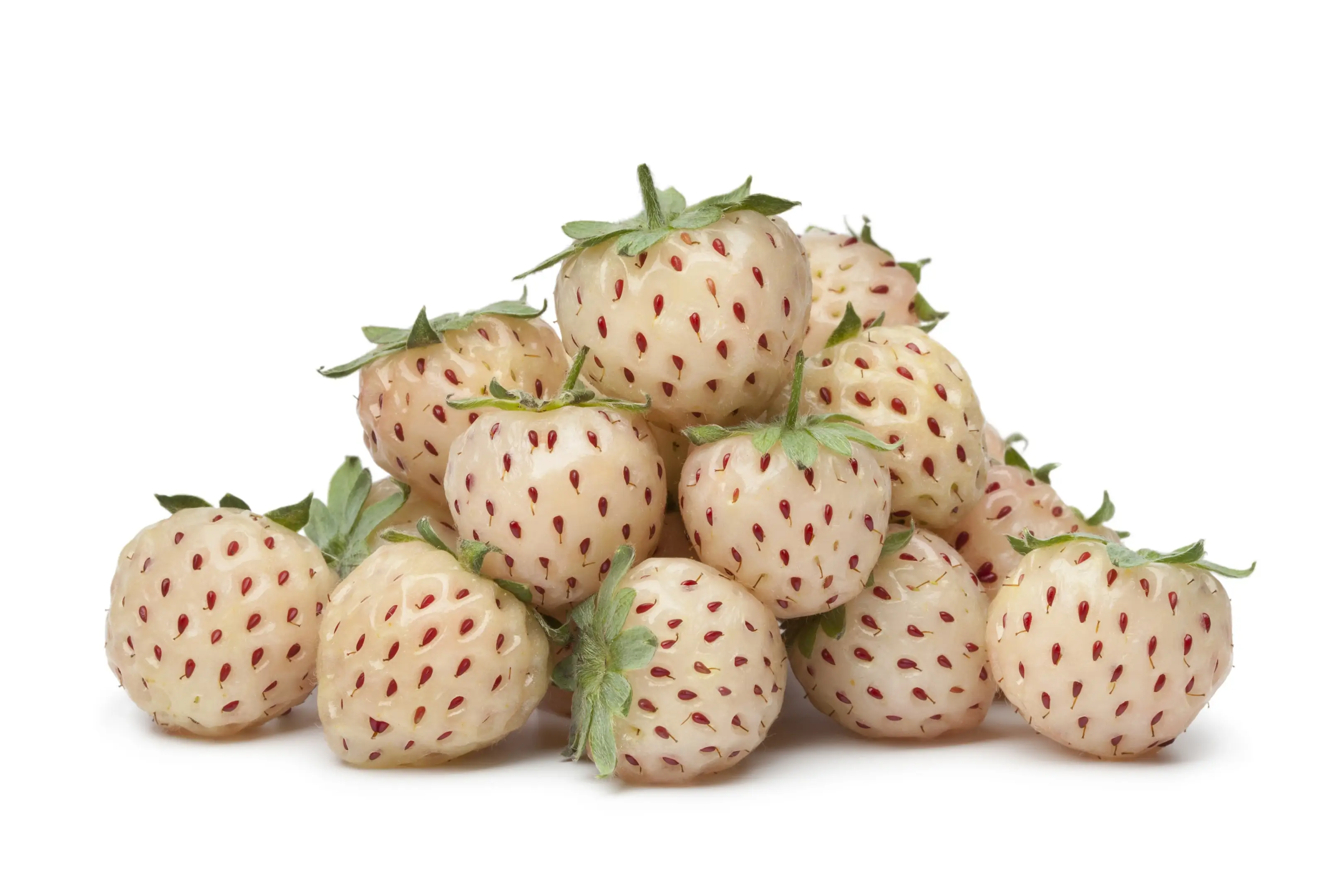 With the variety of medicinal benefits that one can get from consuming pineberries, they can be adequately regarded as a blessed fruit. In addition to the numerous pineberry health benefits, this uncommon fruit can also offer awesome advantages to the skin. Vitamin C can help treat wrinkles and vitamin D can assist in reducing symptoms of inflammation that are commonly associated with acne. With these mixed advantages, be sure to fill your cart with enough pineberries when next you go to the store. Pineberries can be used in different ways and they are undeniably healthy and very delicious. You can pair them with caramel, basil, cherries, cinnamon, cured anchovies, soy sauce, burrata, apricots, vanilla, pine nuts, and many desserts.