Jump to: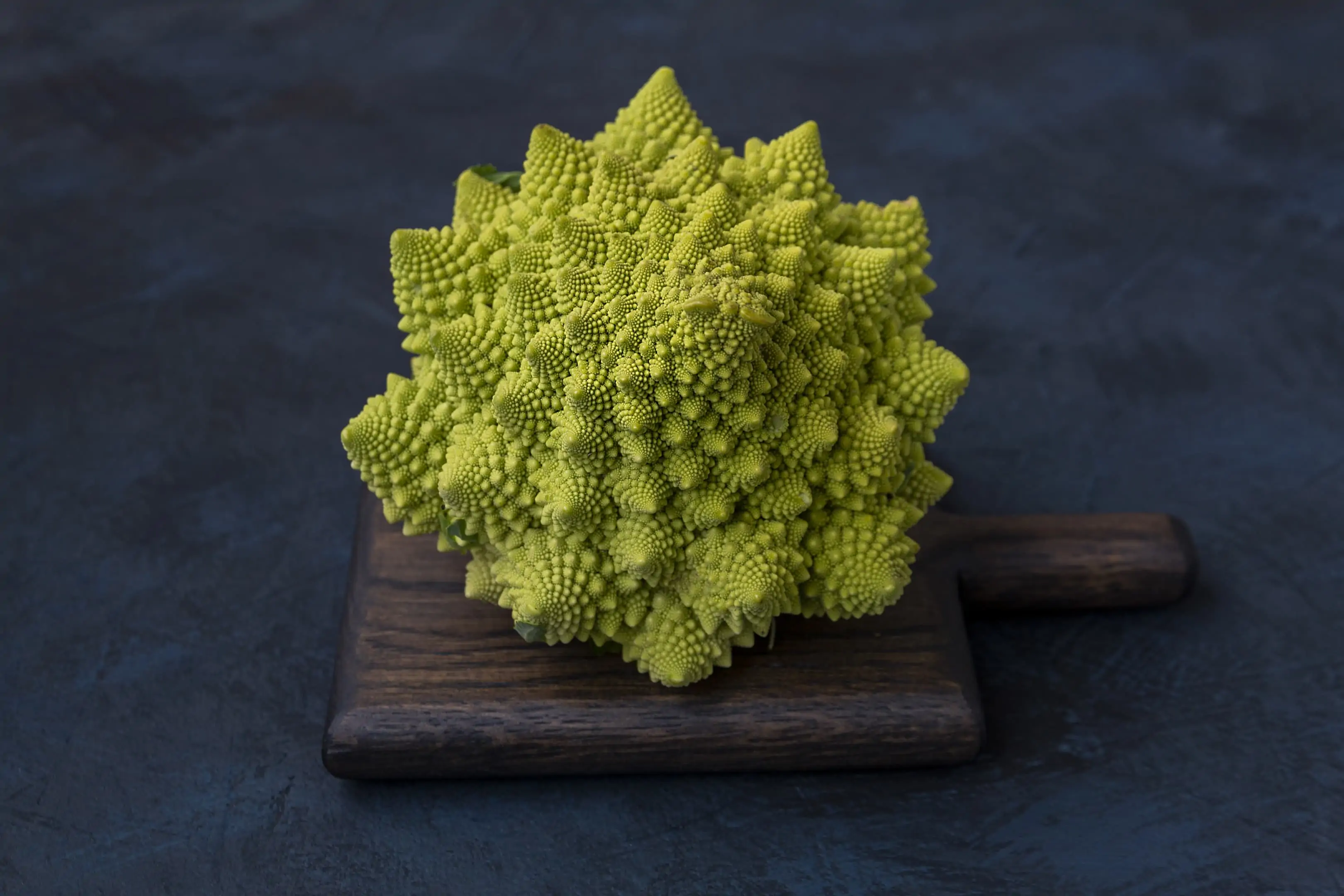 For many people, Romanesco may be quite a strange name for a vegetable, many do not even know what kind of vegetable it is. It possesses similar attributes to broccoli and cauliflower; which one is it then? Is it cauliflower or broccoli? In this article, you will learn more about this wonderful vegetable. This vegetable comes with a host of names added to its intriguing identity perplexity. It has been called Romanesco cauliflower, Romanesco broccoli, Broccoflower, Broccoli Romanesco, Roman cauliflower, and different other titles. To demystify this vegetable requires the simple term 'hybrid' Romanesco is the coming together of broccoli and cauliflower. It is a close family of broccoli and cauliflower and has the same characteristics as them. This vegetable is filled with a lot of health benefits and it is a flexible substitute in any recipe that demands broccoli or cauliflower. Before we get into highlighting Romanescos' health benefits, let's dive into the origin of this unique vegetable.
Romanesco broccoli with the botanical name Brassica oleracea is a cool weather plant that is associated with the Brassicaceae family. Some members of this family include mustard, cabbage, cauliflower, kale, Brussel sprouts, and broccoli to mention a few. This hybrid vegetable goes as far back as the 16th century, to the East Mediterranean and Italy. It was during this period that it migrated to the German and French territories; after a certain time, it was also discovered in the United States. All these exposure and movement gave rise to its unique names across different locations: in France, it is referred to as Broccolo Romanesco, in the United States as Romanesco cauliflower, and Italy as Romanesco cabbage. The original name stems from Italy and is mostly called 'Broccolo', which translates to 'the flowering cap of a cabbage.'
This hybrid vegetable is a prime source of vitamins like Vitamin C and K along with different carotenoids and fiber nutrients. Romanesco is used in different cooking methods and cuisines in Italy and diverse countries. Romanesco can be taken raw and fresh or cooked with processes like stewing, steaming, roasting, braising, frying, and sautéing. They are occasionally combined with olive oil and basil to make pesto. Romanesco broccoli is also easily combined with tomatoes, shallots, bay leaves, sweet potatoes, meat, cheese, chicken, and sausages.
This vegetable possesses a delicate texture and can be easily overcooked; therefore, it is greatly advised to take caution when preparing this vegetable. As for its taste, it possesses a mild nutty cream-like flavor and is less bitter than regular broccoli and cauliflower; when cooked it gives off this chewy nutty sweetened flavor. In appearance, this veggie is erect and grows tall up to about a few hundred centimeters. Its optimum primary soil for growth is a humus-rich soil full of nitrogen and regular moisture, as well as good drainage. The leaves grow large and flat and mostly occur in irregular shapes. They are dark green possessing a leathery outer texture. Aside from its unique appearance and great taste, Romanesco has a lot of advantages. Here are a few Romanesco health benefits:
Health benefits of Romanesco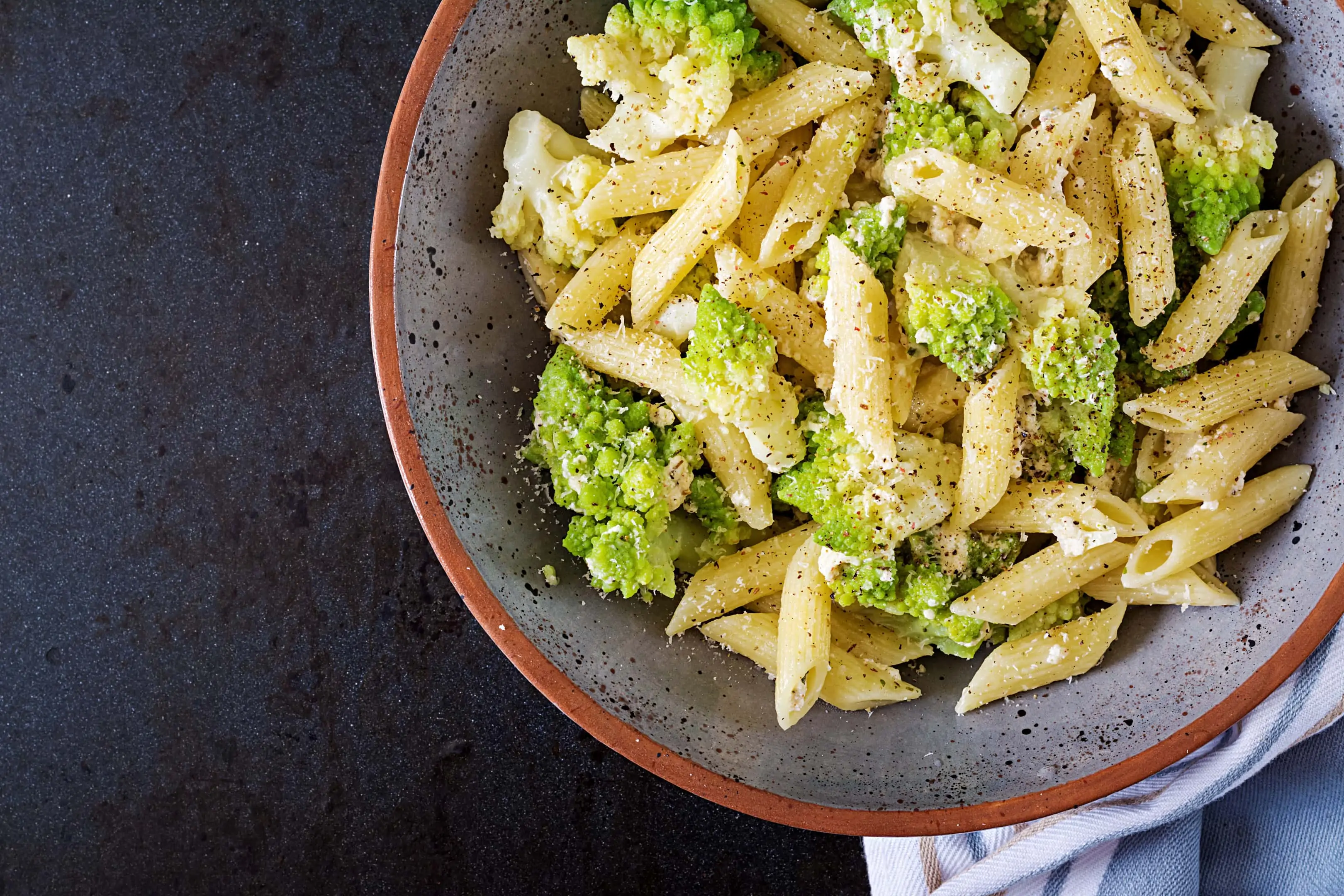 1. Cancer prevention
This is arguably the most talked-about Romanesco benefit. Its ability to provide a significant reduction of cancerous cells in the body is a vital quality. It can help decrease tumor growth and mitigate the development of cancer in the breast, colon, lung, and bladder. Constant and significant intake of vegetables, especially from the cruciferous family, helps to mitigate the overall growth of cancerous cells in the body. The diet should be supplemented with Romanesco broccoli and other cruciferous vegetables like kale, cabbage, watercress, and broccoli sprouts. These cruciferous vegetables contain a plant compound called sulforaphane which possesses cancer-fighting characteristics. Research shows that the consumption of Romanesco broccoli and other cruciferous vegetables significantly helps lower cancer risk. They are not only known for fostering cancer tumor death, but also for detoxifying toxic substances like environmental pollutants in the body and functioning as a kind of antimicrobial agent by aiding the elimination of bacteria. The dietary fiber and antioxidant content of Romanesco broccoli are good for mitigating the risk of cancer.
2. Improves blood circulation, brain function, and cardiovascular health
Romanesco broccoli contains heavy amounts of dietary fiber and antioxidants. These nutrients contribute significantly to the reduction of cancer risk, but not only that. They wade off free radicals, guard the body against infections and many diseases. For our cardiovascular health, optimal production of red blood cells is imperative, and the Romanesco broccoli contains good amounts of iron that is essential to this process. Iron fosters the manufacture of red blood cells in the body which in turn fosters circulation and improves cardiovascular health. The omega-3 fatty acids this vegetable contains also boosts heart health, in addition to optimizing pressure of blood, blood sugar levels, and cholesterol levels. The greater the number of red blood cells there are, the more oxygenated blood and nutrients can be carried in them and delivered to all sections of the body. With this effect comes better circulation of oxygen and nutrients to the brain, which improves the function of the brain. The bioactive compounds in this vegetable are also known to foster brain health and stave off mental decline. Since Romanesco broccoli is part of the cruciferous vegetable family, it is no surprise that it possesses glucosinolates, which are sulfur and nitrogen compounds that naturally detoxify the kidney. It is also rich not only in iron but in folate, which is both known for aiding the gradual rise of red blood cell production. This helps fight off anemia and also improves reproductive health.
3. Good eyesight and aiding blood sugar control
Romanesco broccoli is enriched with vitamin A, which is essential to the proper function of our eyes. The significant quantity of vitamin A improves vision, fights off eye problems, and ensures the prevention of macular degeneration associated with old age. The antioxidant content in this plant helps support sugar reduction in the body. Research has proven that this veggie reduces insulin resistance and helps for better blood sugar control. Romanesco broccoli is also a notable fiber source as well. It contains dietary fiber, which is very well potent in improving blood sugar levels and reducing the chance of developing diabetes.
4. Boosts the immune system and may aid bone strength
With this hybrid vegetable's arsenal of antioxidants like carotenoids, zeaxanthin, vitamin C, beta-carotene, and lutein, it can fight off free radical cells and other harmful toxins in the body, thereby boosting the abilities of the immune system. Romanesco broccoli also contains minerals and vitamins like magnesium, potassium, phosphorus, vitamin A, B, and K along with omega-3 fatty acids which support immune function. These nutrients not only aid the immune system but the reproductive system as well. This vegetable is known to possess glucosinolates and thiocyanates that have been known to aid the immune system in warding off potentially toxic and harmful substances in the body especially the liver. With this vegetable containing good amounts of vitamin C, the ultimate immune system weapon, your body is certain to optimally combat diseases and illnesses in the body. Romanesco benefits also include the fostering of healthy bones as it contains quality nutrients. Romanesco broccoli is a good source of magnesium, vitamin K, potassium, phosphorus, and zinc which are essential nutrients and minerals for healthy bone function. Vitamin A and C contribute to healthy bones, as well.
5. Aids digestion, detoxification, and weight loss
This is another important Romanesco benefit. This vegetable is filled with dietary fibers that contribute to digestive health and assist in removing unwanted substances from our bodies. The presence of this dietary fiber in the vegetable helps to optimize cholesterol levels in the blood and improve overall health. The fiber in this vegetable has two major contributions; firstly, it can ensure a healthy digestion process because fiber aids gradual and optimal food digestion whilst also preventing constipation and giving a complete sense of hunger satisfaction. Secondly, it can help prevent weight gain and as well help in balancing the body's cholesterol level. Moreover, when it comes to detoxification, the fiber in Romanesco combined with the antioxidants that are present in this vegetable can help the body achieve a full process of detoxification; this is because Romanesco broccoli specific Phyto-nutrients that are needed for the purification of the body. Also, this vegetable can help boost the health of the gut.
6. Prevents inflammation
This distinct vegetable is also anti-inflammatory. Romanesco broccoli contains significant portions of omega-3 fatty acids, which are well-known for being good anti-inflammatory agents. They prevent the release of inflammatory agents which are secreted in response to the presence of harmful toxins in the body to fight them off. Coupled with this benefit, Romanesco broccoli also helps individuals who are burdened with inflammatory diseases like arthritis due to its sulforaphane content; it does this by restricting the secretion of the enzymes that can add or lead to joint swelling and infection.
Conclusion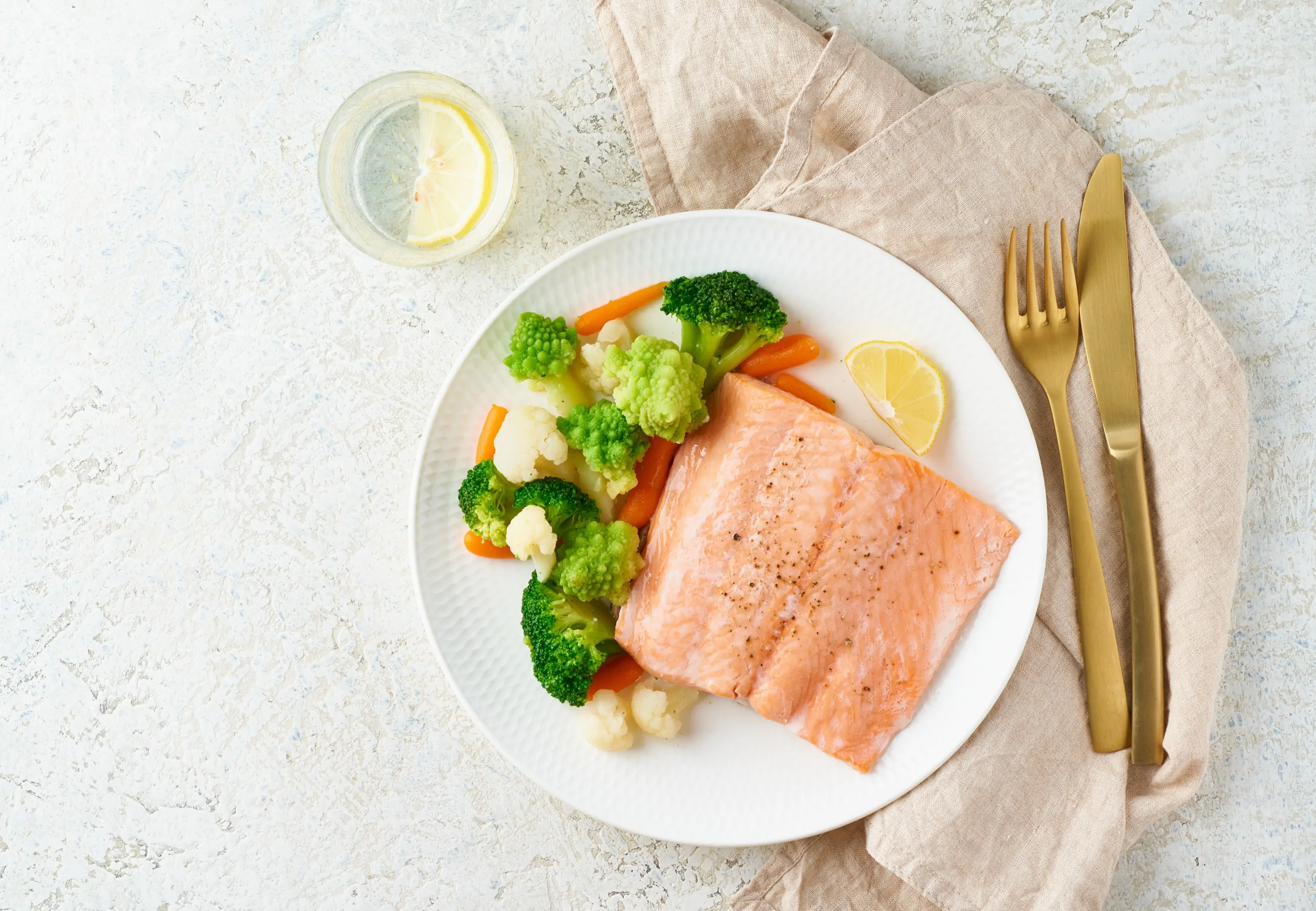 Romanescos' health benefits are numerous. To best enjoy the delicious taste of this vegetable and its benefits, remember to purchase it organic and fresh. Purchasing the ones that are firm and without decay is the only guarantee that you would get the optimal advantage from this vegetable. Other benefits of Romanesco broccoli include keeping the growth of tumors under control and the alleviation of the symptoms of stomach and lung cancers. When adding this vegetable to your diet, it can be enjoyed in different ways that include simmering it with other types of vegetables to make vegetable broth or adding it to olive oil and basil to produce pesto.