Romanesco is a bizarre yet whimsical-looking vegetable that looks almost too pretty to eat. It resembles an odd love child of broccoli and cauliflower. However, no one can deny its mesmerizing fractal appearance. For those who slept through math and science classes, a fractal is a geometric shape characterized by a never-ending pattern.
As weird it may look, it is surprisingly one of the tastiest veggies out there! It's not as bitter as broccoli, and it leaves a nutty and slightly creamy flavor when cooked. What's great about Romanesco is it's very versatile. You can roast, stir-fry, include it in your soups and sauces, or eat it raw by adding it to your salad.
This vegetable is also chock full of nutrients that your body will need to function well every day. Read along as we discuss all you need to know about Romanesco's health benefits, the origin behind it, and tips on how to cook this vegetable!
Jump to:
What is a Romanesco?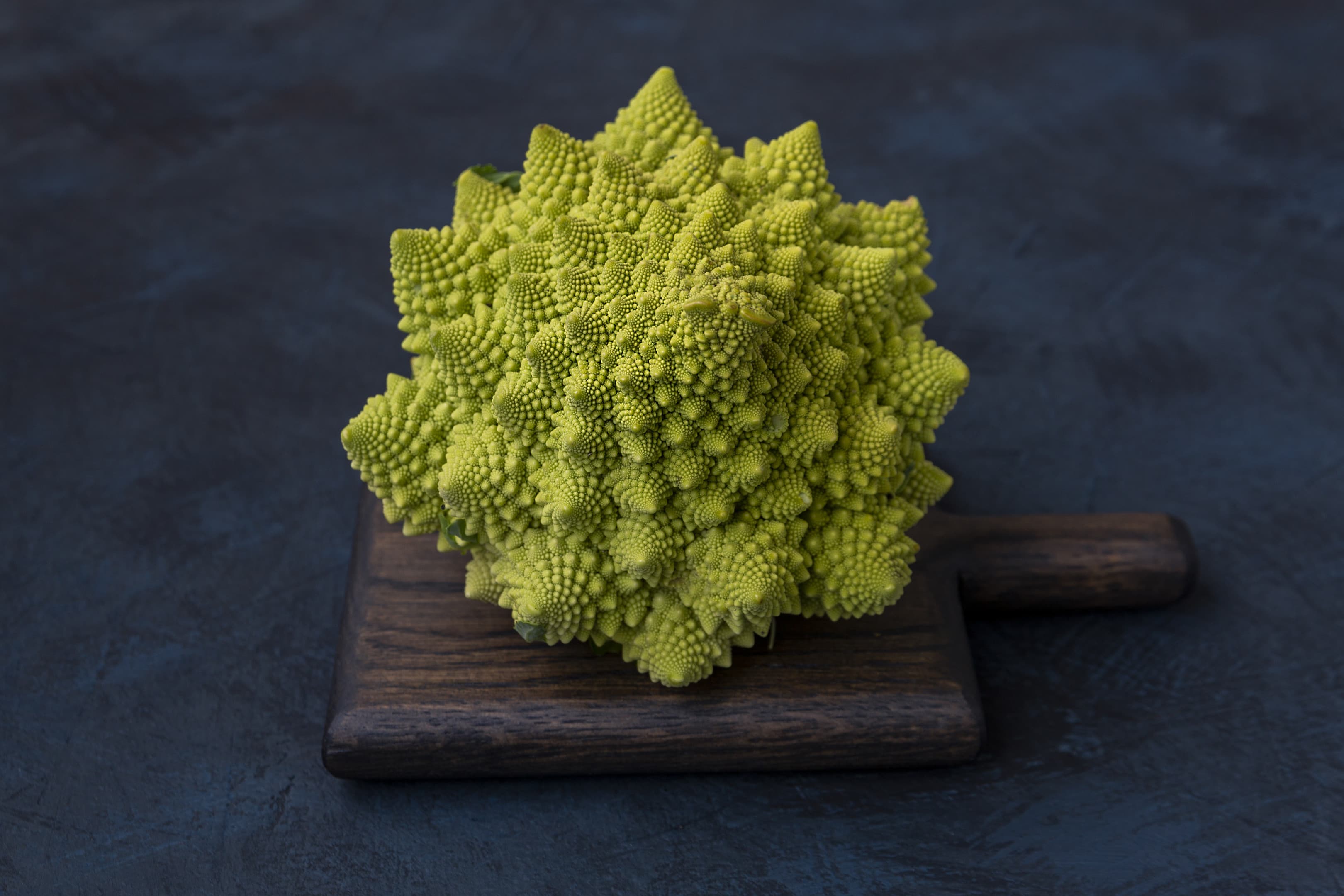 The reason why Romanesco looks like a hybrid between broccoli and cauliflower is that they are related. These vegetables belong to the Brassicaceae family. This species is known for its cross-shaped flowers with four petals. It features two short and long stamens or the one responsible for producing pollen that creates seedpods called silique.
As said earlier, Romanesco has an almost fractal shape with a repetitive pattern of spike-like florets that gets smaller in scale. You may notice the word "almost"; it is because the pattern eventually ends. You'll see it when you cut Romanesco yourself.
Romanesco resembles cauliflower more than broccoli. Instead of being roundish, it is shaped like a bunch of little pyramids. Do you know that the number of buds surrounding one head of a Romanesco follows the Fibonacci sequence? How cool is that!
Origin of this vegetable
Romanesco also goes under many names, such as broccoflower, Roman cauliflower, or Broccolo Romanesco. There isn't much information about where and just how specifically this vegetable happened.
However, we know that Romanesco originated from Lazio in Rome, where it got its name. It was first enjoyed in Rome for hundreds of years, way before the vegetable came to the U.S.
Many botanists believe that Romanesco was not always like this. They theorized that somewhere during the 16th century, Italian farmers used selective breeding to produce a type of cauliflower with small and constant curds. They did this by still considering the quality and nutritional components of the vegetable.
Health benefits of Romanesco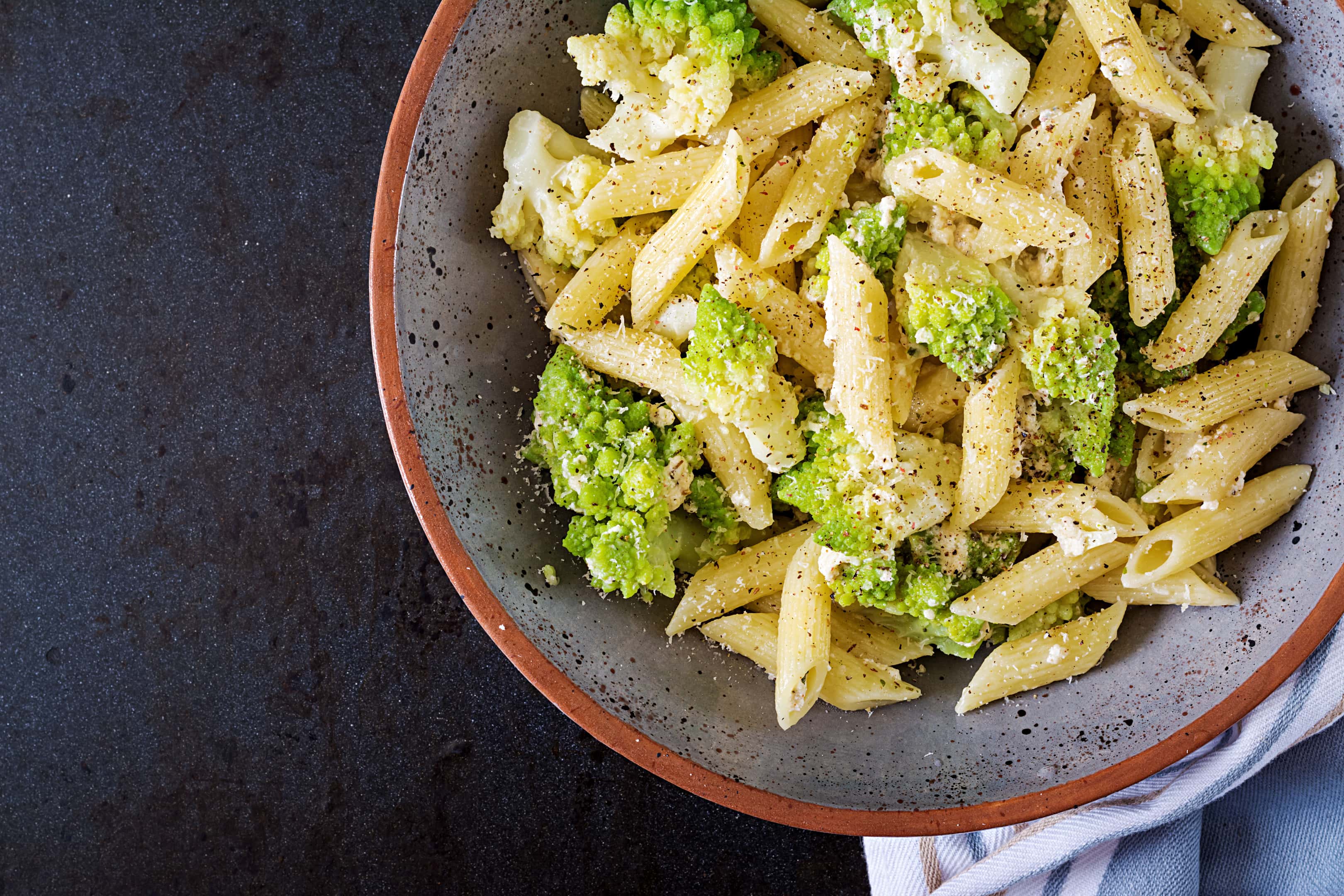 1. Reduced blood pressure
According to the WHO, high blood pressure, also known as hypertension, is one of the leading causes of premature death all over the world. It is a result of an unhealthy lifestyle with a lack of physical exercise. It may also be because of an underlying health condition such as diabetes, high cholesterol, or kidney problems. Lucky for you, Romanesco will help you deal with this situation. 
This vegetable contains omega-3, which is a type of fatty acid that regulates your blood pressure. Even though you can take medicines to lower your BP, it's always safe to first try out natural ways to do this. Eating foods enriched with Omega-3 will aid in flushing those unnecessary sodiums in your kidneys. In return, it relaxes your blood vessels and decreases your blood pressure.
2. Good for the heart
Another health benefit of Romanesco is that they help with cardiovascular problems. Did you know that ingesting foods rich in Omega 3 can lessen the risk of a person dying from heart disease? It helps your heart get rid of your triglycerides, which are the extra calories in your food that your body doesn't need.
Although you need triglycerides for good health, too much can increase the risk for stroke, heart attack, and pancreatic problems. It could also prevent blood clotting since the Omega-3 in your Romanesco will prevent your platelets from forming together. Blood clotting is dangerous as it can obstruct your body's blood flow. This condition may lead to heart attacks and sometimes death.
3. Lowers the risk of cancer
Since Romanesco is full of nutrients, you can lower your chances of developing cancer if you combine it with a healthy lifestyle. Few studies show that there is indeed a decrease in getting severe illnesses if you consume more cruciferous plants such as Romanesco, cauliflowers, and broccoli. It is due to the glucosinolates in the vegetable. 
Glucosinolates are phytochemicals found in sulfur-rich plants that can act as an antioxidant for the body. They reduce inflammation and prevent damage to our cells caused by the free radicals that roam around our bodies. These things are what activates the enzymes that compromise a person's immune system and triggers the development of cancer cells.
4. Prevents eye problems
People will eventually develop eye problems as they grow older. Macular degeneration is a common health problem that is characterized by a dramatic loss of central vision.
The first indications of this condition include a noticeable change in vision, blurry lines, and having trouble recognizing familiar faces. There is no clear evidence of why people develop this disorder, but researchers believe that it is because of obesity, too much smoking, and a poor diet.
We can prevent this from happening if we include foods rich in vitamin A such as Romanescos and other plants in their family. Vitamin A will help you maintain normal vision. If you have trouble seeing your surroundings in low light, the protein in your eye called rhodopsin is supplied with this vitamin to help your scotopic vision. Vitamin A can also prevent the formation of cataracts, the major cause of night blindness.
5. Enhances your digestive health
Romanesco is packed with dietary fibers that will ease your digestion and provide relief for waste elimination. They add weight to your stool and soften it so you can pass it with no problem. Fortunately, Romanesco and other leafy vegetables will help improve your bowel movements. They can also prevent your chances of getting hemorrhoids and diverticular diseases.
In addition to the benefits of Romanesco in your digestive health, it can help you with your weight loss journey. They will make you feel fuller and prevent you from unnecessary eating.
6. Improves brain health
Another of the Romanesco health benefits include better blood circulation that leads to improved brain function. If you have good circulation, you provide all the nutrients and oxygen that your brain will need to work properly. For something so small compared to the rest of your body, the brain needs a lot of energy to stay healthy. In short, more blood means more food for this organ to perform better.
The brain is prone to oxidative stress, which is the result of free radicals in the body. Romanesco contains Vitamin C, a powerful oxidant that can fight off brain diseases and cognitive degeneration caused by oxidative stress.
The brain is in charge of our emotions and everything that makes us human. Take good care of your noggin' by participating in mentally stimulating activities and eating foods rich in antioxidants such as Romanesco.
7. Excellent way to start a vegan diet
If you're thinking about committing to a plant-based diet, then you can start with Romanesco. Unlike other vegetables, you can eat Romanesco with almost anything. It isn't as bitter as other cruciferous plants.
Starting a vegan diet can be a long process. It would help if you didn't rush it as it can cause stress and confusion in your body when you suddenly drop your meat consumption. Take your time and slowly incorporate your vegetables into your diet. Once you're comfortable, slowly cut off your meat-based foods.
How to cook Romanesco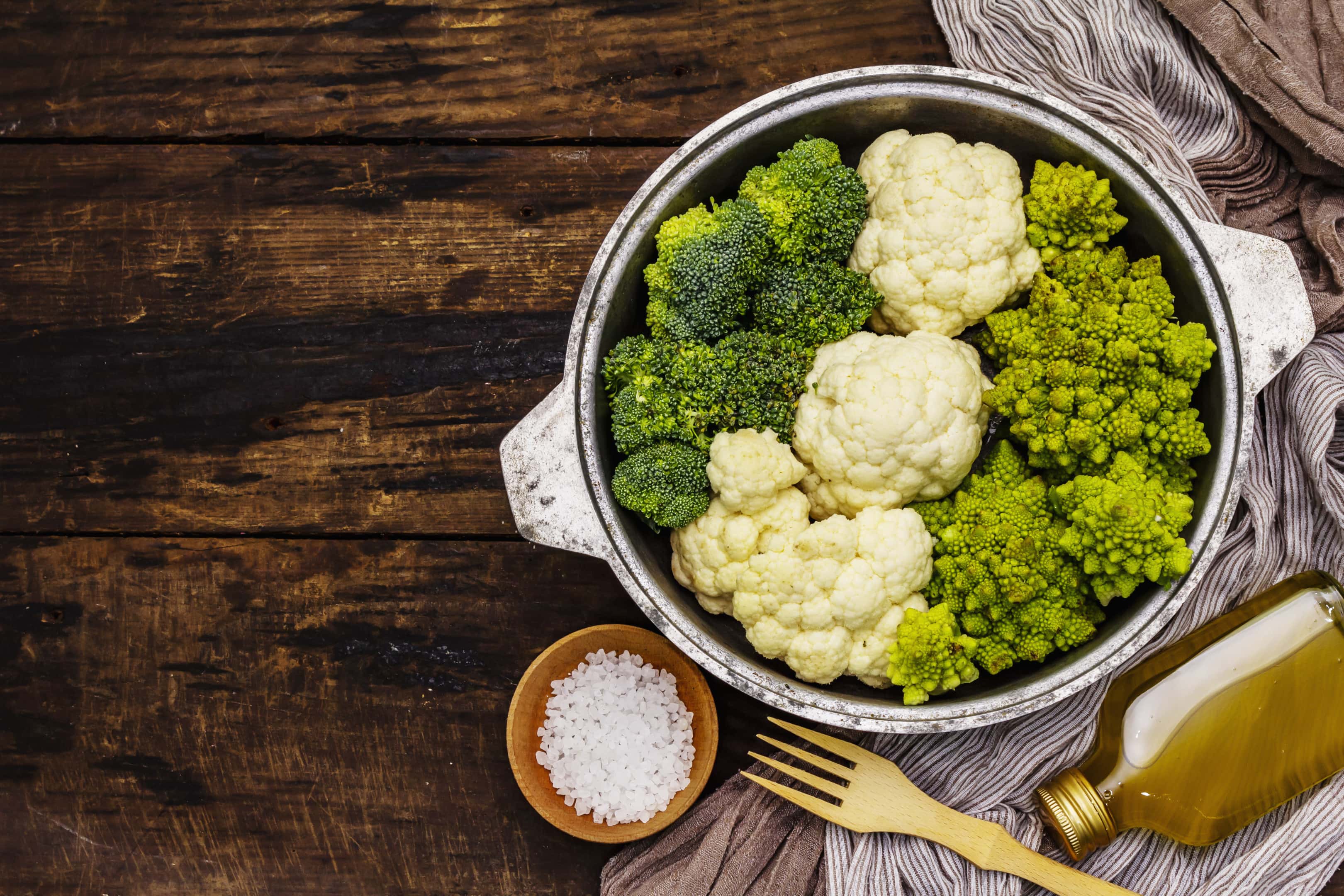 One way to incorporate the vegetable to spice up your usual salad. You can either steam or roast the Romanesco, then add thinly sliced onions, tomatoes, and celery. Then, add a bit of lemon juice, salt, and olive oil. There's your simple and easy-to-make meal
No matter what method you're using to cook Romanesco, you must avoid overcooking it. When you leave it too long in the pot, it'll become this pile of mush that doesn't look appetizing at all. Make sure to cook it in large chunks to avoid this from happening.
Nutritional facts and value of Romanesco
A typical Romanesco weighs around 300 to 600 grams, and the whole Romanesco is safe for human consumption. You can eat every part of it from the stalk, leaves and those famous little pyramids as well. A fresh Romanesco is edible for 12 days, but a packaged Romanesco can last up to 30 days.
For 100 grams of Romanesco serving, 150% of this vegetable contains vitamin C, which helps with inflammation caused by the free radicals in our body. This Roman cauliflower also consists of potassium for nerve function, fiber for bowel movements, and vitamin B6 for mental health, and a boosted immune system.
Romanesco is also rich in phytochemicals such as glucosinolates that prevent bacterial infection. Other phytochemicals found in Romanesco are lutein and zeaxanthin, contributing to better eyesight and better cognitive performance.
How to choose and store Romanesco
There are two things to look for when choosing Romanesco. The first one is to look at the color and look for signs of wilting, molds, or any dark spots. The color should be bright lime green. The next sign of a good Romanesco is it should feel firmer and heavier than its size.
Like every other vegetable, Romanesco is best eaten right after you buy it while it's still very fresh. However, if you plan to eat it later on, make sure to put it in a plastic bag in the fridge. Doing this can extend its life for a week.
Safety concerns
There are not any safety issues regarding Romanesco as long as you eat in moderation. It is not also a common allergen, and only a very few people develop allergic reactions to this type of vegetable. However, Romanesco is far from being a perfect plant. According to the University of Wisconsin, this vegetable is vulnerable to insect problems, just like other plants in its family. 
These bugs may ruin your Romanesco and sometimes may even cause contamination. Prepare your veggie carefully and look for signs of insects. If you saw some chipped portions on your Romanesco, kindly remove that area and inspect for signs of pests nearby. Learn how to choose your Romanesco properly and only shop in a trusted store to avoid this from happening.
Conclusion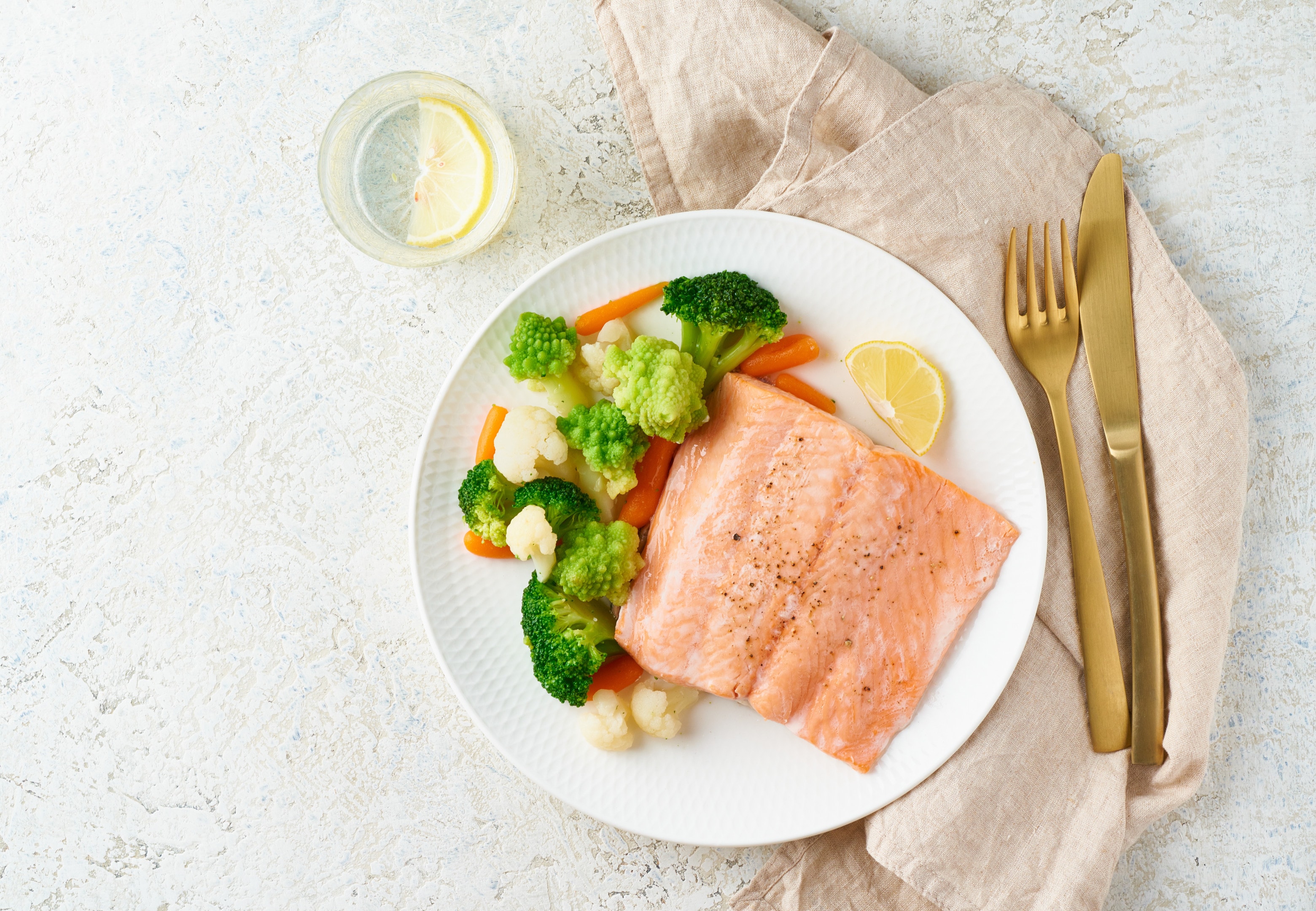 Now that you learned a couple of Romanesco health benefits, why don't you go and get yourself one? It has several nutrients that will help you take one step closer to a better lifestyle.
However, take note that you can harness this vegetable to its full potential only if you also combine it with a healthy routine. You can do this by getting regular sleep, a well-balanced diet, and doing some physical activities.
Remember to prepare your Romanesco carefully. Check for some signs of bugs before you cook it! Preparing a meal with this vegetable can be tricky and might require some of your creative skills. However, with the right patience and research, you can infuse it into some of the family's favorite dishes!