Sesame seed milk is not nearly as popular as soy milk, oat milk, almond milk, and others. However, it is known for its intricate flavoring use and oils. Sesame seed milk benefits are abundant and they contain more protein in one serving than normal milk. The sesame plant is mainly cultivated in the tropical and southern temperate areas for its edible seeds, oil, and flavoring agent.
The seeds have a pleasant and nut-like flavor and contain at least 50% of the oil. Also, they are a perfect source of nutrients like vitamin B1, iron, phosphorus, dietary fiber, copper, calcium, and protein.
Jump to:
What is sesame seed milk?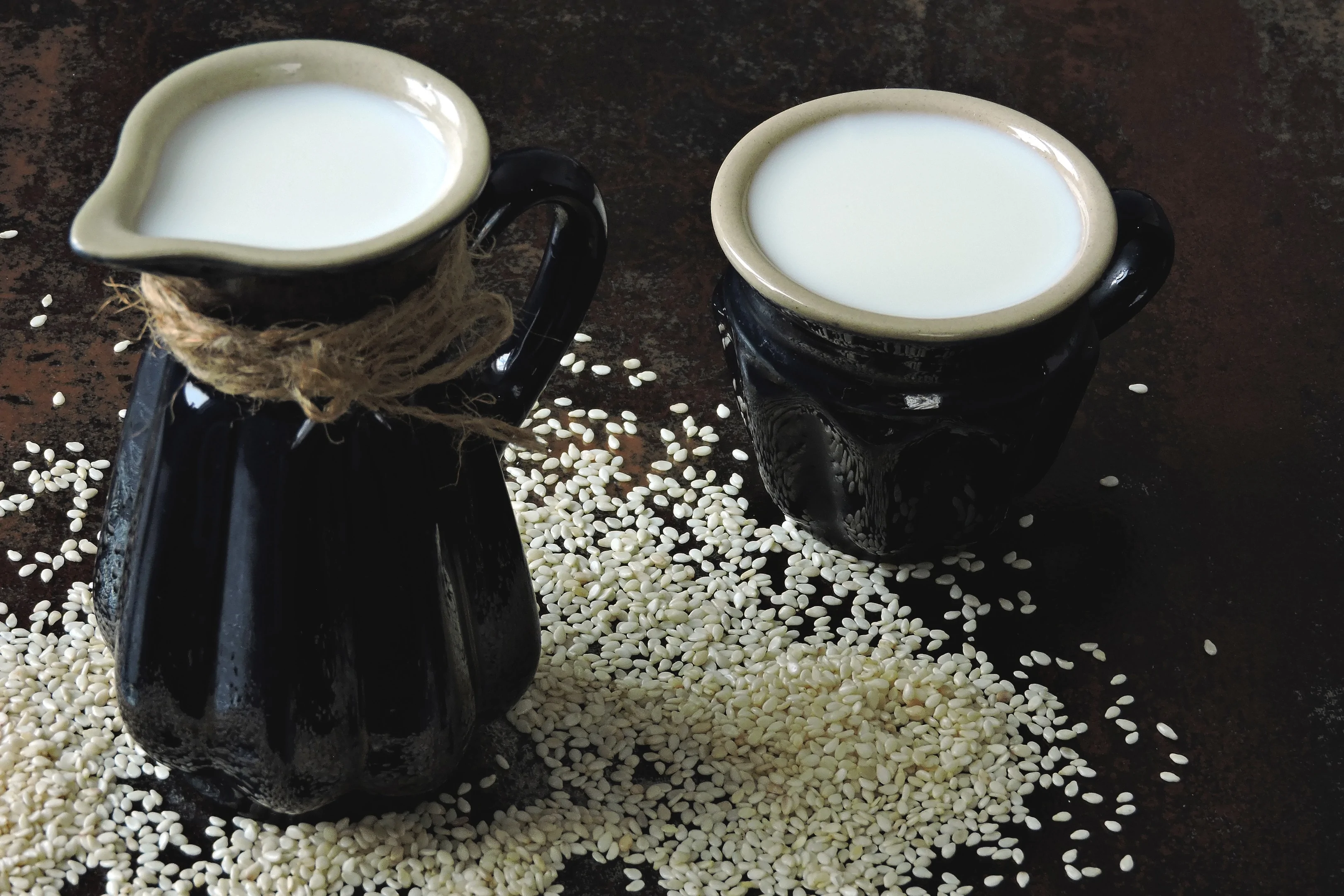 Sesame seed milk is the non-dairy pure plant-based milk from processed sesame seeds. To obtain milk from sesame seeds, you soak the seeds for a couple of hours, blend with water, and add some flavoring like vanilla powder, honey, or maple syrup. The product gives you protein-filled milk, and it is safe to consume even if you are allergic to other forms of milk. It is also good if you are on a plant-based diet. Foods from plants can provide a combination of natural substances that possess high antioxidative effects. This effect is associated with the prevention of various degenerative illnesses and slows down aging. The antioxidative effects help alleviate some diseases like heart disease, cancer, and atherosclerosis.
Sesame seed milk possesses phenylpropanoid compounds known as lignans. These compounds protect against reactive oxygen radicals, which play a crucial role in ensuring overall health. They are also blessed with numerous pharmacological characteristics such as lowered cholesterol levels, increased antioxidant activity, increased hepatic fatty acid oxidation enzyme formation, and antiproliferative activities. Aside from the lignans in sesame seeds milk, sesame seed milk benefits the body also because it comprises many biologically active compounds like vitamins and minerals that aid overall body health.
Origin and use of sesame seed milk
Most varieties of sesame plants grow about 8 feet tall, sometimes bearing branches. It is an herbaceous annual plant grown mainly for its seeds that contain natural antioxidants like 'sesamolin and sesamin.' Sesame seeds are primarily known for their oils, hence the acquired nickname 'Queen of Oil Seeds.' It is known to have originated in Asia and East Africa. The Egyptians and the Chinese used it for grain flour and burned the oil to create soot for ink blocks. The Romans also used it with cumin to make a spread of bread.
Today, sesame oil is used for cooking, lubricants, cosmetics, salads, and soap manufacturing. But the milk taken from the seeds is our main focus. Sesame seeds milk contains a lot of calcium and non-heme iron. They come with numerous nutritional and physiological benefits. It is a component of many medicines and food products because of its anti-carcinogenic properties.
7 benefits of sesame seed milk
As discussed above, there are many benefits that your body can garner from consuming sesame seed milk. Here are a few of sesame seed milk benefits that you should know about:
1. Good sources of fiber and calcium
Sesame seeds are excellent sources of fiber and calcium. Just a tablespoon of sesame seeds provides at least 3 grams of fiber; fiber is prevalent for aiding digestive health. Also, sesame seeds milk contains a host of calcium that is plant-based. A glass of sesame seed milk can provide up to 40% of your needed daily value of calcium. This is almost twice as much as the calcium you gain from a glass of cow milk. They are also traditional sources of magnesium and together with calcium, make the bones healthy and strong. Calcium is also adored for its vital role in blood vessel function, nervous system signal transmission, hormone release, and muscle movement. They also ensure lower cholesterol levels in the body than regular milk and contain a host of other macronutrients like phosphorus, manganese, copper, and zinc. Their high copper content helps the body manufacturer provide healthy red blood cells, which supports immune system function and improves body health.
2. Excellent sources of plant-based protein
This is one of the classic benefits of sesame seed milk, which contains at least 30 grams of protein per serving. The seeds contain small amounts of phytates and oxalates that limit the absorption of protein in the body; this is reduced by hulling or heating before being processed for milk. Protein is very vital for your body's health for numerous reasons. It aids the rejuvenation of muscles and also aids in the growth and manufacture of various hormones produced in the body. Sesame seed milk is enriched with reasonable amounts of cysteine and methionine, which is lacking in amounts in most plant-based foods. They also contain oleic fatty acids, phytosterols, sesamin, and sesamolin, which help with good heart, bone, oral, and liver health, along with limiting certain cancer types.
3. Helps in weight loss
Sesame seed oil, as earlier mentioned, is a good fiber source. In this milk, there is about 8% dietary fiber, which is 100% extracted from the seeds. Fiber possesses qualities that make it excellent for digestion and gut bacteria. It is also vital to weight loss as it helps gradually carry out digestion and keeps your stomach fuller for more extended periods. The fiber in sesame seed milk aids in the absorption of fats and sugar into the bloodstream at healthy intervals, thereby keeping your blood sugar below constant optimal levels. The milk is also low in sodium and prevents unhealthy fluid and substance retention in the body. Just as with fats and sugars, it regulates the body fluids in the body. Lastly, the lignan content of the sesame seeds used for milk may assist in the production of fat-metabolizing liver enzymes. In addition, they inhibit the absorption of cholesterol in the body. Their protein content increases your metabolic rate, preventing hunger, which staves off excess consumption of calories, which helps in weight loss.
4. Rich in antioxidants
Sesame seed milk is known to increase antioxidant activity in the blood. Its primary component, lignans, functions as an antioxidant that eliminates free oxygen radicals from the body. Free radicals initiate oxidative stress that can lead to a heightened risk of various ailments by damaging essential cells in the body. They also are rich in vitamin E, which is an antioxidant referred to as gamma-tocopherol. This antioxidant is typically known for aiding cardiovascular function, thereby decreasing the chance of heart disease. Some other antioxidant sesame milk benefits can be found in the sesamolin and sesamin content in the seeds used for milk. They have known antioxidants with antibacterial activities. Therefore, sesame seed milk is good for fighting against some fungal infections, strep throat, and staphylococcus infections. Sesame seed milk can also oppose the bacteria in your teeth and contribute to oral and dental health.
5. Reduction in triglycerides and cholesterol
Taking sesame seed milk regularly can support triglycerides reduction and limit the quantity of cholesterol in the body, through the phytosterols and lignans in it. Studies show that both lignans and phytosterol can significantly cut down the risk of heart disease, of which high cholesterol level is a significant contributor. The seeds of the milk contain similar high percentages of monounsaturated and polyunsaturated fats with very little saturated fat content. Consuming more polyunsaturated and monounsaturated fats contributes to lower levels of cholesterol and triglycerides in the body. Furthermore, the seeds from sesame milk contain alpha-linoleic acids, which studies have shown help to reduce triglyceride levels. Research showed that eating 3.5 to 4.5 grams of sesame seeds or its extras in a day for up to two or three months can reduce the body's general levels of triglyceride, cholesterol, and LDL. Phytosterols are also suggested to have immune-building effects, thus reducing the risk of certain types of cancer.
6. Boosting immune functions
Sesame seed milk is known to contain essential nutrients for producing materials and substances crucial to the immune system, such as copper, zinc, iron, vitamin E, vitamin B6, and selenium. Naturally, your body needs nutrients like zinc to manufacture and develop different white blood cells that identify and fight off unfamiliar microbes and harmful substances. Typically, minimum to moderate concentrations of zinc levels in the body can reduce the biological efficacy of the immune system. Sesame seed milk supplies ample amounts of zinc and other essential minerals responsible for immune functions.
7. Blood sugar regulation
Sesame seed milk is low in carbs while containing reasonable amounts of healthy fats and abundant proteins. But what makes this milk aid in blood sugar control is a compound called pinoresinol, which helps limit the activity of maltese, a digestive enzyme. This enzyme breaks down the sugar maltose, which is in many sugary products and foods. It can also be produced in the stomach from foods like pasta and potatoes that are filled with starch. When the compound inhibits the activity of this enzyme, sugars are produced at a more limited rate, which helps reduce the amount of sugar in the blood.
Conclusion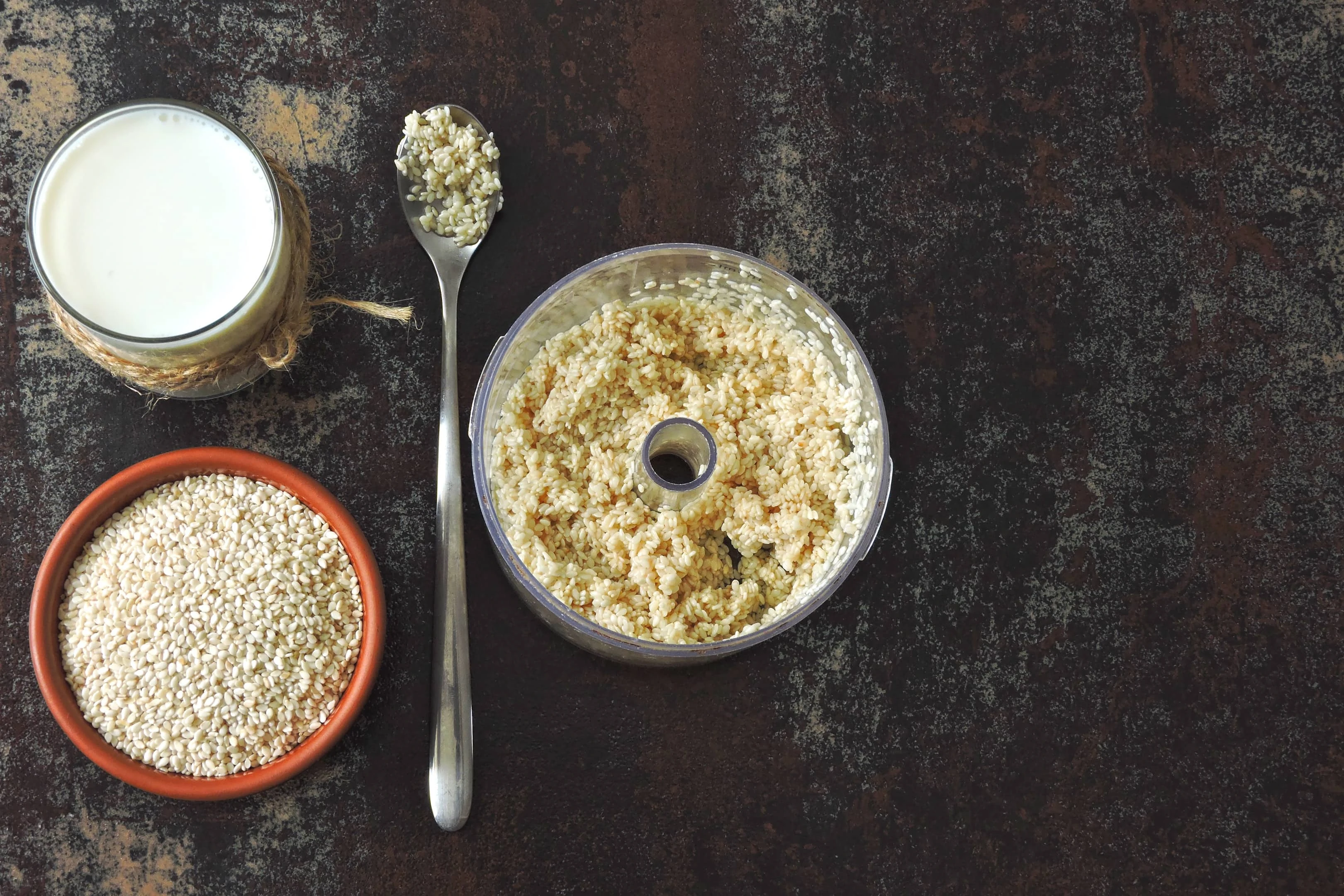 Sesame seed milk contains a host of nutrients, phyto-nutrients, and antioxidants that work together to offer your body the advantages listed above. However, it is essential to properly prepare sesame seeds before extracting the milk in order to effectively gain these benefits. Other sesame seed milk benefits include the soothing of knee pain caused by osteoarthritis and the support of hormonal balance in menopausal women.