Solomon's seal is a medicinal herb that has been known for generations. Chinese, Europeans, and North Americans cultivated this herb in their medicinal and therapeutic practices. It is even known as one of the top ten medicinal herbs in Asia.
The Solomon's seal has native variants in Asia, Europe, and North America. The origin of the plant is traced back to King Solomon's days 3500 years ago where he said that the herb was a gift from God due to its many uses.
The herb is part of the lily family and derives its name from the scars left when the roots are cut, resembling King Solomon's seal. The roots of Solomon's seal are used for medicinal purposes, although its berries are poisonous. Solomon seal benefits are restorative and healing, including its anti-inflammatory, expectorant, and sedative purposes.
According to a study from China, the herb can treat clinical diseases such as cancer, Alzheimer's, and diabetes mellitus. Laboratory analysis of Solomon's seal found that it has chemical properties and vitamins to strengthen and heal the body.
Notably, the herb consists of vitamin A, starch, and many biochemicals that help a person become healthy and protect themselves from diseases. The Solomon seal benefits are just too good to be true!
Jump to:
Benefits of Solomon's seal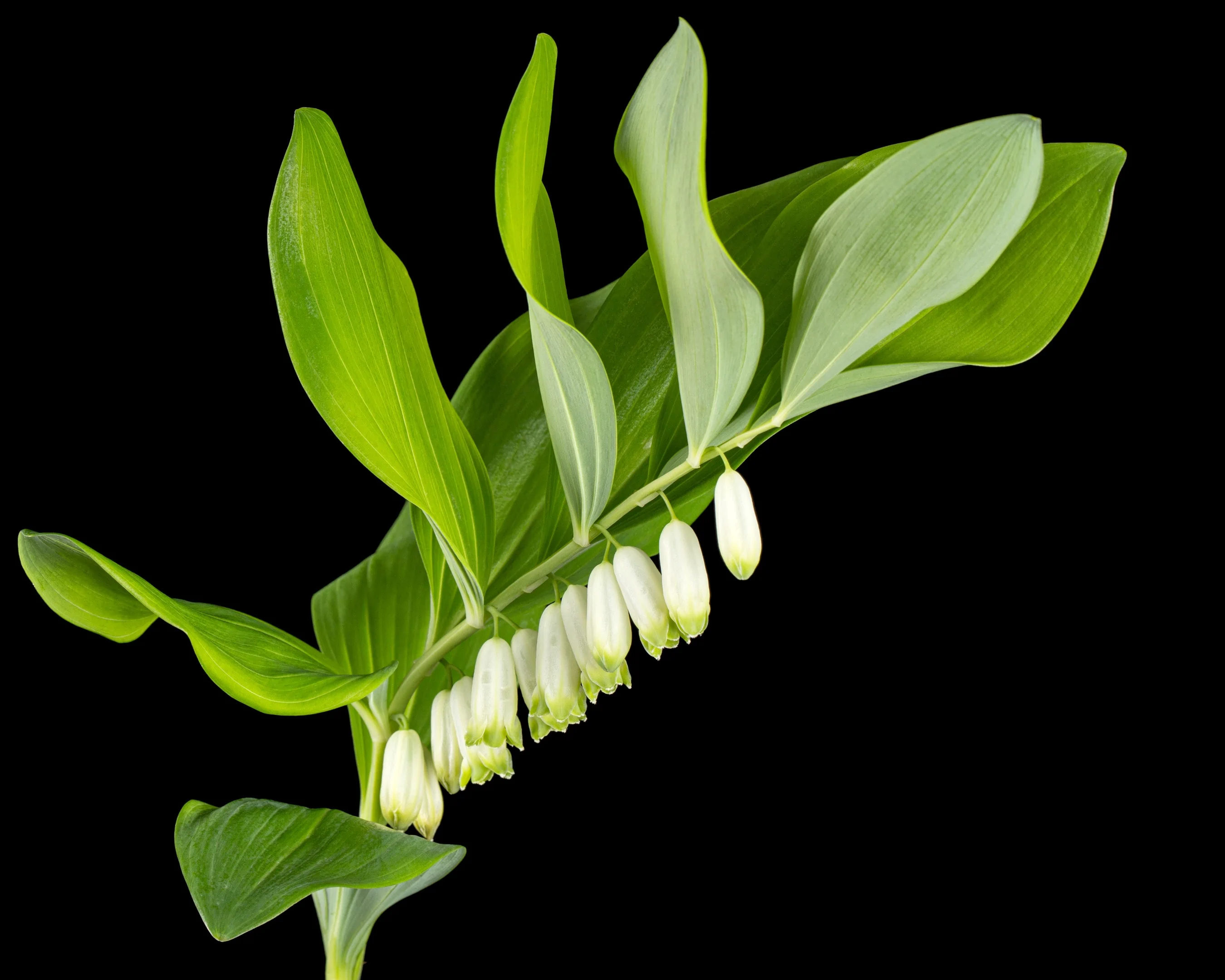 Solomon's seal is a must-have in every medicinal cabinet, as herbalists and healers would suggest. Historically, medical professionals prepare the herb as both tea and tincture. It is also made into salve, lotions, and spray.
However, there is no denying that the Solomon seal benefits a person's health and nutrition. At present, there is a minority who knows about Solomon's seal and the health advantages it brings.
1. Anti-inflammatory
A study of Konkuk University in South Korea has proven that Solomon's seal has allantoin that makes it a natural anti-inflammatory and antioxidant. Allantoin is a component used in lotions and other skin products.
People use Solomon's seal tea to ease heartburn, ulceration, and indigestion due to inflammation. It can act as an astringent to soothe damaged tissues and feed on healthy bacteria inside an individual's body.
European women have been known to apply Solomon's seal on their faces to make their skin look younger. Not only that, but it can also reduce skin issues such as pimples, bruises, and rashes. The herb is also believed to protect the skin from sun damage.
2. Good for the bones
Although the effects are unseen, one of the traditional Solomon's seal medicinal uses is its effects on the skeletal system. It improves the body's ability to produce synovial fluid, repairing joint problems and preventing rheumatism and arthritis.
It also enhances the healing of broken and damaged bones, making it a plant that "disposes of the bones to knit." The roots of Solomon's seal are extracted and mixed with wine, to be given to people with broken bones.
3. Strengthens muscular system
One of Solomon's seal benefits is its ability to prevent muscle and ligament problems, making it popular for athletes and sports enthusiasts. Solomon's seal in tincture form is an excellent choice to consume before practice or competition in a field where you need flexibility, power, and muscle coordination.
Aside from muscles, Solomon's seal helps prevent the tearing of tendons and cartilage. It helps old tissues regain their original states, heal unforeseen damages and avoid future ones. It creates balance within the muscular system.
4. Cardiovascular wellness
Although still in the research process, there is evidence that Solomon's seal has flavonoids that reduce the risks of heart illnesses. One study from the book, A Materia Medica for Chinese Medicine also found a small amount of convallarin, a cardiac glycoside. Solomon's seal tea also relaxes muscles and tendons around the heart, perfect for the elderly.
The chemicals mentioned increase blood circulation in the capillaries, which stabilize the heart. Even though convallarin is potent, there is still an insufficient amount for consumers to worry about.
5. Regulates blood pressure
Like its effects on the heart, convallarin in Solomon's seal also affects blood pressure. The heart stabilizing due to Solomon's seal sends a domino effect to the blood pressure, thus lowering it. Due to this, Solomon's seal is not recommended for pregnant women or people with low blood pressure without professional advice.
6. Decreases blood sugar
The herb is rich in glucose and acts as an anti-diabetic. It is an effective tool to control the blood sugar levels of the body.
A study in Japan discusses the hypoglycemic properties of Solomon's Seal and found that it reduces blood glucose after four hours. The researchers also found that it was effective on mice with diabetes.
7. Expectorant
Another Solomon seal's benefit is its ability as an expectorant and demulcent. These abilities prevent respiratory ailments such as asthma attacks.
Solomon's Seal can remove lung congestion and loosen phlegm or mucus out of your body. Like other kinds of tea, Solomon's seal tea also removes irritation from the throat, making it helpful for coughs and colds. The lungs improve with these effects and add more metabolic energy.
8. Detoxifier and mild diuretic
Teas are continually known as diuretics, and Solomon's seal is not different. It increases water and salt in the kidneys, inducing urine formation for the person to flush out. This effect also enhances the proper functioning of the kidneys.
The herb contains mucilaginous compounds that soothe the gastrointestinal tract. These compounds help in cleaning the gastrointestinal tract and prevent diarrhea and other gastrointestinal diseases. The nutritive effect of the herb cleans the gastrointestinal tract from bacteria and parasitic infections.
Solomon's seal tea aids in releasing toxins, excess water, and breaks fat from the body. In this way, the herb also acts as a detoxifier and is perfect for people who want to lose weight. This benefit makes the tea an ideal drink hours before bedtime as it can make you go to the bathroom from time to time.
9. Reproductive health
Since ancient times, Solomon's seal has been used to improve male and female reproductive health and as a lubricator for the sexual organs. It invigorates, stimulates, and strengthens the sexual organs, improving overall health and fertility and increasing the chances of conceiving a child.
Generally, women get more advantages when consuming Solomon's seal. It promotes uterus health and helps in menstrual cramps. You might want to take a sip of Solomon's seal tea to battle dysmenorrhea and irregular bleeding. The tea also remedies other women's issues like vaginal dryness.
10. Stress-reliever
Solomon's seal has a key phytonutrient called allantoin. This phytonutrient exudes a calming and soothing effect aside from an anti-inflammatory making the plant a mild sedative.
It soothes intense feelings such as nervousness, excitement, and distress. It also eases discomfort in different parts of the body, especially for muscles and joints.
Traditionally, the herb is made into the essence and inhaled. It is used to calm people's nerves when they undergo negative emotions like anger and frustration.
You can also drink Solomon's seal tea if you have insomnia. It induces sleep and relaxation, helping in battling insomnia.
11. Enhances the immune system
One of the Solomon seal's root benefits is its adaptogenic properties. Regular drinking of its tea improves the immune system and trains the body to adapt to internal stresses. It directly feeds and nourishes tissues and body membranes.
The tea enhancing the immune system also slows down aging and improves the whole body — how you move, how you feel, and how you think. It is more effective when Solomon's seal is combined with other adaptogenic herbal plants like ginseng, vervain, arctic root, and agrimony.
Medicinal uses of Solomon's seal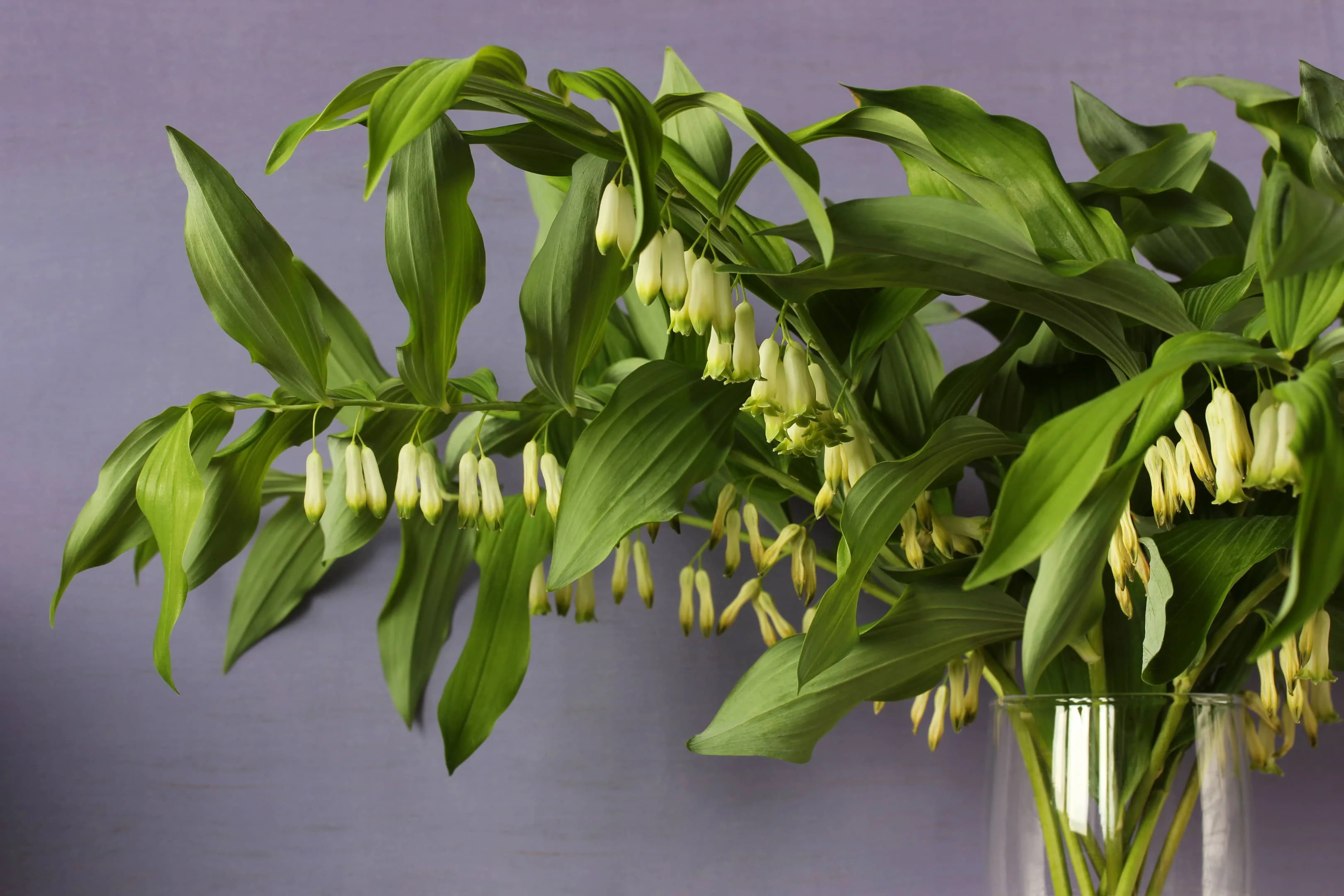 Nowadays, aside from teas, you can find pills, extract, and capsules of Solomon's seal. For teas and tinctures, it is either prepared as a hot or cold infusion. External applications are popular by turning the herb into a simple poultice or compress.
It is famous for its effects on the musculoskeletal system, focusing on repairing joints, bones, tendons, and cartilages significantly when an individual is injured. It can also help in healing coughs and colds like any herbal tea.
Traditionally, Solomon's seal can be used to treat tuberculosis and even lung bleeding, particularly the mucosa lining on the lungs. It removes bacteria and viruses that thrive in the body.
One of Solomon's seals' medicinal uses is curing skin and hair issues. It heals sunburn, wounds and is very effective in healing severe bruising. It is also used on hair massages to strengthen brittle and weak hair. The herbal plant can also cure an individual that is suffering from boils and hemorrhoids.
The roots of Solomon's seal are also used as incense in some places. Numerous sayings are burning roots before sleeping refreshes the individual upon waking up. It makes them sleep soundly and feel younger.
Side effects of Solomon's seal
The medicinal herb is primarily safe for adults in small doses or when taken on short periods. The Solomon's seal tea side effects only come when you consume it in large doses or long-term. It can trigger stomach issues, nausea, and diarrhea. The appropriate dose is dependent on the individual's age, health, and other factors.
It is advisable to apply Solomon's seal with the guidance of a traditional medical practitioner or a medical doctor. They can give you direct precautions depending on your specific condition.
In the meantime, since there is not enough research on the herb, the following individuals should refrain from taking it:
Pregnant or lactating women
Individuals who may undergo surgery or are 2-3 weeks after surgery
Individuals with diabetes or insulin maintenance
Aside from the root, other components of the plant, particularly the berries, are considered toxic. It is essential not to consume it to avoid unexpected illness.
Conclusion
Solomon's seal benefits are almost a perfect cure for many human illnesses. It has a lengthy history of use and has shown to be beneficial. You can even grow it in your local garden and propagate it.
However, even if Solomon's seal is almost magical because of its properties, it is not enough reason to rely entirely on it. Each individual is different, and some properties will not have much effect on you. It is better to combine consuming Solomon's seal on different herbal medicines or medications, although you should seek professional advice if it is alright for you.