Whether you're a typical food lover or you just eat to stay healthy, everyone loves good taste — the moment your tongue comes in contact with something quite distasteful, it reacts. You need good taste, and to give your meal that tart, fruity flavor that excites, you need tamarind.
Tamarinds are brown fruits that grow inside pods on tamarind trees. They grow like dates, but are much tastier. While dates may have a sweet taste, tamarinds are sharp and spicy. Thus, this is more reason they go well with any kind of dish (be it savory or desserts).
Though native to African tropical areas, these fruits are often mistaken to be Indian. They were introduced in India a long time ago; this is probably why you find it in lots of dishes with Indian origins. These days, tamarinds grow in tropical regions with an ideal climate, and they have gained much more popularity than they have in previous years.
It is advisable to turn tamarinds into paste before cooking (which is what most people do). You can either get the paste from retailers or make one yourself, all dependent on your choice and preference.
Jump to:
How to make tamarind paste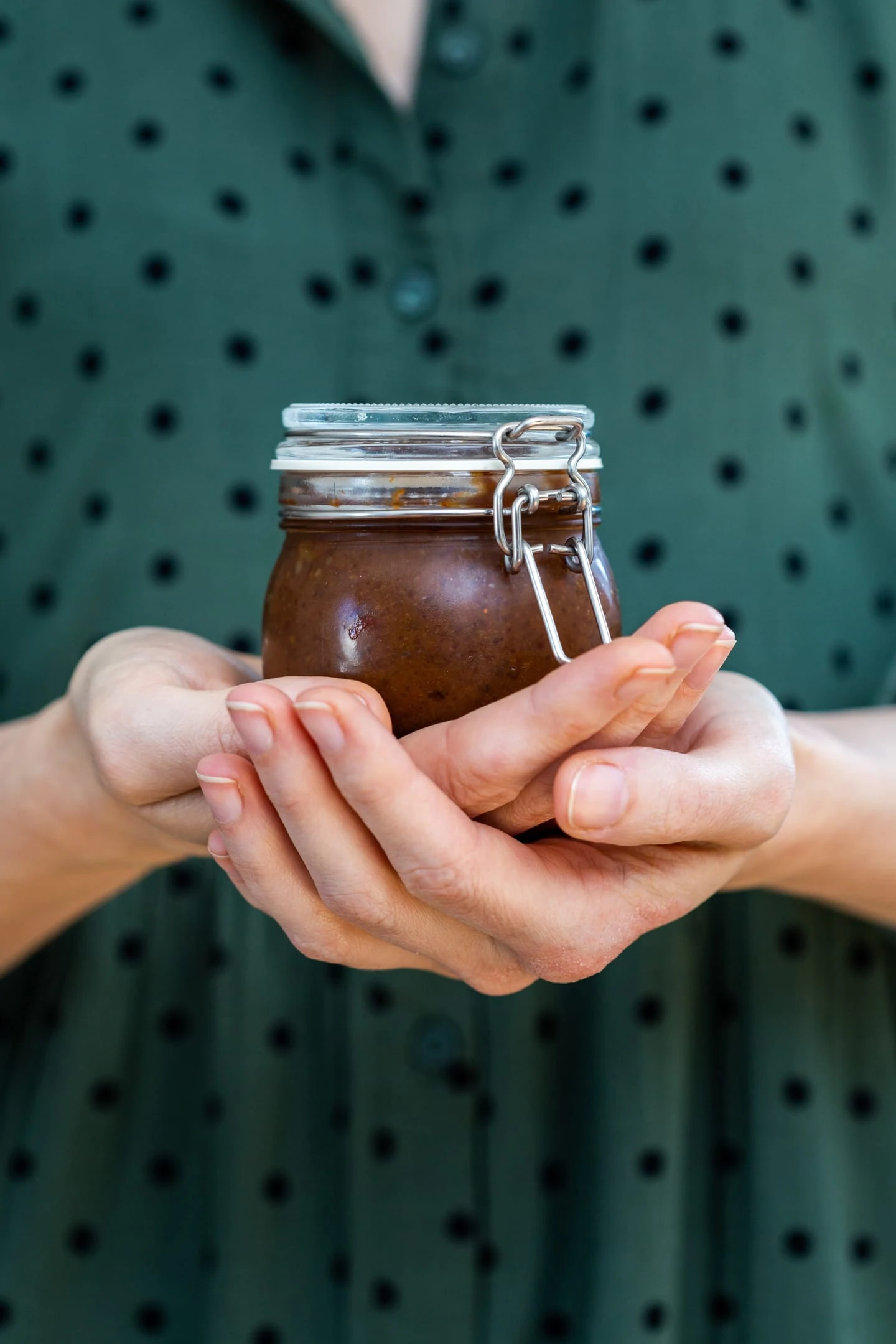 Making tamarind pastes from scratch is not as difficult as it might seem. Though it requires some time, effort, and a bit of common sense, you can get it right once and for all (it can be quite messy sometimes).
To start with, get pods containing tamarind fruits and split them open. Take out the fruits and simmer in a saucepan for ten to fifteen minutes to keep them soft. Every quarter cup of fruit will require 4 tablespoons of water.
After taking tamarinds off the burner, mast the fruit using a potato masher or any other handy tool. Then sift the mixture to remove seeds. Finally, your paste is ready for use.
Substitutes for tamarinds
As you might have noticed, tamarinds are a great choice for tasty, delicious meals. However, they are not always available. There are times you may not find tamarinds (whether fresh or paste) around, and even if you have fresh tamarinds available, the stress of making the paste by yourself may be too much to bear. So, you'd prefer something else.
Luckily enough, there are a couple other options you can use as tamarind substitutes. They do just fine and go well with all kinds of dishes. Check them out below:
1. Pomegranate molasses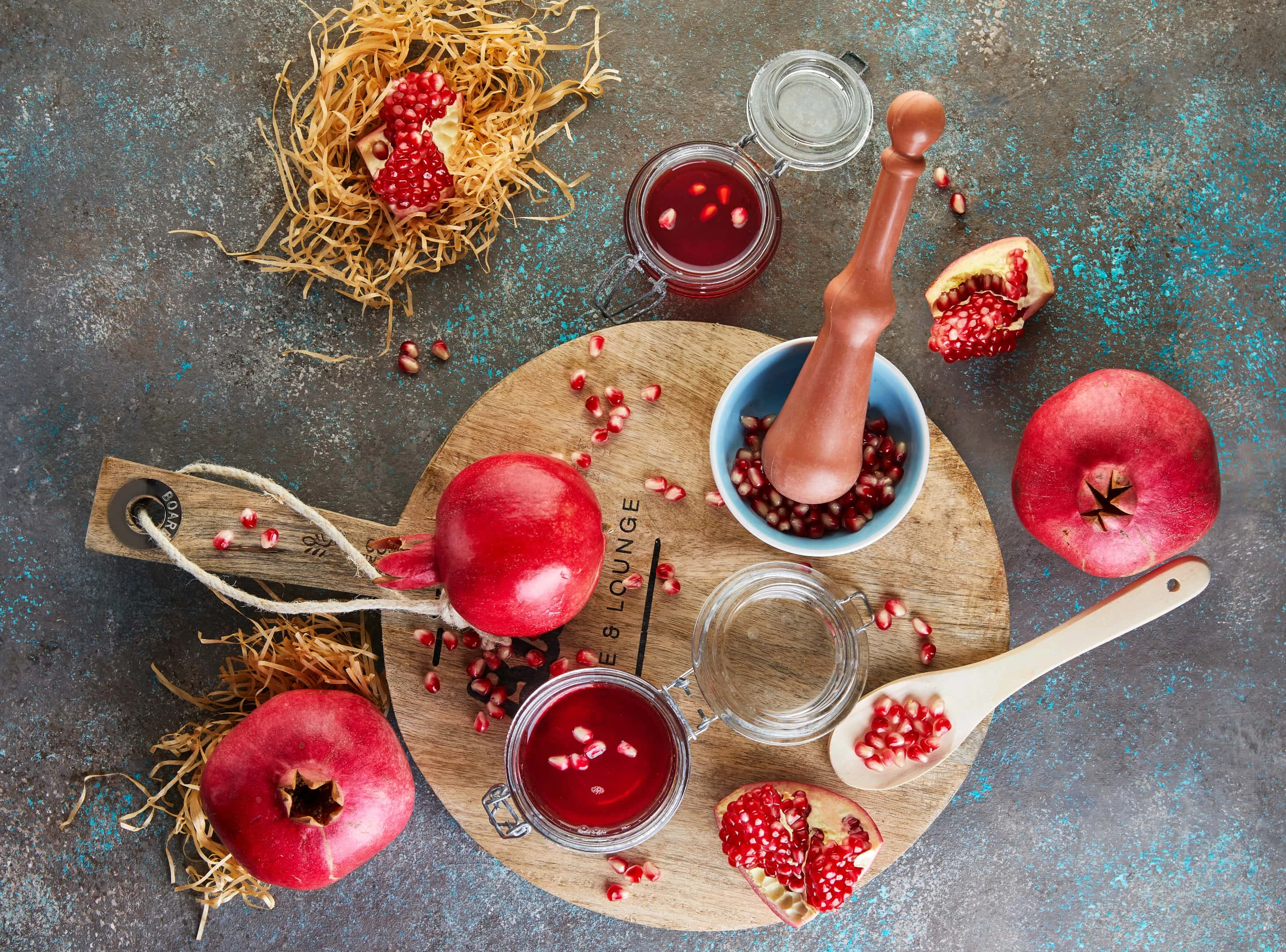 These molasses are one very popular substitute for tamarinds. Made from already-reduced pomegranate juice, the molasses are somewhat thick. When you try it in meals, you might notice that it has a similar taste as tamarinds. Their thicknesses are very much alike too (though tamarinds are thicker). If you're one of those who probably gets tired of tamarinds and desires to get something similar, but with a little difference in taste, try out pomegranate molasses. You'll surely enjoy the great taste.
Pros
Molasses are not as thick as tamarind pastes, so they lend more moisture. They're also easier to work with than tamarinds.
You can add the same amount of molasses as you would tamarind pastes. Since they are similar, there's no worrying over what amount is good enough to make your meal spicy. Simply follow the tamarind pastes recipe and you're good.
Cons
Molasses are not so easy to find locally. You may need to travel miles to get some for your home, and that's really unnecessary. Though there are online stores where you can visit to place an order, you can't be 100% sure of which is real and which is not. Since no one likes to fall victim to fraud, you might be forced to check other tamarind paste substitutes.
Nutritional breakdown of pomegranate molasses
| | |
| --- | --- |
| Pomegranate Molasses | Amount (1 Tablespoon) |
| Fat (Total) | 0.2g |
| Fat (Saturated) | 0.1g |
| Calories | 58 |
| Carbohydrate (Total) | 14g |
| Sodium | 5.9mg |
| Sugars | 14g |
| Dietary Fiber | 0.1g |
2. Mango powder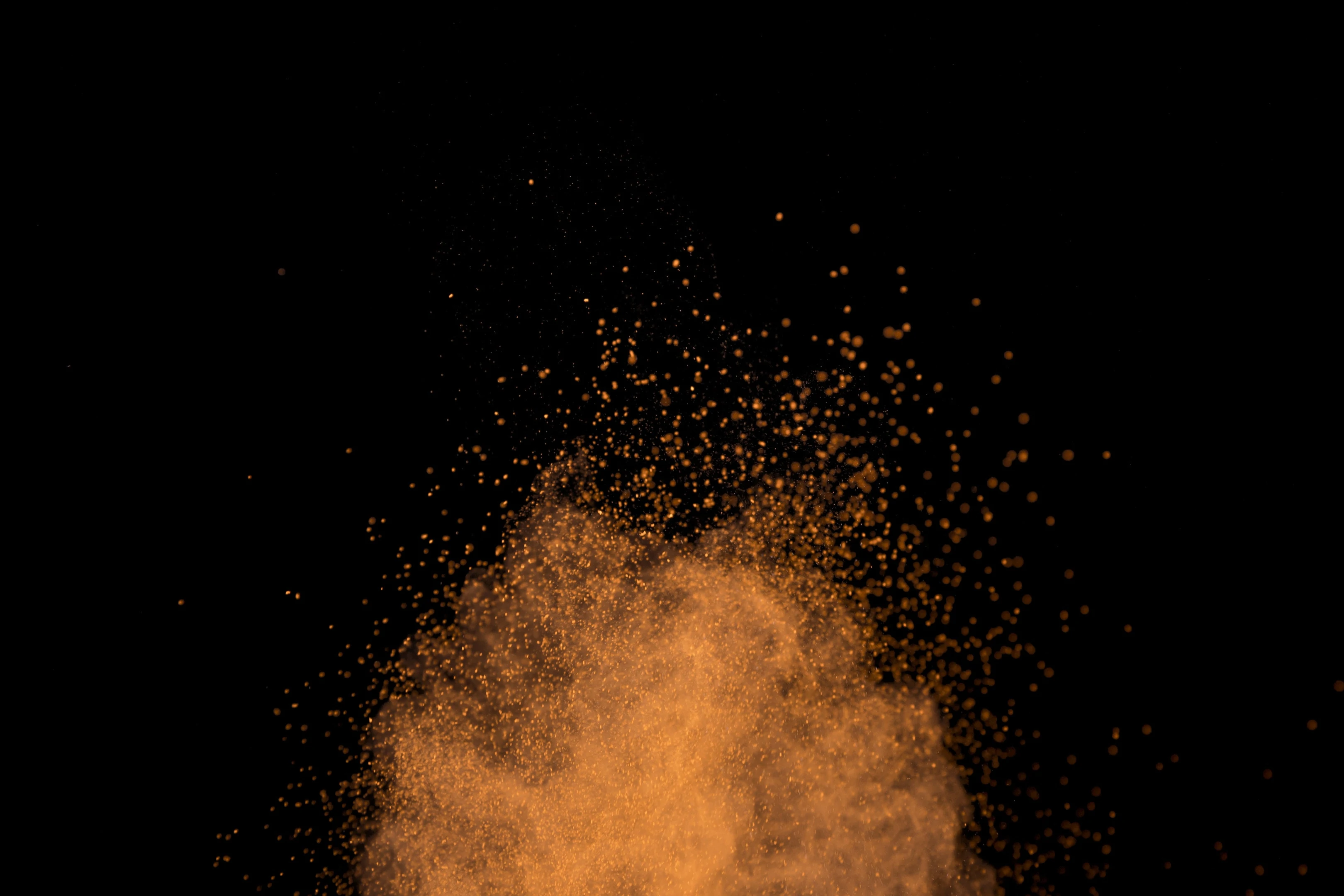 Popularly known as amchur powder, mango powder is another tamarind substitute that comes in handy. It provides a matching taste to what tamarind pastes give. Even though it can be added to various dishes as an alternative, it has some downsides.
Pros
It has the same level of sour taste you'd get from tamarind pastes.
Cons
Finding mango powder in grocery stores can sometimes be as easy; but at other times, it can be extremely difficult.. So you may want to go shopping online for it.
You have to mix powder with water before using. There's a level of consistency that is required, depending on the kind of food you're making. But how exactly do you watch out for the so-called consistency each time without losing interest? Perhaps that's where the problem lies.
Nutritional breakdown of mango powder
| | |
| --- | --- |
| Mango Powder | Amount (1 Tablespoon) |
| Fat (Total) | 0.2g |
| Fat (Saturated) | 0.1g |
| Calories | 36 |
| Carbohydrate (Total) | 9g |
| Sodium | 0.6mg |
| Sugars | 8.1g |
| Dietary Fiber | 1g |
3. Mango chutney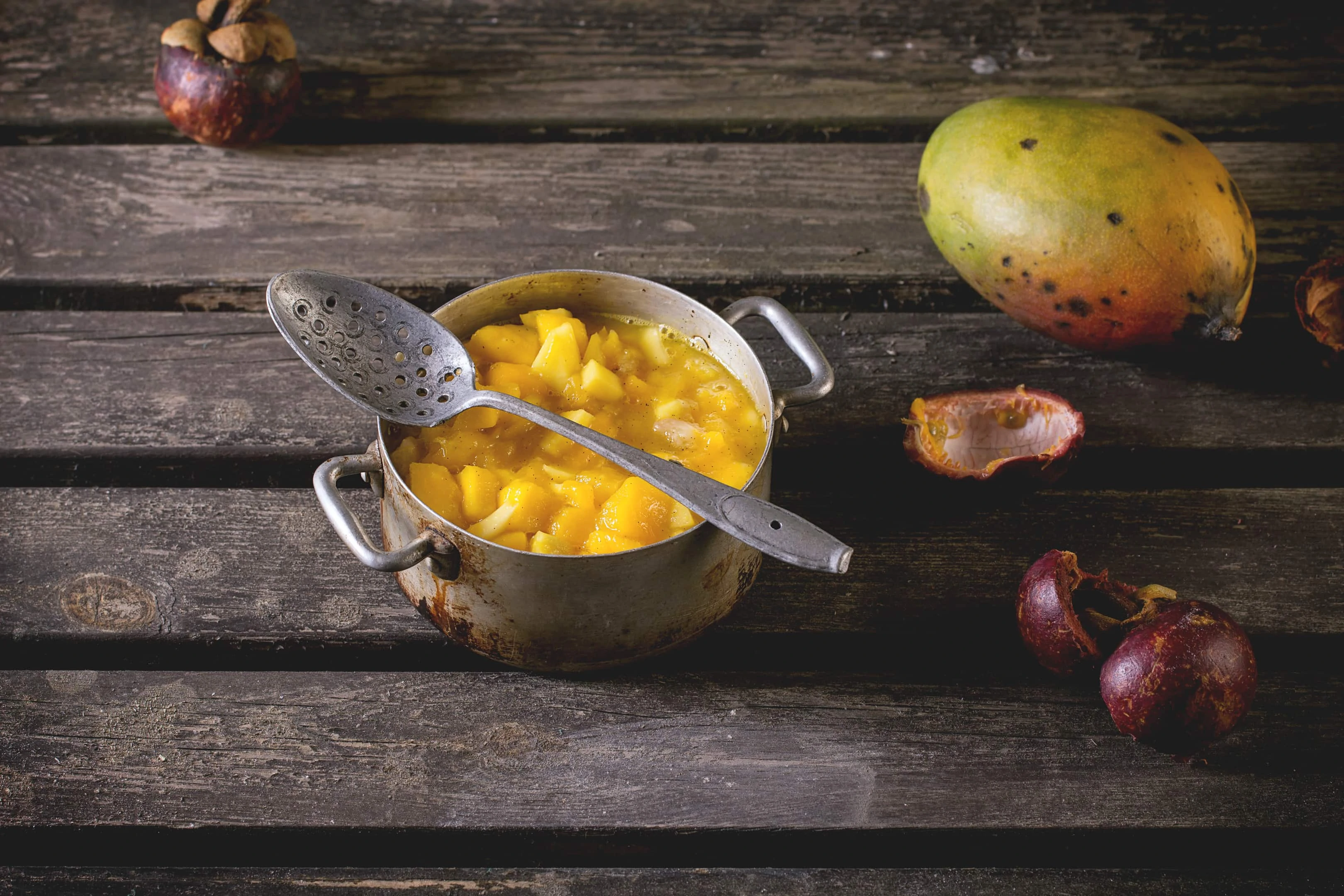 Mango chutney is another tamarind paste substitute you should consider. The quality of the chutney you choose is just as important as the type. So when opting for any, pick the ones that will best replace tamarinds and work well with different kinds of dishes.
Pros
Mango chutney is easy to use, and this is one of its greatest advantages. You don't need to stress much or worry over how to apply it in meals.
The taste is pretty much satisfactory, just like tamarind's. But it has a way of creating its own special flavor that can sometimes get you on cloud nine.
It is available in many grocery stores, so there's no worrying over availability. You don't even need to go online to search for options.
Cons
Problems arising from the use of mango chutney revolve around your choice of quality and style. If you don't select one with quality that's high enough to suit your meal, you may get the direct opposite of what you desire. High-quality options are the best for all meals.
Except you're an alien or from some unknown planet, no one likes to use brands with large mango chunks in it. You may have to examine the mango chutney you're buying thoroughly before making your purchase. But if the odds are stacked against you, you may end up with something you will never like.
Nutritional breakdown of mango chutney
| | |
| --- | --- |
| Mango Chutney | Amount (1 Tablespoon) |
| Fat (Total) | 0.1g |
| Fat (Saturated) | 0g |
| Calories | 33 |
| Carbohydrate (Total) | 8.3g |
| Sodium | 7.2mg |
| Sugars | 7.9g |
| Dietary Fiber | 0.2g |
4. Citrus marmalade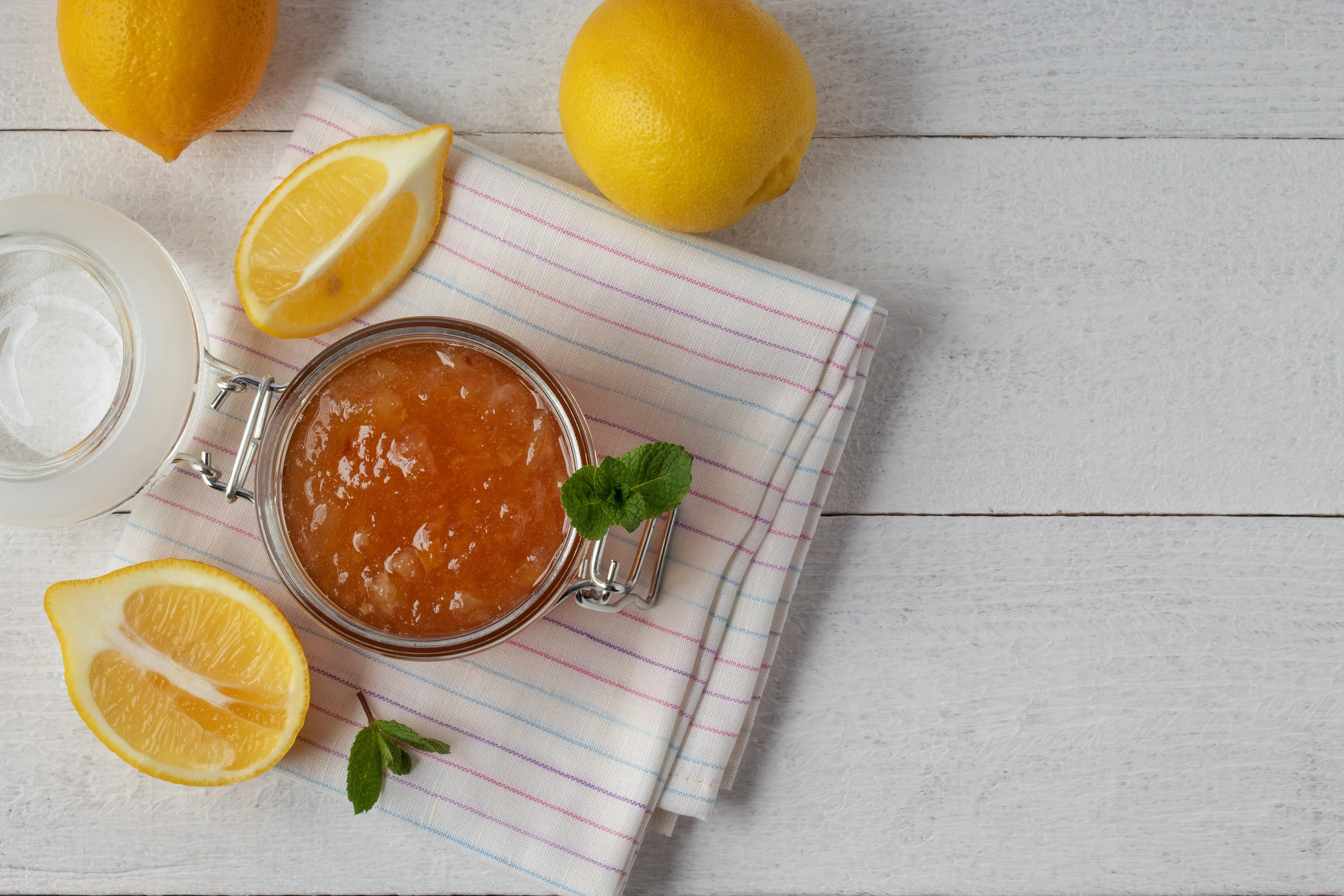 If you're not satisfied with other tamarind substitutes mentioned above, you can try citrus marmalade. It has lots of benefits you wouldn't want to miss and serves the exact purpose tamarind pastes serve. But just like mango chutney, you need to get marmalades with high quality if you want to enjoy good taste.
Pros
Citrus marmalades are everywhere; they're not so difficult to find. You can find different options in grocery stores around you.
Using this substitute is super easy. It has a similar texture as tamarind pastes, so you can easily add to your food when cooking.
Cons
Not every brand can be trusted. You need to take caution while making a choice.
Lower-quality marmalade can ruin your meal or give it a too-sweet taste.
Nutritional breakdown of citrus marmalades
| | |
| --- | --- |
| Citrus Marmalade | Amount (1 Tablespoon) |
| Fat (Total) | 0g |
| Fat (Saturated) | 0g |
| Calories | 49 |
| Carbohydrate (Total) | 13g |
| Sodium | 11mg |
| Sugars | 12g |
| Dietary Fiber | 0.1g |
Frequently asked questions (FAQ)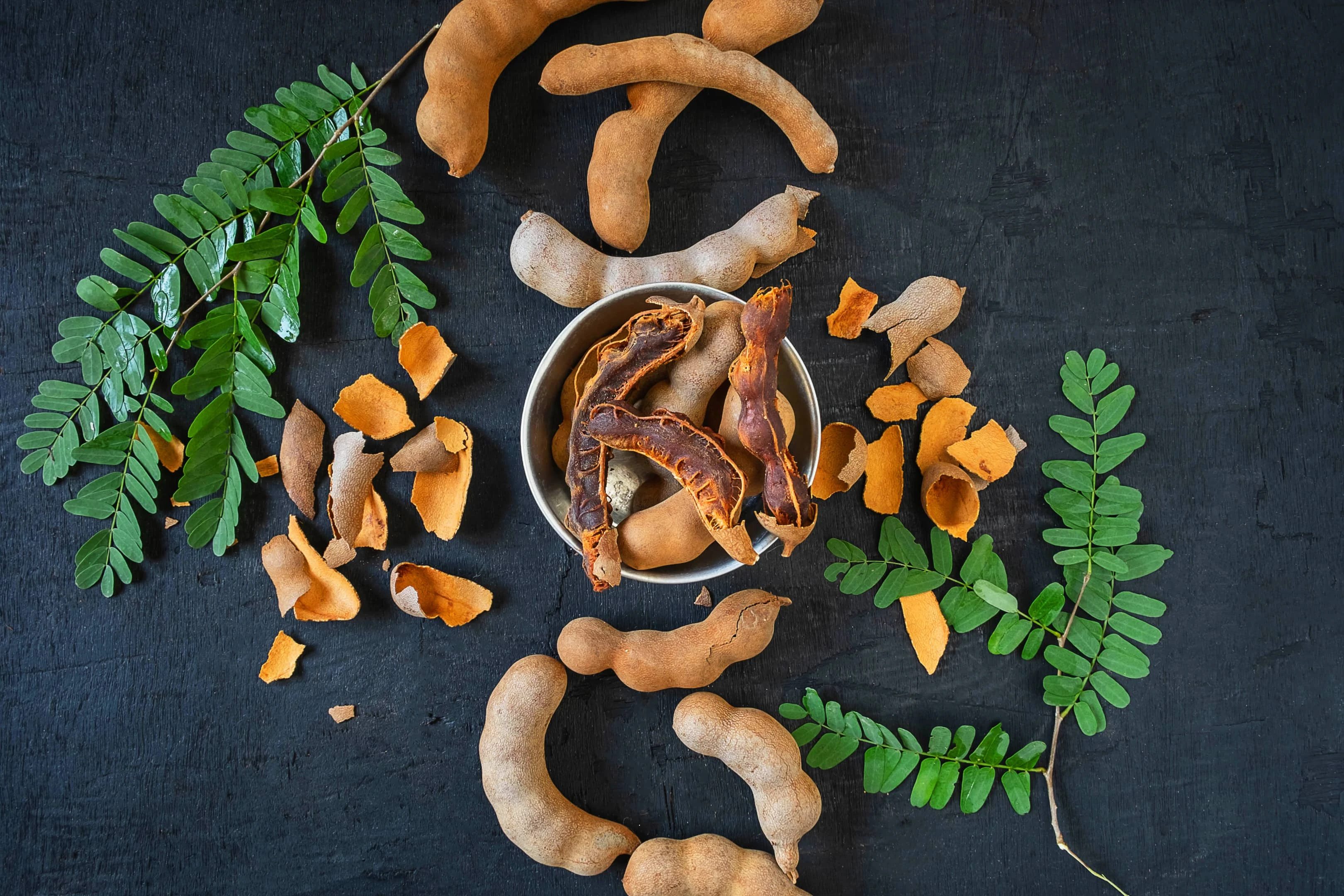 Below are some possible questions about tamarinds and all you need to know about the fruit. Enjoy!
1. How are tamarinds used?
Tamarinds are used today in a great variety of dishes from all over the world. You can find them a lot in both Indian and Southeast Asian meals. They're also quite popular in foods from Mexico and many Middle Eastern countries.
Tamarinds are a good addition to stir fry meals, seafood, chicken, and kinds of desserts. You can also use them in a salt solution to keep meat tender. There's hardly any interesting recipe that doesn't require the addition of tamarind pastes.
2. Are tamarinds vegan?
Tamarinds are vegan, because they are fruits. You can add them to a variety of dishes that are vegan to get the taste of traditional dishes. If you have celiac disease, don't fret; they are gluten-free too.
3. Durability of tamarind pastes
Tamarind pastes can last a month if you store them in a cool, dry place. You should ensure to keep them in airtight containers and examine them properly before using. If you've had them for a long period of time, check to confirm there's no mold.
4. Can you eat tamarinds raw?
Yes. People eat tamarinds raw; you can too. You can decide to eat right out of the pods without turning it into paste at all. Getting the fruit out of pods can be a little tasking, but it contains properties that make for healthy raw consumption. Tamarinds are more snack-worthy than a lot of other options out there.
5. Where are tamarinds sold?
Tamarinds are usually found in grocery stores, though they're not always easy to find in some locations. If you're having a hard time getting tamarinds (fresh or paste) in grocery stores around you, you can hit the internet for online delivery.
Conclusion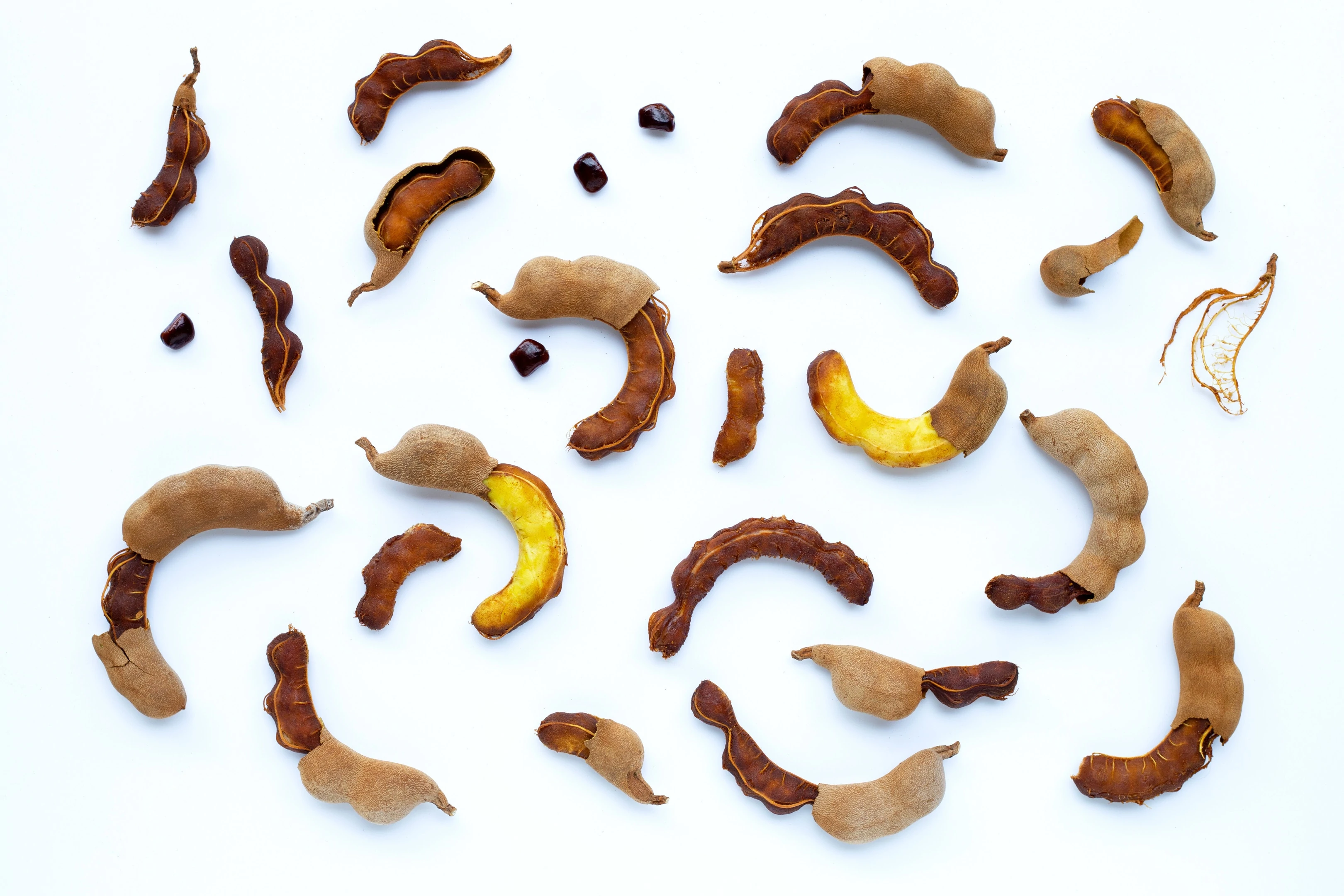 Tamarind pastes are simply fantastic; they go well with different kinds of dishes and give your food the kind of taste you deserve. But you might not always have them in your home. There are times they are not available and you have to make do with other options. You may want to consider one of the ones given above. They do well too, and can add enough spice and flavor to your meal. You might even find them more tasty than the tamarind pastes themselves!