As I was checking out my kitchen, I noticed that I was out of shallots and garlic. Even though they are small in size to peel, I just love shallots in my recipes, and many of my recipes call for the same, so I investigated what are the best replacements for shallots and would like to share it here.
Shallots are small onion bulbs that mostly grow in clusters, just like garlic. Even though there are only a few shallot substitutes, they cannot replace the unique flavor and taste.
The shallot is a variety of onion that is small and elongated and covered with a reddish-gray colored skin. Shallots are rooted in the allium family. They originate from Ashkelon, a city on the Israel coast. There is some evidence that shallots also originated in Turkestan in Central and Southwest Asia.
Shallots are known by many names; people in Quebec and England call the word shallots "Shall-OH," while in French, it is known by "eschalot." The flesh of the shallots usually ranges from off-white color to tinted green to light pink.
This article focuses on some of the best shallot substitutes that you can use in a pinch.
Jump to:
More about shallots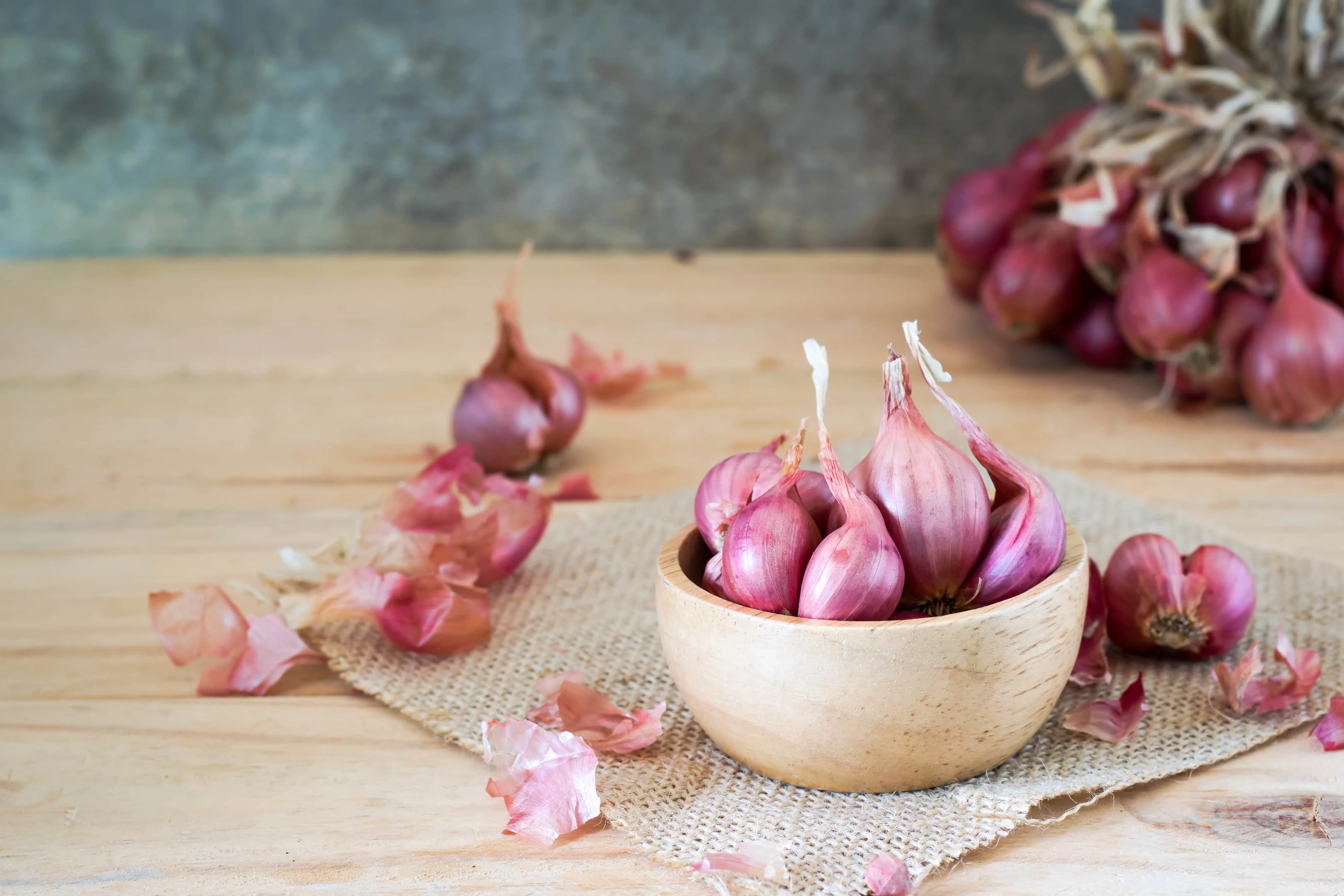 Let's start with the types of species in shallots. The first one is Allium oschaninii, popularly called the French gray shallot or 'griselle.' The second variant is Allium cepa var. aggregatum. Allium Oschaninii Is the most common and generally known as true shallots. In Australia, shallots, known as scallions, are onions and grow in clusters.
Shallots are a bit more expensive than onions and can be used for cooking and pickling. Shallots come with many health benefits as they contain organic compounds like phenols and flavonoids; the flavonoids are known for their antioxidant feature. Shallots also help in minimizing the damaging effects of free radicals on the body's tissues and cells.
You can use raw shallots as a seasoning in salads and vinaigrettes, whenever you want to add onion flavor without the actual punch.
What does a shallot taste like?
Shallots share their nature with garlic and onions and, hence, have the same pungent and robust taste. Shallots have a sweeter and milder taste than onions and garlic; its real flavor comes out when cooking, which makes it sweet and soft.
Types of shallots
Shallots are available in different varieties:
1. French gray shallots
French shallots are considered to be the true shallots by the chefs, due to its rich flavor and creamy purple flesh. They are individual bulbs offering an extremely rich flavor along with a creamy texture that can enhance the taste of any delicacy. The best thing is when you plant them, you can expect it to yield 15 times more than you have sown. They are pear-shaped with a tough skin and have a luxuriant flavor. The French shallots are exotic and rare delicacies and must be savored shortly after the harvest.
2. Jersey shallot
Jersey shallots are short, round bulbs that are fairly large and uneven, and look something like a small onion. Jersey shallots come with orange to reddish-pink skin and give a mild taste to recipes. This shallot originates from the Isle of Jersey and is sometimes known as false shallots, red shallots, or orange shallots. Dutch shallot is another variant of the Jersey shallot.
3. Old shallots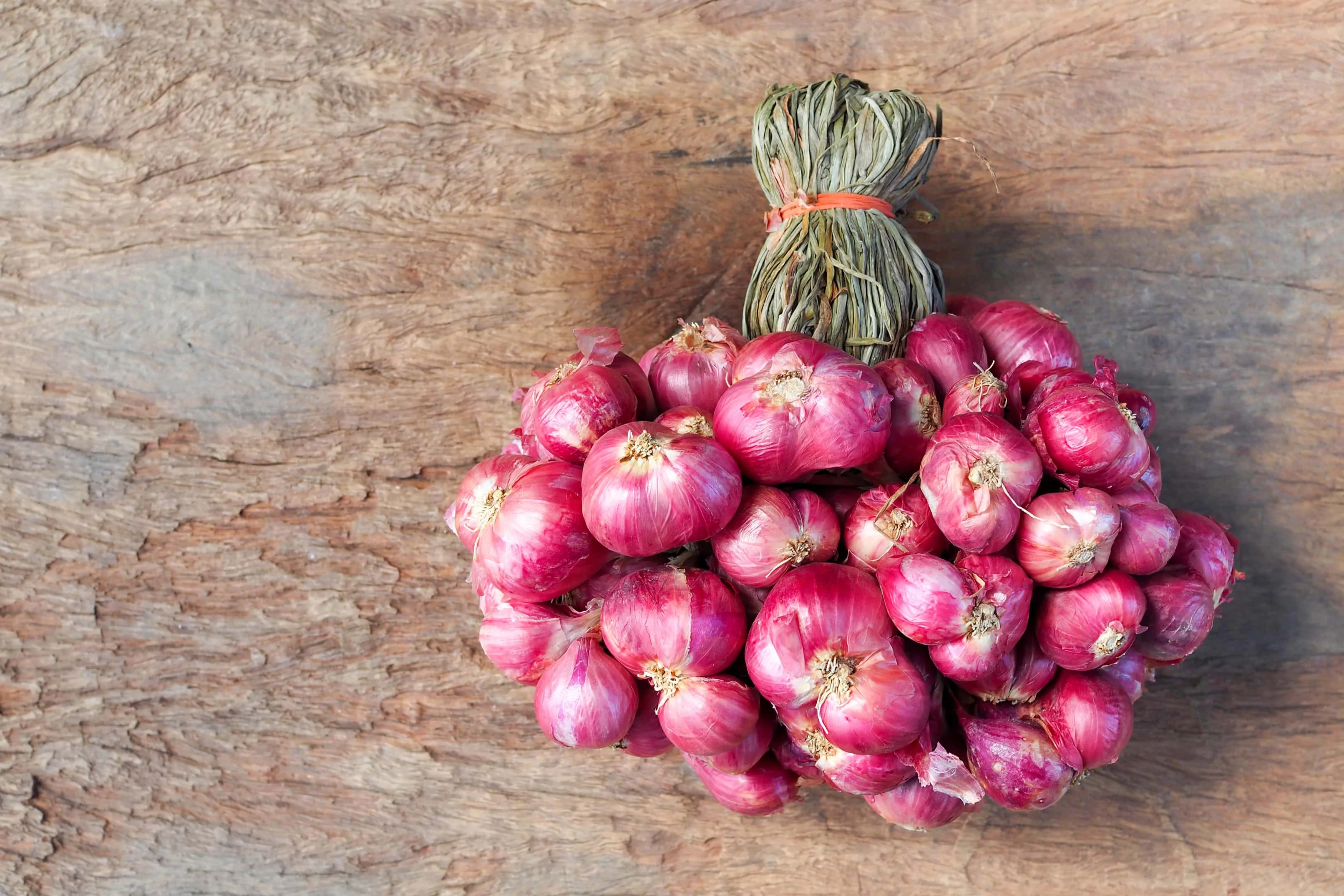 The yellow-white colored shallots are usually referred to as old shallot bulbs. They generally come in small walnut-like sizes and have an irregular pyriform shape. When they ripen, these shallots become silvery-green or brownish with inner scales tinged with purple or brown. They also grow in clusters, and the bulbs produce 5-10 shallots per cluster. This is the earliest variety of shallots and is cultivated very rarely.
4. Echalion
Echalion is also known as banana shallot. It is a type of shallot that is created as a crossover between the regular shallot and onion. They have a milder taste than onion and are used as one of the best shallot substitutes. They soften quickly and caramelize when glazed with sweet vinegar.
Sourcing and storing shallots
Shallots received their recognition in American homes only a few decades ago, but this ingredient has been a shining star in many French recipes for many more years. One of the significant shallot producers that end in most American stores is still French. Shallots are a significant part of Indian and Southeast Asian cooking. Indian cuisine does not seem complete without the use of shallots.
Shallots can be grown in your garden if they are grown using special techniques like used for onion and garlic. The ideal time to plant the shallots is springtime for a good harvest. Shallots are found most commonly in two varieties, but as discussed earlier, they are available in many different types.
Tips for storing shallots
Shallots are suitable for more extended use if stored in a cool, dry, and dark place. This method of storage can give a good shelf life of more than one or two months.
They must have proper ventilation while storing.
Toss out shallots that get soft and discolored.
Put the shallots in punched paper bags for longer life
Chopped and sliced shallots can be stored in the freezer for more than three months.
Nutritional benefits of shallots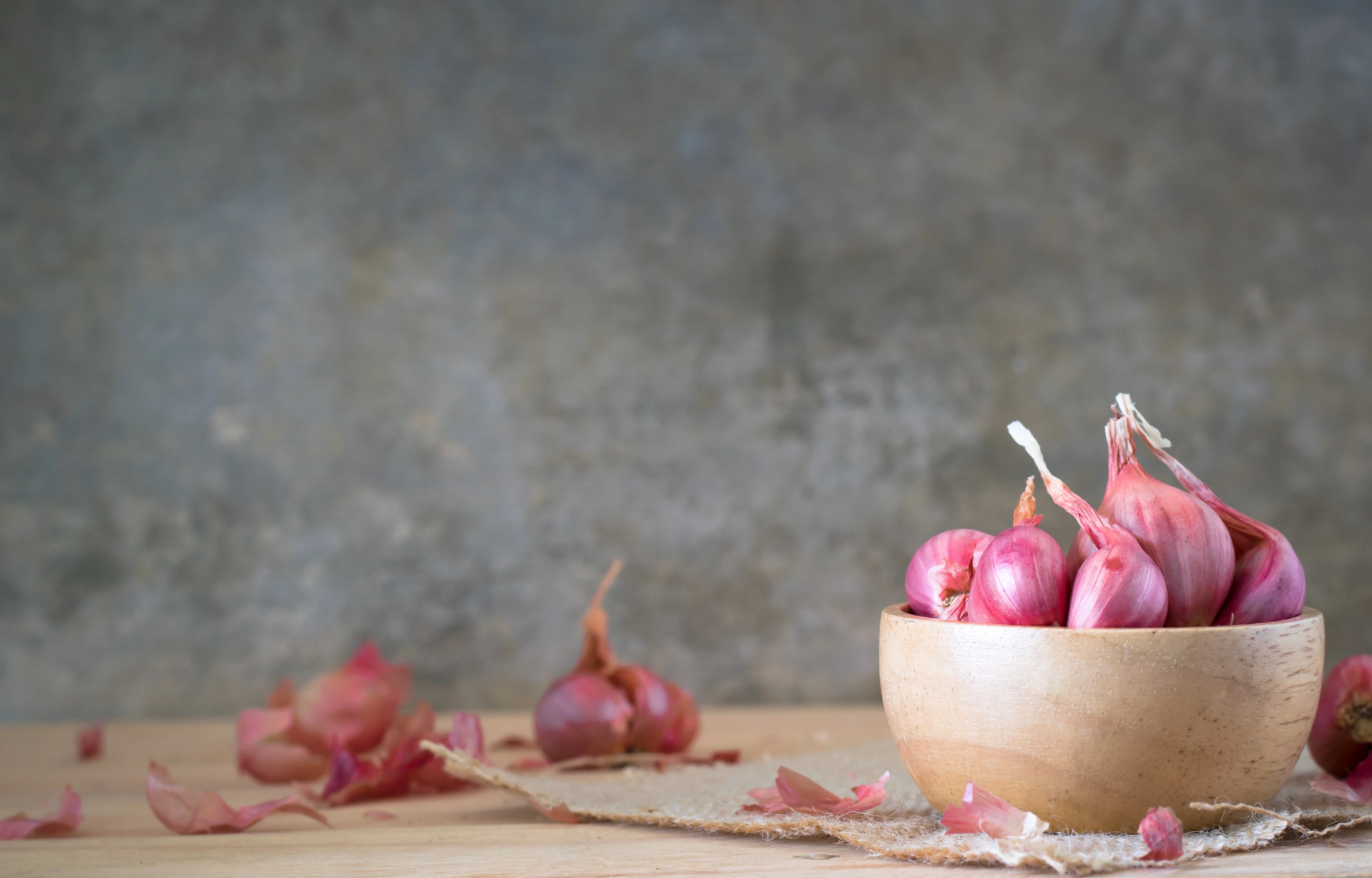 A half-cup of diced shallots contains 56 calories, 5 grams of fiber, 6 grams of sugar, and even 12 grams of carbohydrates. Shallots are one such ingredient that contains no fat and contains other proteins and peptides that have immune-boosting properties.
Health benefits of shallots
As shallots come from the Allium plant, they go well with onions, chives, and garlic. This mild-flavored ornamental vegetable is a favorite ingredient of chefs around the world. Also, shallots enjoy a lot of health and nutritional benefits. This makes this a valuable ingredient in many recipes. Some of the significant health benefits of shallots are below:
1. Reduces cancer risk
Allium vegetables are known for their ability to reduce cell mutations and hence minimize the danger of cancer. The ethyl acetate found in shallots has proved to slow down the growth of cancer cells. The intake of allium has the power of even reducing stomach cancer, as per the latest studies. The anti-cancer and anti-inflammatory effects of shallots can help in the treatment of cancer.
2. Helps fight obesity
Ethyl acetate extracts in shallots have the potential to suppress fat accumulation in the body and help prevent obesity. The antioxidants in shallots are responsible for boosting metabolism, which contributes to weight regulation and optimum health.
3. Improves heart health
Shallots also can produce potassium that supports many body functions. A 3.5 ounce serving of raw shallots can generate 334 milligrams of potassium. Potassium helps in maintaining a steady heartbeat and fluid balance.
The shallots also play a significant role in activating the enzymes that are present in the proteins and carbohydrate metabolism. Shallots also play a major role in enabling the enzymes in protein and carbohydrate metabolism. They also activate proper nerve cell firing, muscle contraction, and kidney function.
4. Helps in brain function and cell development
The folate, referred to as folic acid, is present in shallots at the rate of 34 micrograms. Folic acid is one of the eight vitamin B compounds. It is essential for brain function and enables and balances mental and emotional health. It also has an important role in the production of RNA and DNA in the body. It also supports cell development and acts as a protective guard against spine and brain congenital disabilities during pregnancy.
Best substitutes for shallots
If you find yourself out of shallots, the below substitutes can come in handy to enhance your dish and give a similar taste and flavor. Here is a quick list of top best shallot substitutes for you try out:
1. Yellow onions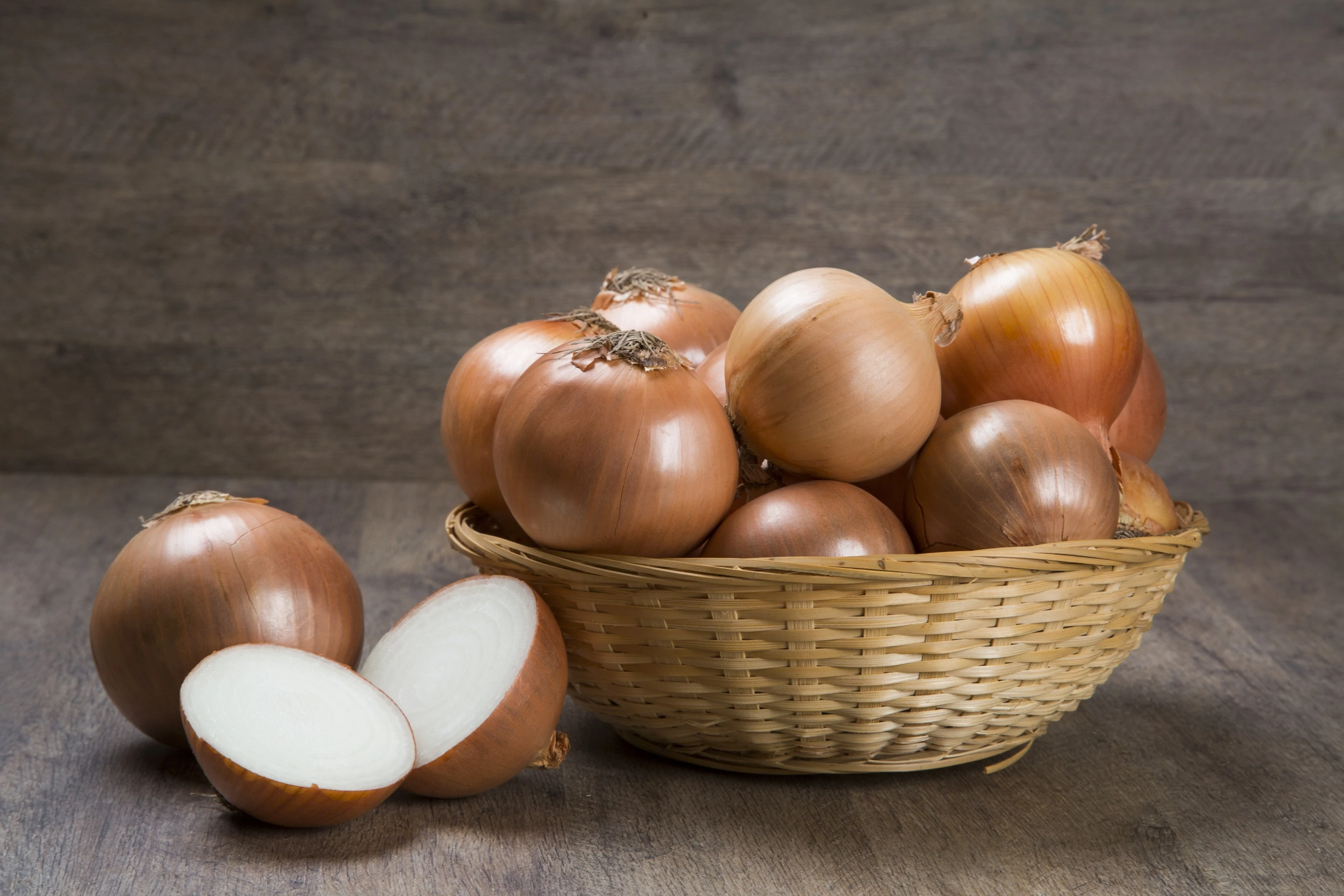 The brown or yellow onion is a variety of onion that comes with a strong flavor. The inside of the onion is greenish-white, light yellow, or mostly white inside. These onions are higher in sulfur content than other types of onions and have a strong and pungent flavor and smell. They are available in large to medium-sized onions, and when cooked, they have a nutty, mild, and sweet flavor. Yellow onions are one of the best shallot substitutes and give the recipe a similar taste and flavor to balance off the absence of shallots.
They are available all around the year and are a good source of Vitamin C and fiber.
2. Red onions
Sweetness is the red onion's strength and serves as the best shallot substitute. They have purplish-red skin and are white in flesh; they are slightly oval and come in small to medium-sizes. Its pungent and mildly sweet flavor makes it a good replacement for shallots. You can replace the raw shallots with raw red onions in a 1:1 ratio and still maintain the taste of the recipe. Red onions finely chopped are also a good substitute for shallots in salads and garnishes.
3. White onion
For recipes that call for shallots, white onion is one of the best substitutes of shallots in a pinch. However, white onions can't give the mild garlicky flavor that shallots add to a dish. You can solve this by using half as much white onion by volume of shallots and add a small amount of garlic. In general, you should keep in mind that the ratio is one medium-sized onion to 3 shallots.
4. Leeks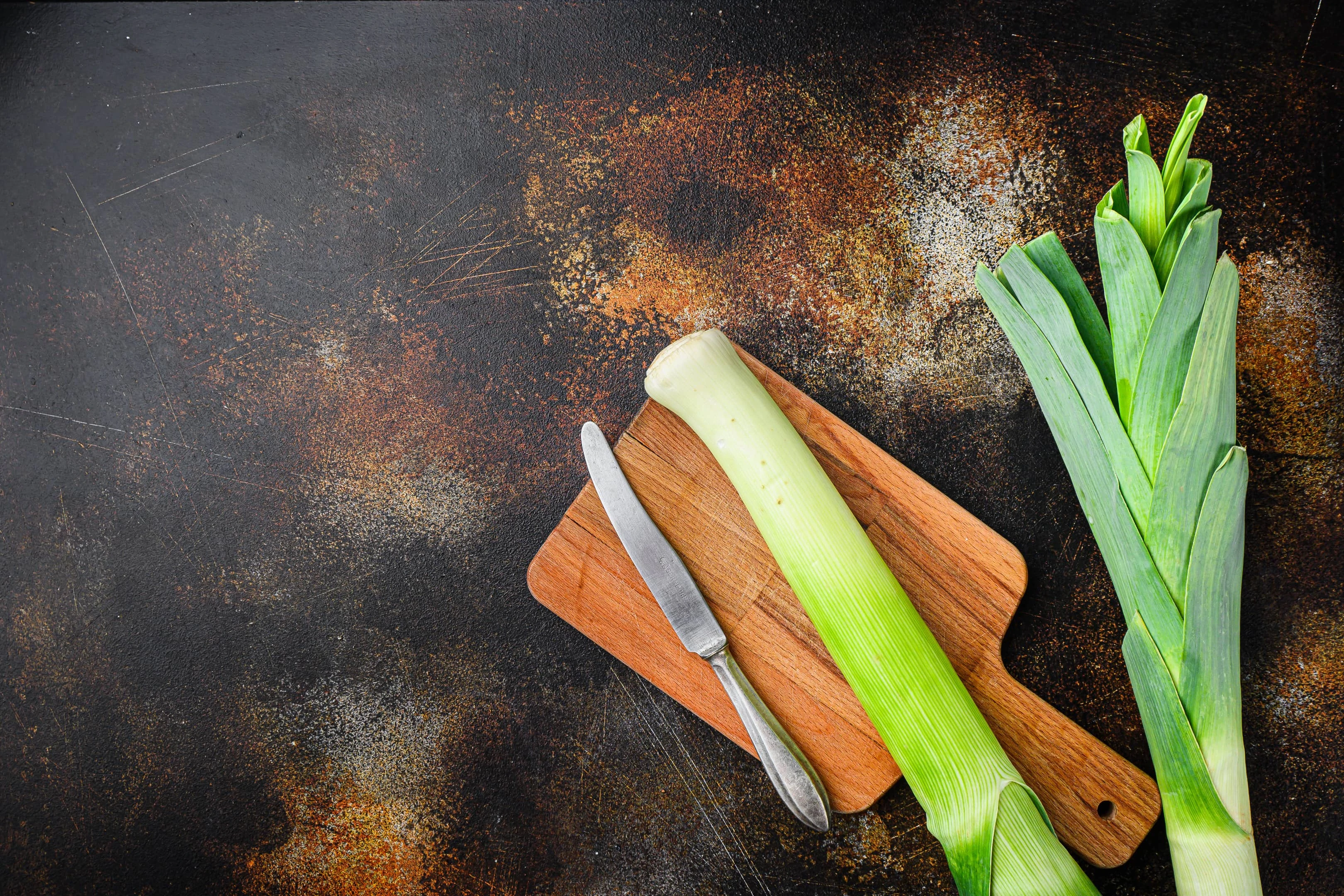 Leeks have a similar taste to shallots, so this is another substitute for shallots. Whether you want to have it hot or cold, leeks add flavor without any of the harsh flavors of white onions. Leeks are mild in taste and are used and substituted in a 1:1 ratio of shallots, and you don't need to add garlic to the recipe. Always be careful to use only the top of the leeks and do not overcook them.
5. Scallions
Scallions are also another good substitute for shallots, being naturally milder in flavor than onions. These are a suitable replacement for shallots both in salads and even in uncooked recipes. To get the real taste of the shallots, you need to use only the white base of the scallions. The top green part is good for garnishing the recipes and is also known by the name spring onion or green onion. Adding chopped garlic can enhance the flavor and aroma.
6. Garlic
Garlic is another shallot substitute. A little bit can accentuate the flavor of leeks, onions, and scallions. Garlic and shallots do not go together even though they belong to genus allium that is closely related to the onion, scallions, and shallots.
7. Garlic scapes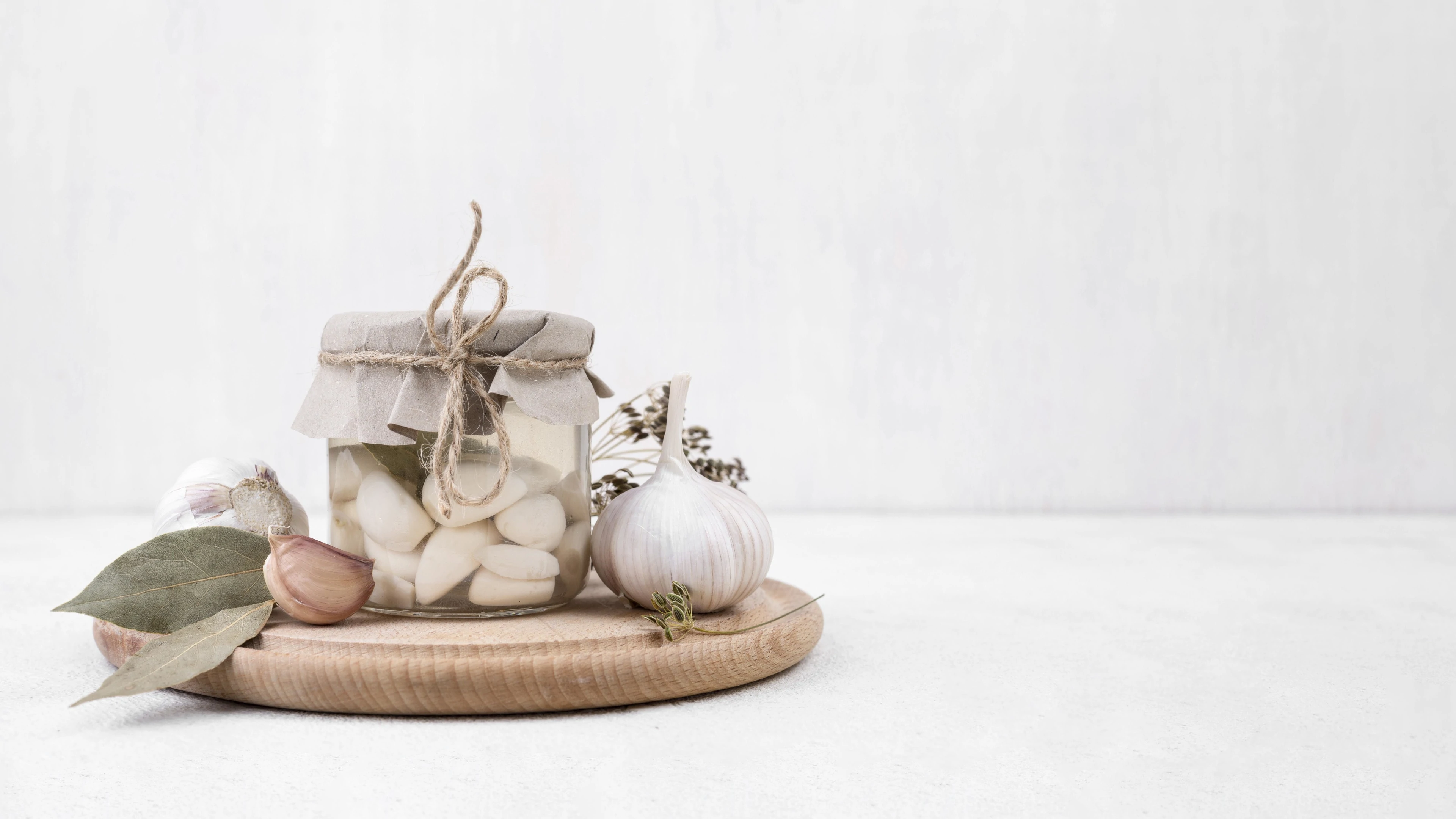 Garlic scapes are not that commonly found, and if used, they make a good substitute for shallots. They are flower bud ends, and their taste falls between garlic and onion. They are a bit firmer than green onions, so the ratio should be much less than for onions.
8. Green garlic
Green garlic, or young garlic, refers to garlic that has not matured and has a green sheen. As the harvesting season for this variant is spring, it is also called spring garlic. The green garlic can come in handy as a substitute for shallots. They are the same in the taste of regular garlic.
Final words
Even though there are some suitable substitutes for shallots, their flavors and tastes differ a lot from the shallots. None of these substitutes can completely replicate the real flavor of shallots, but they can help when you are in a pinch!