The concept of pungency holds a special place in Ayurvedic medicine. The pungent taste is seen as one of the six tastes in Ayurveda, with the other five tastes being sweet, sour, salty, astringent, and bitter. In Ayurvedic medicine, it is associated with the elements of fire and air. In Eastern countries with a history and sophisticated culture, like China and India, these pungent foods are necessary to have a balanced diet. But what exactly are pungent foods? Let's find out.
Jump to:
What are pungent foods?
Pungent foods have a strong, often sharp flavor that can be unpleasant to some people. These foods are often used in cuisines worldwide to add flavor and taste to dishes. Common pungent foods include onions, garlic, and spicy peppers.
A pungent taste is sensed by the nerves on the tongue that are responsible for detecting chemicals that stimulate the trigeminal nerve. These nerves send signals to the brain that create the sensation of pain, heat, or cold. A pungent taste can also be caused by compounds that stimulate the olfactory nerve, responsible for the sense of smell. These include sulfur-containing compounds and capsaicin. These compounds can interact with our taste buds and trigger a strong reaction. For some, this reaction is a pleasant one that enhances the flavor of the food. However, for others, the reaction can be an unpleasant one feeling they need to take a drink of water.
The most common pungent foods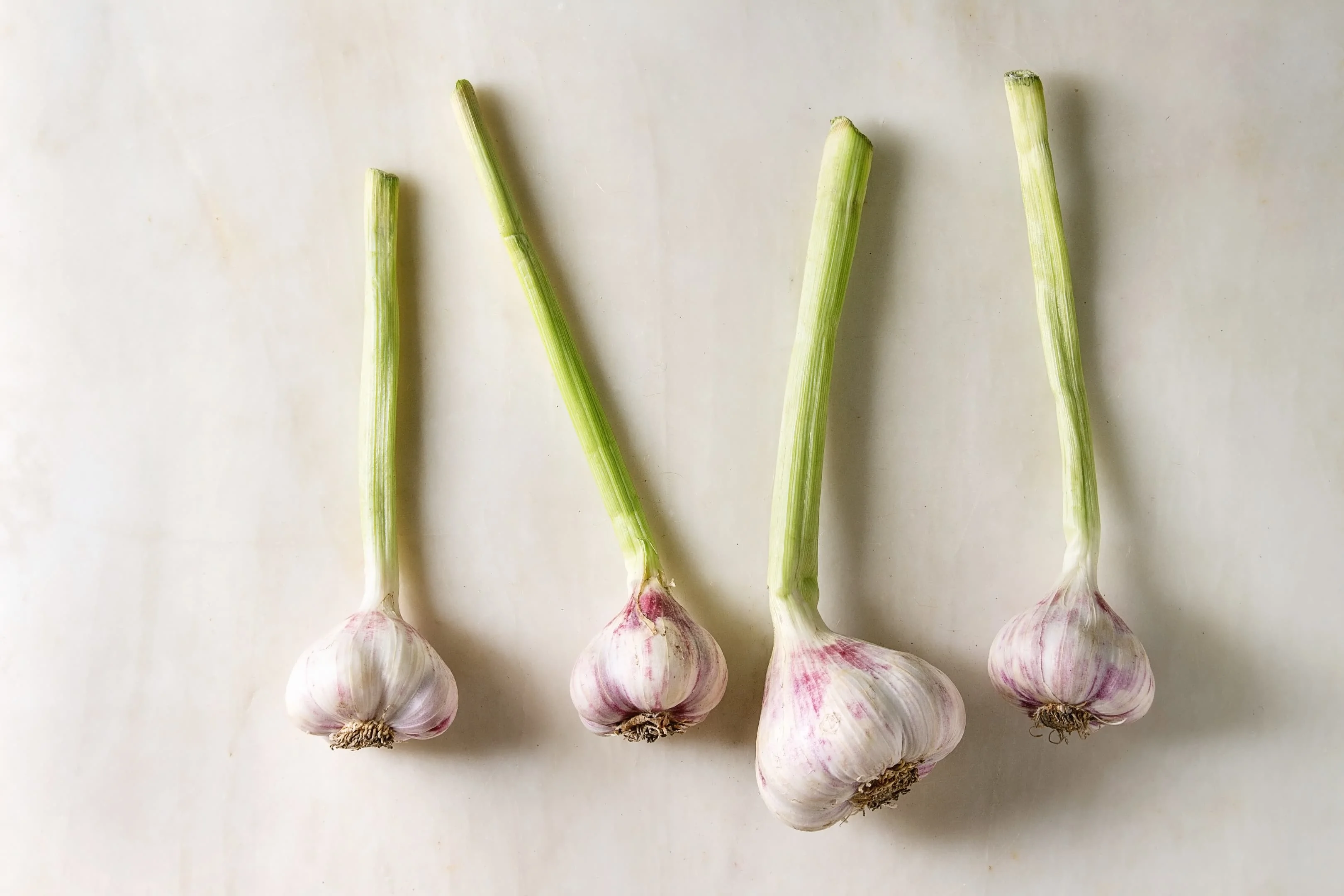 1. Garlic
Garlic has been used for centuries as a medicinal herb and spice. Garlic can be pungent, bitter, and hot because of the presence of allicin, the compound that gives garlic its pungent taste. It is used to treat colds, coughs, stomach aches, and other illnesses, as allicin has been shown to have antibacterial and antifungal properties. Allicin is released when garlic comes into contact with air or water. Garlic becomes more pungent when chopped or crushed.
2. Onion
Onions are often used as a flavoring agent in savory dishes and are a key ingredient in many international cuisines, such as French, Indian, and Chinese. When eaten raw, they have a sharp, pungent flavor that can be overpowering due to the sulfur they contain. Sulfur gives onions their pungent taste. When you cut an onion, the sulfur molecules are released into the air. These molecules then interact with your taste buds, causing you to experience the pungent taste. If you prefer less potent onions, then try cooking them, as their taste becomes milder and sweeter when cooked.
3. Peppers
Perhaps the most well-known pungent foods, peppers, and chilies owe this reputation to a compound called capsaicin which gives them their pungent flavor. Capsaicin is a volatile compound that easily evaporates into the air. When you eat peppers or chilies, capsaicin binds to receptors in your mouth and throat, causing the sensation of heat. The more capsaicin a pepper or chili contains, the hotter it will be.
4. Mustard
Mustard is a condiment made from the seeds of the mustard plant. It's been used for thousands of years as a food preservative, and nowadays, it's most commonly used to give flavor to sandwiches. Mustard oil gives it a pungent smell. This oil is extracted from mustard seeds and contains various chemicals, including allyl isothiocyanate and sinigrin. When these compounds are ingested, they interact with the digestive system, resulting in the sensation of pungency.
5. Ginger
Ginger is a food that has been consumed for a long time due to its pungent flavor and medicinal properties. Ginger owes its pungent, bitter, and intense flavor to compounds called gingerols and shogaols. These compounds interact with the taste buds on the tongue to provide a spicy sensation. Ginger also contains a volatile oil that can irritate the mucous membranes, which contributes to its pungency.
6. Turmeric
Turmeric is a popular spice, especially in Eastern cuisine. It has a distinctive, pungent flavor used to add depth and flavor to dishes. Curcumin is the cause of turmeric's pungency. Curcumin is responsible for turmeric's health benefits, which include reducing inflammation and boosting cognitive function.
7. Cinnamon
Cinnamon is a spice used in different foods, including desserts, drinks, and savory dishes. Cinnamon is pungent because it contains cinnamaldehyde, an organic compound that is responsible for its characteristic flavor and aroma. Cinnamaldehyde is classified as a natural terpene, which are volatile compounds that are produced by plants. When cinnamaldehyde is present in food, it reacts with the human nose and tongue to create the sensation of pungency.
8. Cloves
Cloves have a long history of use in Asian cuisines as an ingredient in Indian, Thai, and Indonesian dishes. Cloves are also used in many spice blends, such as dukka, Baharat, and pumpkin spice. Cloves have a sharp and potent taste that is also sweet. Cloves owe their pungency to a compound called eugenol. Eugenol is responsible for the characteristic aroma and flavor of cloves. It is also used in various products, including perfumes, soaps, and lotions.
Final thoughts
Although it may come as too strong for some, most pungent foods are widely consumed worldwide. They usually have a unique flavor that is strong and potent, due to their special compounds. These compounds stimulate our taste buds and brain, producing a sharp taste. The most common and known pungent foods are onions, garlic, peppers, mustard, and turmeric.