The carnivorous eating plan is increasingly becoming more prevalent as a means for people to stay healthier. The ultimate focus of the carnivore diet is to feed solely on animal and meat items on an ongoing basis, which makes it extremely low in carbohydrates. Adopting this diet restricts an individual from consuming other types of foods like nuts and seeds, grains, vegetables, and legumes. This diet is constructed around the idea that a large proportion of the meals that were consumed by early humans were animal-based, such as meat and eggs, and that today's meals, which are laden with lots of sugar, are the culprit behind lots of health concerns.
To follow the carnivore diet, it is recommended to refrain from the consumption of plant foods and limit dairy intake to foods that contain only small amounts of lactose, a kind of sugar mostly found in dairy products like hard cheeses. Because of this, many people have pondered, 'Can you eat cheese on a carnivore diet?' The basic answer as to whether it is okay to eat cheese on this diet is yes, regardless of the fact that it might seem tricky.
Jump to: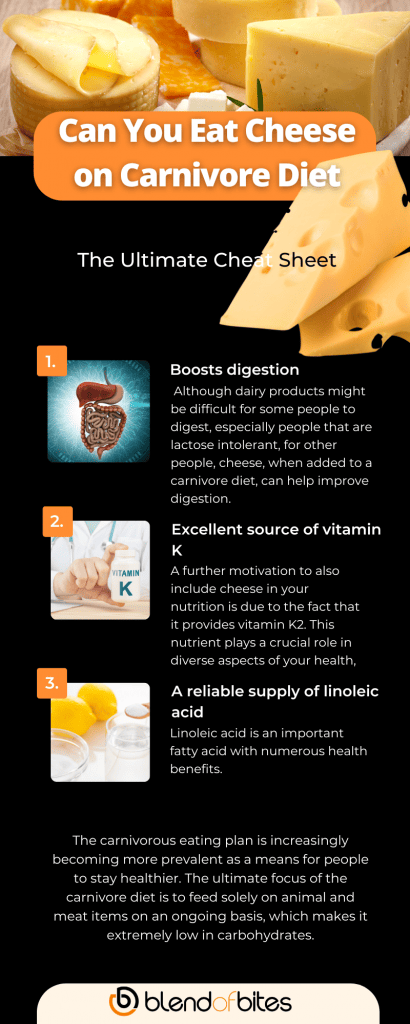 Is cheese part of the carnivore diet?
Cheese can be consumed on a carnivore diet since it consists mainly of animal components. Cheese is an excellent complement to a carnivorous diet if you don't suffer from a problem with dairy sensitivity. Just ensure that the cheese you choose to consume on the carnivore diet is made entirely from animal products like sheep's milk, goat's milk, or cow's milk.
Why is cheese a beneficial addition to the carnivore diet?
In addition to extending your nutritional choices, cheese is a rich source of tons of mineral and vitamin compounds that may dramatically improve well-being. It is a superb source of fat, protein, and healthy minerals like calcium as well as vitamin K2. By eating cheese, you can ensure that your body receives sufficient amounts of the macro and microelements that it needs for activities. Apart from this, cheese also carries other impressive advantages such as:
Boosts digestion — Although dairy products might be difficult for some people to digest, especially people that are lactose intolerant, for other people, cheese, when added to a carnivore diet, can help improve digestion. Cheese contains beneficial bacteria and calcium, as well as other nutrients that can support the optimal functioning of the digestive system.
Excellent source of vitamin K — A further motivation to also include cheese in your nutrition is due to the fact that it provides vitamin K2. This nutrient plays a crucial role in diverse aspects of your health, such as helping to prevent the occurrence of heart disease by reducing calcium buildup. One of the chief causes of heart problems is the accumulation of calcium in the arteries. It can also boost bone health and reduce the chances of developing osteoporosis. Furthermore, the consumption of vitamin K2 can boost dental health and decrease the occurrence of some kinds of cancers. However, the research on vitamin K2's role in heart health and cancer prevention is still inconclusive, and more studies are needed to establish these claims.
A reliable supply of linoleic acid — Linoleic acid is an important fatty acid with numerous health benefits. Consuming foods that contain linoleic acid can decrease the risk of cardiovascular disease, improve brain functions, boost hair and skin health, improve the health of the reproductive system, support bone density, and strengthen the functions of the immune system.
Adds variety to the diet — The carnivore diet is restrictive, like many other kinds of nutrition regimens. One could first find it appealing to consume exclusively eggs, meat, and other animal products, but subsequently one may eventually get bored. You could bring diversity and excitement to your carnivorous diet by adding cheese to it.
Best cheeses for a carnivore diet
Which cheeses are the best for a carnivore diet? Generally, there are three kinds of cheeses — blue cheeses, soft cheeses, and hard cheeses. You can consume any of these types based on your preference. However, here are some of the best cheeses for a carnivore diet:
1. Cheddar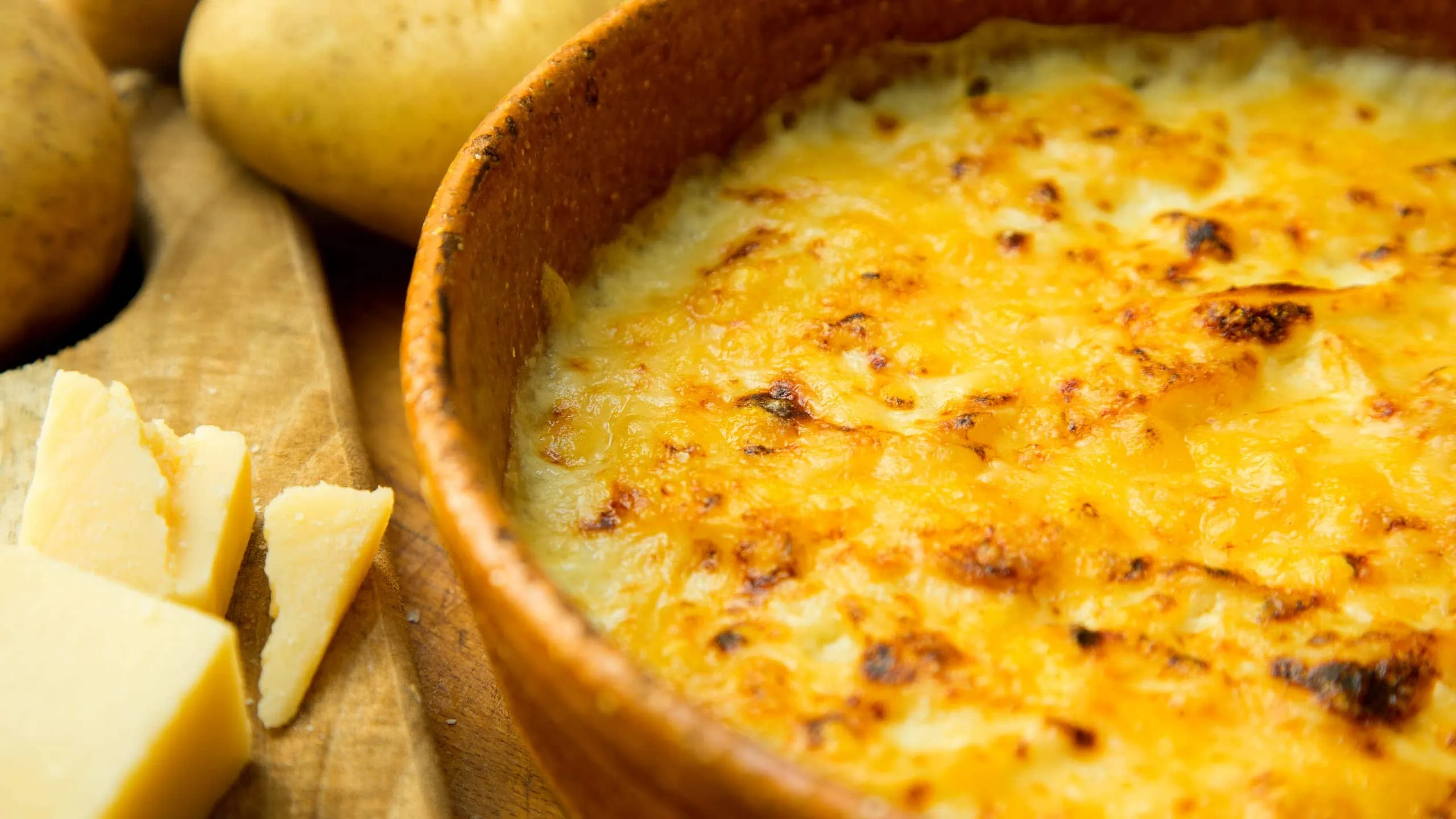 One of the most nutritious varieties of cheese for a carnivorous diet is cheddar. It is a hard cheese that is thoroughly made from scratch and has a distinctly sharp flavor. Depending on the length of time it is matured, this product which is made from cow's milk can either possess a brittle or tender texture. Cheese supplies a variety of nutrients such as protein, sodium, and diverse vitamins.
Cheddar cheese has a pale yellow or white color, but some kinds might be orange if colorings are added. However, it is essential to recognize that cheddar cheese should be eaten with caution because it is heavy in calories and trans-fats, which is of particular concern for those with a previous history of cardiovascular disease or elevated blood pressure.
2. Manchego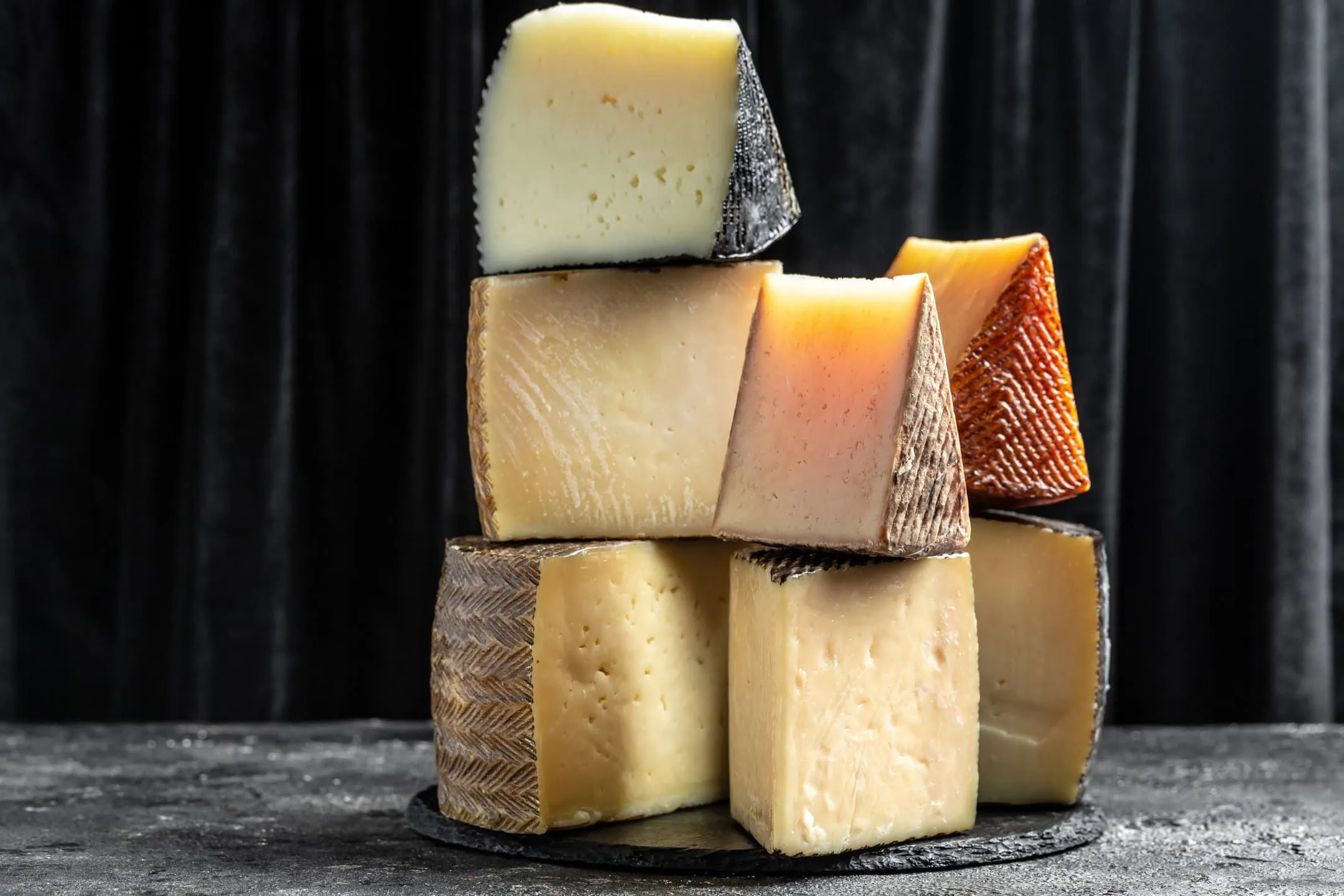 Made from milk obtained from sheep, the origins of Manchego cheese can be traced to La Mancha, a region in Spain. It is a kind of soft cheese with a supple but firm texture. The aroma of Manchego cheese is pleasing, but the grassy aroma and its flavor are a mixture of sweet, nutty, tangy, and fruity taste. Manchego cheese has a fat content of up to 57%, which enhances its strong flavor.
However, there are various variations of Manchego cheese. These variations are distinctively identified based on the duration of their aging. The very first, referred to as fresco and labeled as the youngest, is aged for no more than a two-week period and is infrequently available for purchase outside of Spain. It possesses a light, creamy, and grassy flavor. Next up is semi-Curado, which boasts a firm but still supple texture and is aged for a period of up to three months. Another sort is Curado, which is aged for a span of six months; it has a subtle nutty taste and is a little crumbly. The last type is Manchego Viejo, aged longer than the rest. It is aged for at least a year and has a deep tangy flavor and a crumbly texture.
3. Parmesan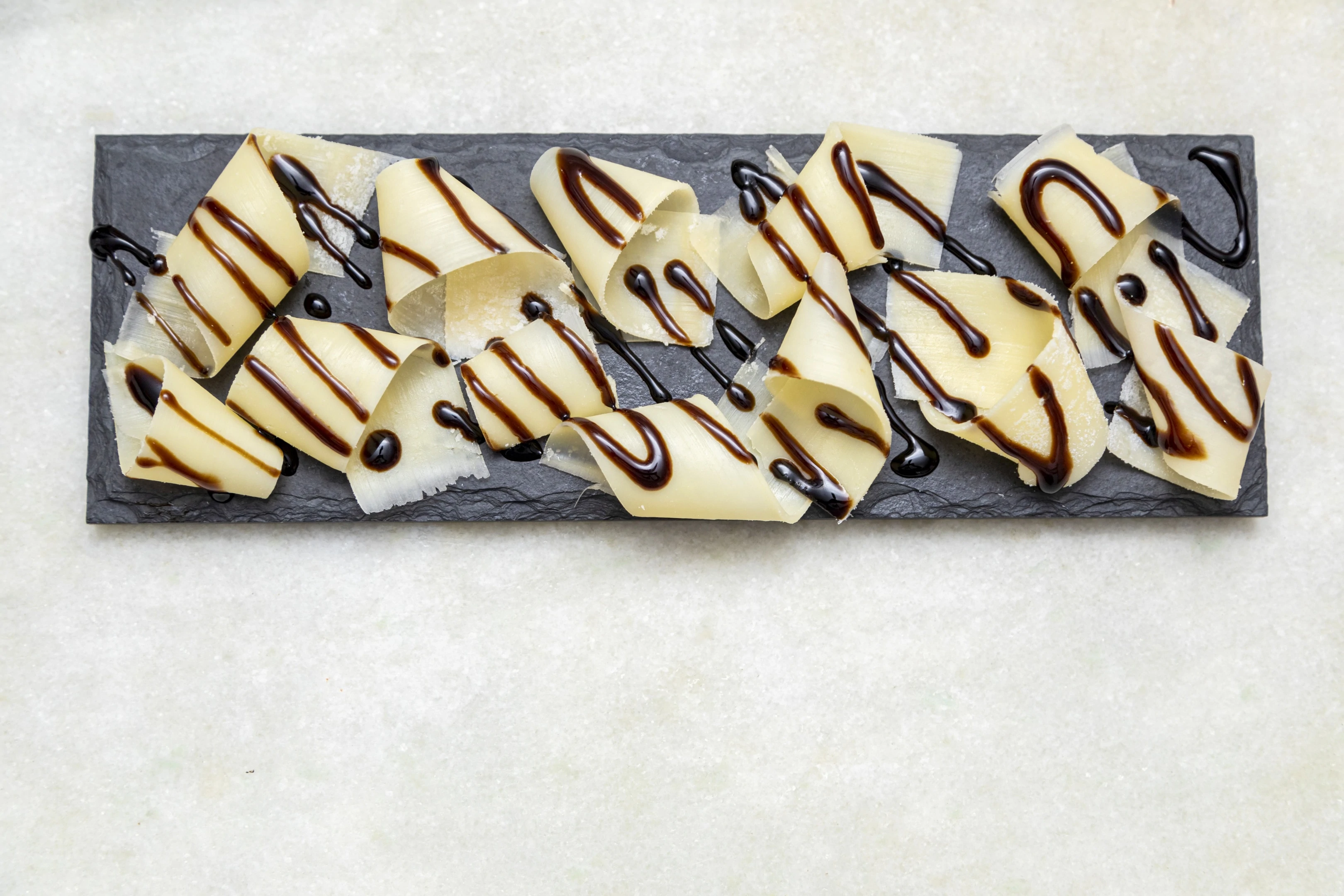 Parmesan is another example of the best cheeses for the carnivore diet. It is an aged cheese that contains small amounts of sugar. It is a good source of protein, calcium, and sodium, and contains some vitamin A. Parmesan cheese is incredibly adaptable. Seasoned for at least a year, it is derived from cow's milk and has a rich and fruity taste.
Although similar variations of Parmesan can be found in other locations like Argentina, the United States, and Australia, the original parmesan, which emanates from Italy, is classified as "Parmigiano Reggiano." The Parmigiano Reggiano cheese's Italian name is transcribed as "parmesan" in English. However, since Parmesan cheese contains lots of sodium, it should be consumed in small quantities to decrease the risk of blood pressure and other diseases.
4. Brie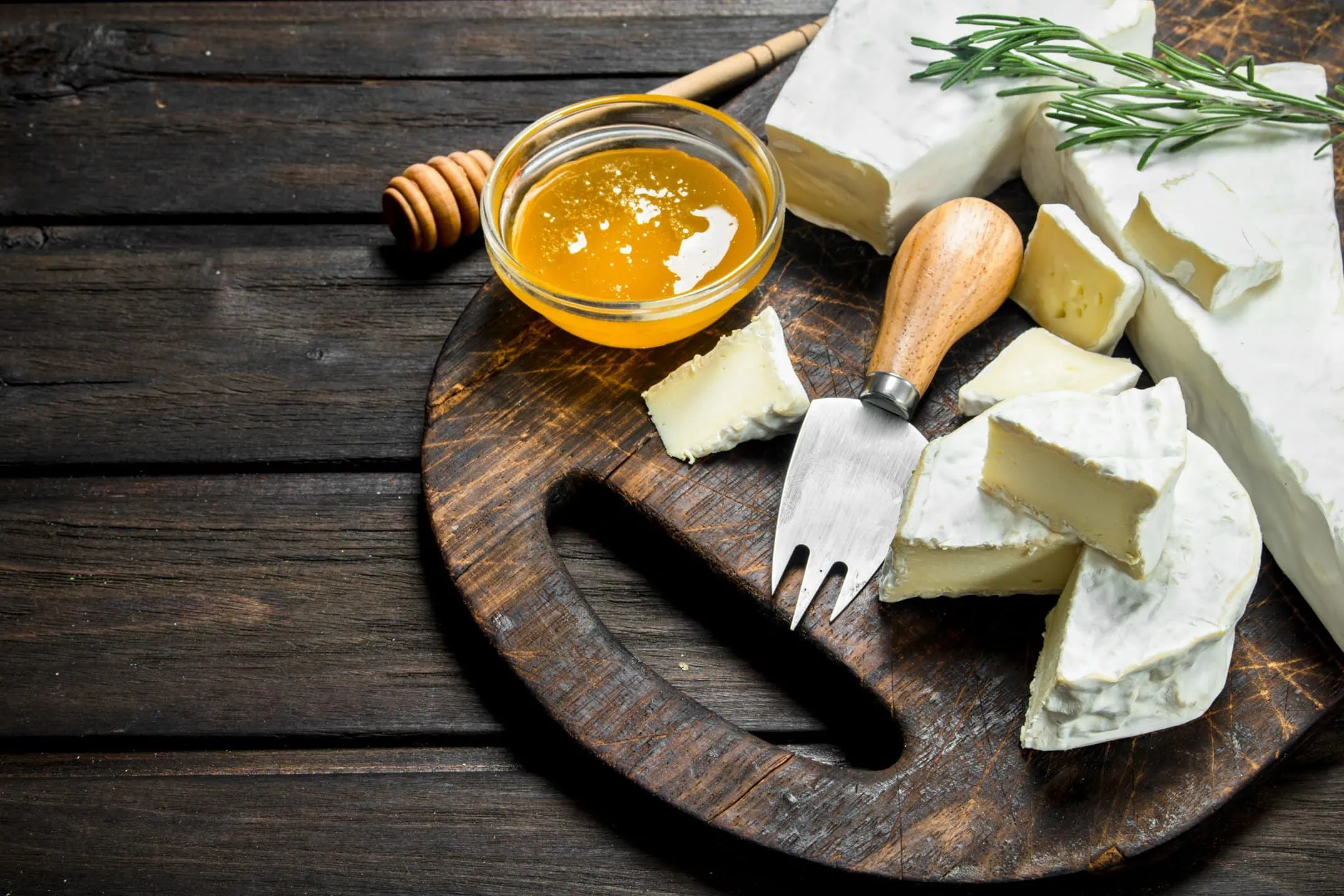 When it comes to what cheese you can eat on a carnivore diet, Brie cheese is on the list. Named after the French region, from which it initially originated, Brie can come from cow or goat's milk. With a soft texture, Brie is buttery and creamy. Like cheddar cheese, Brie contains lots of fat and other nutrients like calcium, protein, sodium, vitamin A, and B6. The taste of Brie is fruity and nutty.
5. Camembert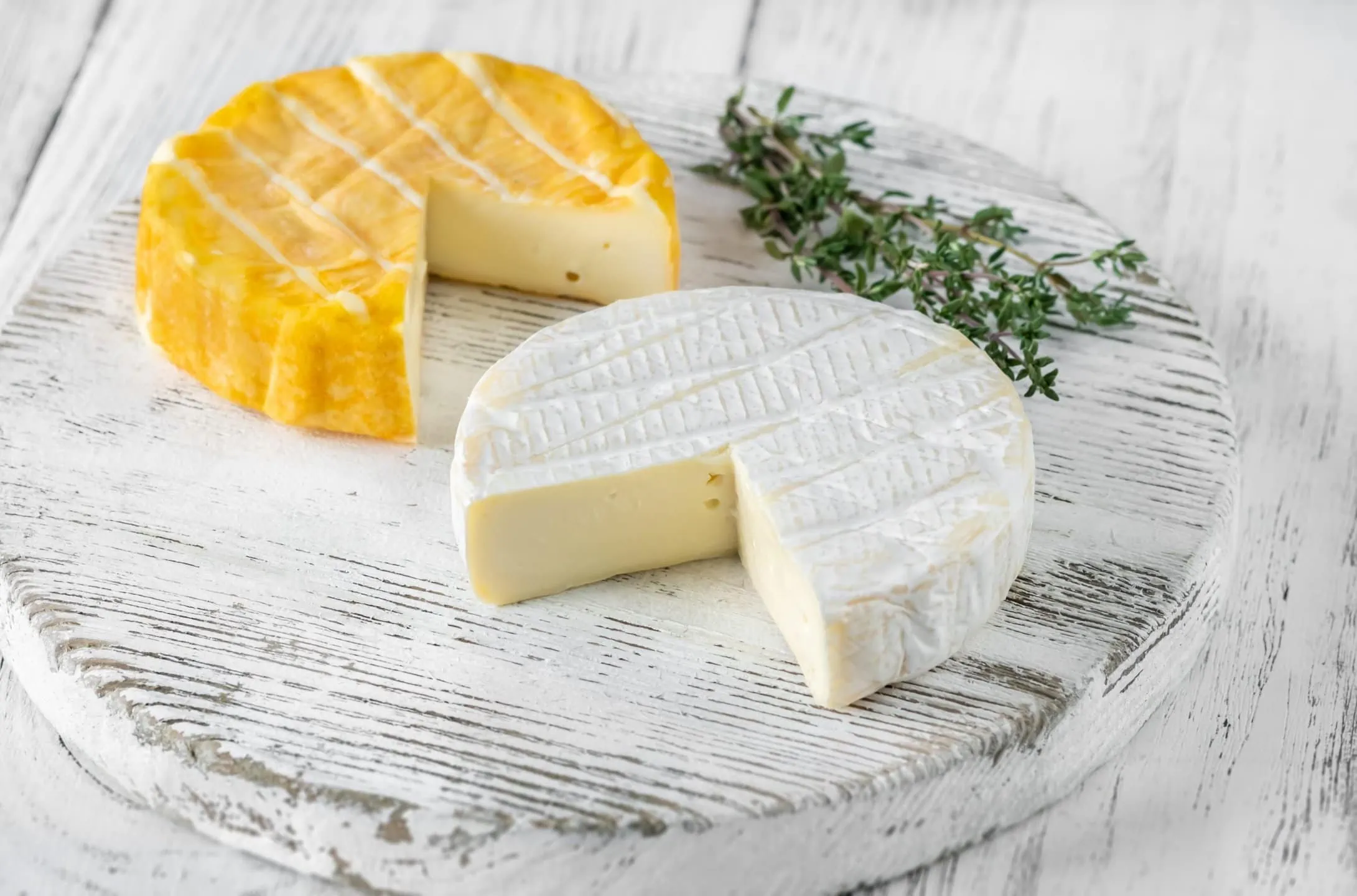 Camembert cheese is another cheese that is suited for a carnivore diet. A creamy, moist, and soft cheese that is manufactured from cow's milk, it has a lot of fat. In the late eighteenth century, Normandy, a region in northwest France, produced the first of this particular kind of cheese. It received its name from the village of Camembert. It is often compared in taste and looks similar to Brie cheese. However, camembert cheese contains less milk fat.
The flavor of camembert cheese ranges from buttery, tangy, and milky to mushroomy when young, to when it has been aged for a long time. On a carnivore diet, you can enjoy camembert cheese on cured meats.
6. Gouda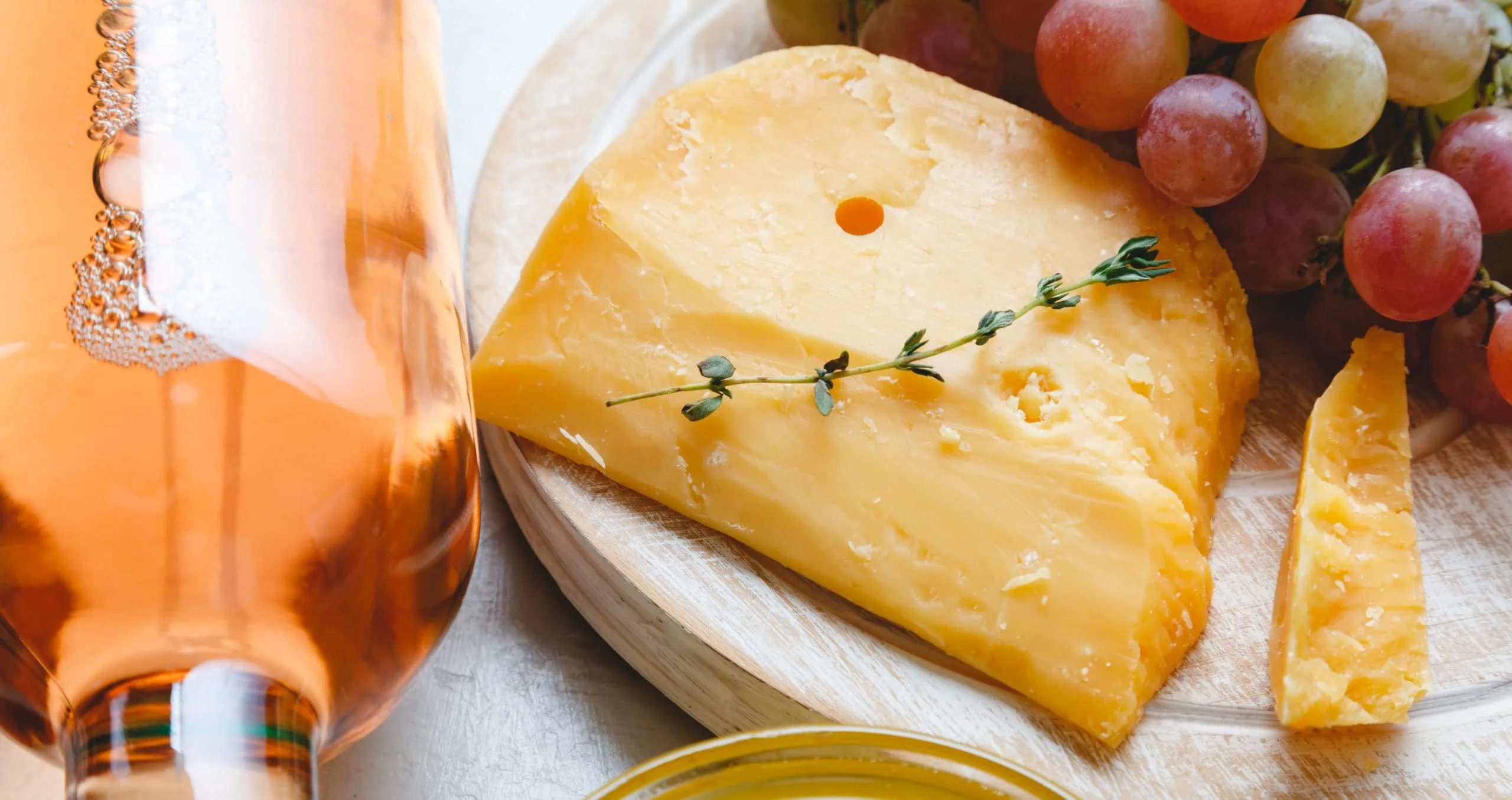 Unlike most types of cheeses, gouda cheese does not originate from France or Italy but from the Netherlands, and it is named after the city of Gouda. Remarkably, it is currently among the most commonly consumed varieties of cheese worldwide. A serving of a hundred grams of Gouda cheese can provide up to 25g of protein and 27g of fat making it a suitable cheese for a carnivore diet. It is preferred by most people because of its smooth texture and distinct but rich flavor.
Categorized according to age, there are roughly six distinct varieties of Gouda cheese: young (a month), young matured (up to two months), matured (up to four months), extremely matured (28 weeks), old (up to 46 weeks), and very old (over 48 weeks). The specific categories of aging can vary. One thing to constantly keep considering regarding Gouda cheese is that as it ages, it gets stronger, becomes increasingly nutty, and has a buttery flavor.
Conclusion
The straightforward answer to whether you can eat cheese on a carnivore diet is yes! Cheese is safe to be consumed on a carnivore diet if you can tolerate it and have no allergies to dairy. However, with the consumption of cheese, moderation is a major factor that should be adopted. This is because although cheese has numerous benefits, consuming it in large amounts can cause digestive issues like constipation and stomach upset. Other best cheeses for a carnivorous diet include cream cheese, gorgonzola, Roquefort, and Muenster cheese.
---
Dive deeper into the carnivore diet with our insightful articles: