A carnivore diet, which is sometimes referred to as an all-meat diet by some individuals, confines the nutritional plan to foods like chicken and beef. The carnivore diet is based on the belief that the human body is better equipped for metabolizing and absorbing nourishment from foods derived from animals than from plant-based foods. A typical carnivore diet significantly lowers the intake of carbs to the minimum while embracing the consumption of fat and protein in large amounts.
This nutrition regimen hinges on the premise that the human body is able to utilize fat instead of carbohydrates for energy; this process is commonly referred to as ketosis. Apart from this, while on the carnivore diet, one is likely to experience certain advantages that include a reduction in weight and improved blood sugar levels. However, despite these advantages, it is of high importance to approach any nutritional plan with guidance and care. Before starting any new diet, especially the carnivore diet, it is advisable to see a medical practitioner or a trained nutritionist.
Jump to: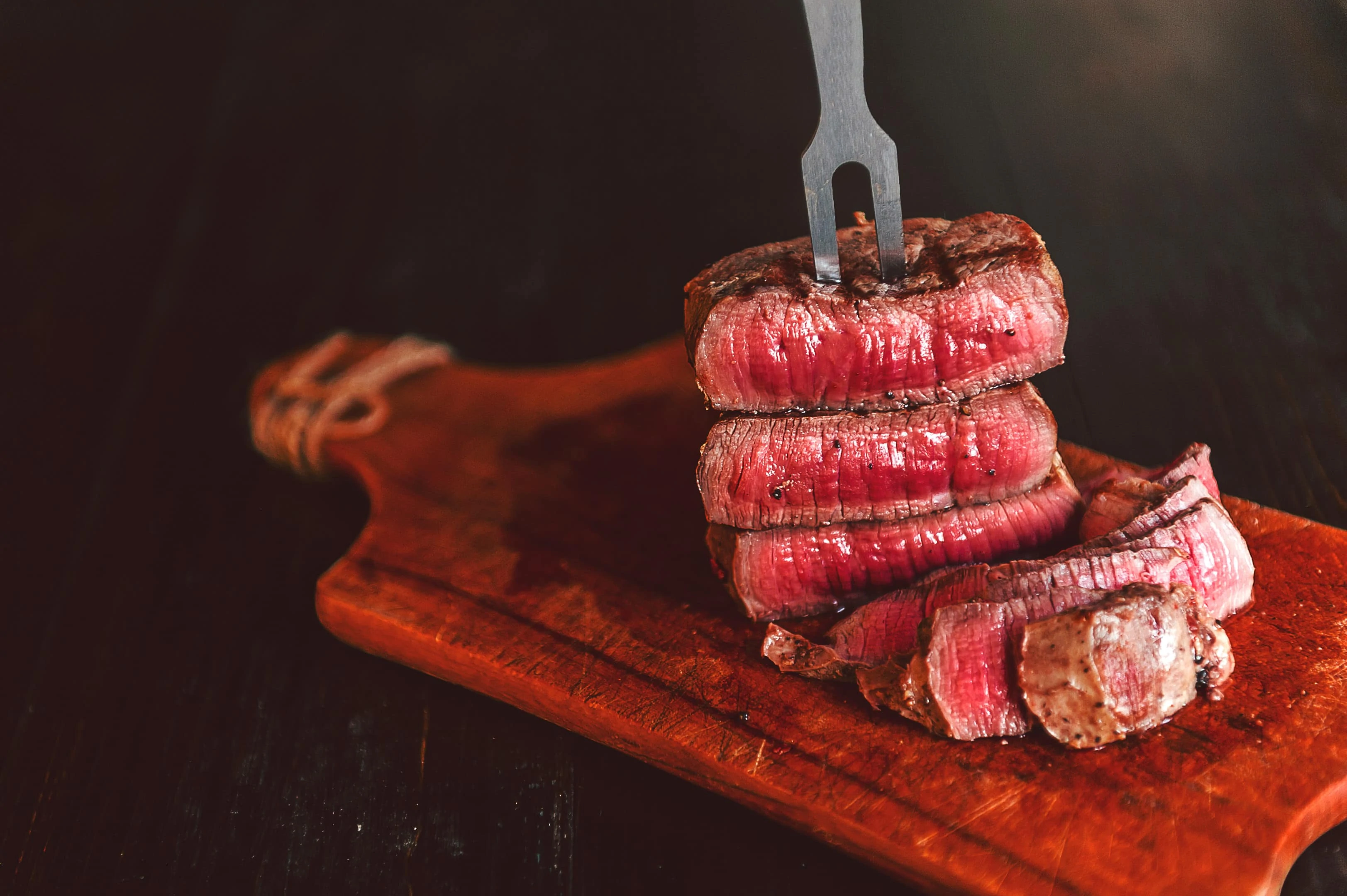 Benefits of the carnivore diet
Although the carnivorous diet can be somewhat restrictive because it limits you to certain food items, advocates of this diet assert that it possesses several advantages. Here are some of the benefits of a carnivore diet:
1. Improved blood sugar
The carnivore diet is severely curtailed and does not include plant-based foods like legumes, grains, and vegetables, which may help some people better regulate their blood sugar levels. This happens because of the diet's extreme deficiency in carbs, the main macronutrient responsible for raising blood sugar levels. Blood sugar levels, however, tend to remain raised if excessive amounts of carbs get consumed or if the body cannot make enough insulin, which can result in significant health issues including type 2 diabetes, insulin resistance, and other metabolic conditions.
A primarily meat-based diet may enhance insulin sensitivity by reducing carbohydrate intake while boosting protein and fat consumption. It is crucial to keep in mind that this strategy might not be suitable for everyone, particularly for people who already have problems like diabetes or resistance to insulin.
2. Increased nutrient absorption
The greater absorption of nutrients from a carnivorous diet is one of its possible advantages. Essential elements like iron, vitamin B12, zinc, and protein, which can be challenging to get in sufficient amounts from a plant-based diet, are abundant in animal-based foods. These compounds are essential for building hormones and enzymes. Compared to nutrition plans that allow the consumption of plant foods, protein from animal products has a quicker rate of absorption by the body.
The increased bioavailability of the nutrients in animal-based diets makes it easier for the body to absorb and use them. For instance, iron from meat is absorbed more quickly than iron from plant-based diets. However, it's crucial to remember that a carnivore diet might also be low in some nutrients, such as dietary fiber, phytonutrients, and vitamin C, which are predominantly found in meals made from plants. These nutrients are vital to preserving overall well-being and limiting the risk of developing long-term ailments. So, ensure that a diet based on meat remains well-rounded nutritionally and offers sufficient levels of vital elements.
3. Reduced inflammation
Another potential benefit of a carnivore diet is a reduction in inflammation. As a defense mechanism against damage or infection, the immune system naturally produces inflammation. Elements that encourage inflammation, among them foods that are processed sugar, and refined carbohydrates, are frequently not in the carnivore diet. Furthermore, the diet is also low in omega-6 fatty acids since it primarily includes animal products, which, when ingested in excess, can cause inflammation.
Additionally, animal-based diets are rich in antioxidants, vitamin D, and anti-inflammatory minerals like omega-3 fatty acids. It has been shown that due to the immunity qualities of omega-3 fatty acids, it might help decrease the symptoms of inflammation. Moreover, when your body possesses more omega-3 fatty acids, it can help the cells develop more metabolites which in turn can support the repair of tissues or cells and alleviate inflammation.
4. Elevated muscle mass and strength
Protein, which is abundant in the carnivore diet, is a major nutrient that supports the development of important amino acids, strength, and muscle mass. Certain amino acids such as phenylalanine and leucine that can be obtained from animal-based products can aid the synthesis of muscle protein. Moreover, meats and fish contain great amounts of nutrients such as vitamin B12, zinc, and iron which all play an important role in the body's process of energy production and metabolism of the muscles.
Furthermore, the foods allowed on this diet can provide you with significant amounts of creatine. Creatine is an important substance that can be found in the cells of the muscles. Its purpose is to help the muscles maintain and produce energy when you engage in exercises. This substance can benefit you in different ways that include improved signal to the brain and increased cell hydration. However, to maximize the benefit of creatine and the other muscle-building nutrients in the carnivorous diet as a whole, it is important to incorporate exercise into your daily routine.
5. Improved digestion
The carnivore diet can assist individuals who struggle to improve their digestion. Some people may find it difficult to digest too much fiber, which is present in plant-based diets. By restricting fiber and other complicated carbohydrate sources, a carnivore diet may help certain individuals with these signs and symptoms.
Moreover, animal-based meals are abundant in digestive enzymes that might facilitate a faster breakdown of food. This may enhance nutrition absorption and digestion, lowering the possibility of stomach discomfort and enhancing general wellness. These vitamins and minerals are crucial for preserving gut health, lowering the likelihood of chronic illnesses, and promoting general health.
Carnivore diet's impact on particular health issues
Besides the general health benefits that this diet can offer to its participants, it might also benefit people with certain health issues. Let us examine some of the health benefits of the carnivore diet:
1. Autoimmune disease
Autoimmune ailments occur when the immune system assaults its inner tissues. Several supporters of the carnivorous diet assert that individuals experiencing autoimmune issues might experience alleviation of symptoms with this dietary regimen. This assertion is supported by the theory that substances included in plant-based diets have the potential to stimulate the immune system, causing inflammation and a worsening of autoimmune symptoms.
In addition, multiple autoimmune disorders victims stated that consuming animal products helped them feel healthier. According to research, some people with autoimmune disorders including multiple sclerosis, psoriasis, and rheumatoid arthritis, may find relief from their symptoms by following a carnivorous diet. These people should, however, work closely with their medical professionals to create a diet that fits their nutritional requirements.
2. Food sensitivity or allergies
An additional health benefit of the carnivore diet is that it is beneficial for those with sensitivities to particular foods or intolerance due to how it minimizes the risk of irritating substances from the diet. A diet based on elimination concentrates on discovering trigger foods that could prove more suitable for persons with dietary restrictions or sensitivities. An elimination diet involves removing some foods from the diet, followed by a slow reintroduction of those foods to identify those that may be contributing to symptoms.
During the period of elimination, a carnivore diet could serve as a suitable diet to keep the body in its best condition, due to the high amount of protein it contains. This elimination process can assist people in recognizing and avoiding trigger foods while still consuming a healthy, highly nutritious diet. However, it is crucial to make sure that these animal products contain the appropriate nourishment needed by the body.
3. Digestive disorders
A carnivore diet may provide comfort for those with gastrointestinal conditions including inflammatory bowel disease (IBD) or irritable bowel syndrome (IBS). Eliminating plant-based meals can enhance digestive health by lowering intestinal irritation, inflammation, and other digestive system issues. However, some IBS or IBD sufferers may find it challenging to maintain a diet that is predominantly composed of animal products due to their inability to digest specific types of meat or other dietary restrictions.
In addition, the carnivore diet can make it more likely that someone would have vitamin deficiencies, particularly if they have digestive issues. Eliminating plant-based meals might result in a deficiency of vitamins, fiber, and minerals, which are crucial for the immune system and digestive health.
4. Weight loss
The minimized consumption of refined foods and carbohydrates in the carnivore diet might assist certain individuals to manage their weight. Its substantial fat and protein content contribute to increased fullness and diminish inclinations for food. Likewise, excluding a significant amount of foods high in carbohydrates, such as vegetables, grains, and fruit, could contribute to a decline in the overall intake of calories, which is beneficial for decreasing one's weight.
Furthermore, the high protein component of the carnivore diet can aid in muscle growth, which may serve to speed up metabolism and improve resting energy expenditure. However, it is vital to remember that the carnivorous diet is not a healthy, long-term way to lose weight.
Conclusion
The advantageous effects of eating mostly meat, as in the carnivore diet, are numerous, ranging from promoting muscular growth to bolstering blood sugar management and assisting in the reduction of inflammatory conditions. It is safe to say the benefits of a carnivore diet are incredible. It is a diet that encourages the consumption of animal products, thereby ensuring that your body gets the benefits of diverse nutrients like vitamin K, calcium, iron, protein, and zinc.
---
Dive deeper into the carnivore diet with our insightful articles: